Restoring Consciousness with Electrotherapy
Researchers have developed a device that can rescue failing body functions with electrotherapy.
After having read the amazing book the Body Electric by Robert O. Becker I actually build a device according to his patents and tested it on myself, a wound. I thus build a breadboard and calculated the best resistance / resistors to have for stem cell generation. Boy, you learn a lot more by doing then just reading!
I have a picture but it is rather personal and #NSFW
I'm happy amazing research like his continues: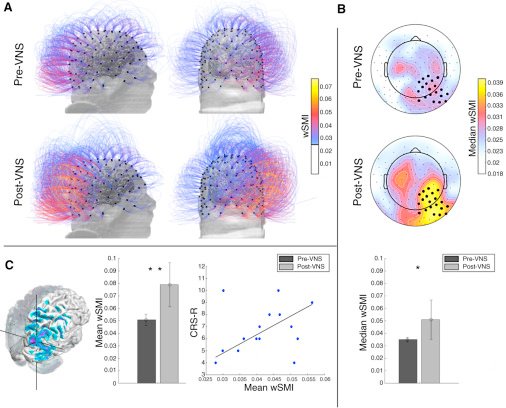 Patients lying in a vegetative statepresent severe impairments ofconsciousness [1] caused by lesions in the cortex, the brainstem, the thalamusand the white matter [2]. There is agreement that this condition may involve disconnections in long-rangecortico–cortical and thalamo-corticalpathways [3]. Hence, in the vegetativestate cortical activity is 'deafferented' from subcortical modulation and/or principally disrupted between fronto-parietal regions. Some patients in avegetative state recover while otherspersistently remain in such a state.
The neural signature of spontaneousrecovery is linked to increased thalamo-cortical activity and improvedfronto-parietal functional connectivity[3]. The likelihood of consciousness recovery depends on the extent of braindamage and patients' etiology, but afterone year of unresponsive behavior, chances become low [1].
There is thus a need to explore novel ways of repairing lost consciousness. Here we report beneficial effects of vagus nerve stimulation on consciousness level of a single patient in a vegetative state, including improved behavioral responsiveness and enhanced brain connectivity patterns.
Current Biology 27, R979–R1001, September 25, 2017 © 2017 Elsevier Ltd.