REPRODUCTION SYSTEM #5
STRUCTURES OF MAMMALIAN GAMETES
The reproductive sex cells are also known as a gamete. The formation of gametes or gametogenesis takes place in the gonads.
MALE GAMETES
The male sex cells of gametes called sperms are produced in the testes by a process spermatogenesis. The gamete is cellular in nature.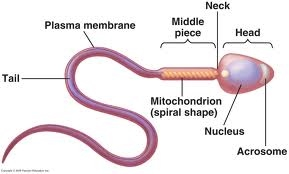 credit
The sperm or spermatozoon consist of a head which contains the nucleus, a middle piece and a whip-like tail or flagellum. A human sperm is about 0.05mm long and microscopic and is usually smaller than the egg.
STRUCTURE AND FUNCTION OF SPERM CELL
ACROSOME: Acrosome is located at the anterior end of the head which contains lytic enzymes or agent used to dissolve the egg membrane or it enhance penetration of the egg during fertilization.

MIDDLE PIECE:- The middle piece contains numerous mitochondria which generate the energy used by the sperm cell to swim towards the egg.

LONG WHIP-LIKE OR FLAGELLUM:- It helps to move or propels the sperm cell.

NUCLEUS:- This is found in the head of the sperm cell and contain genetic materials which fuse with the nucleus of the egg or ovum.
FEMALE GAMETES
The female sex cell or gametes called the or ova are produced in the ovaries by a process called oogenesis. The human female gametes are larger than the sperms. Each ovum is about 0.1mm in diameter. It consists of the cytoplasm, a nucleus in the centre, granule and yolk droplet. The yolk provides a source of nourishment for the embryo, especially at the early stages of development.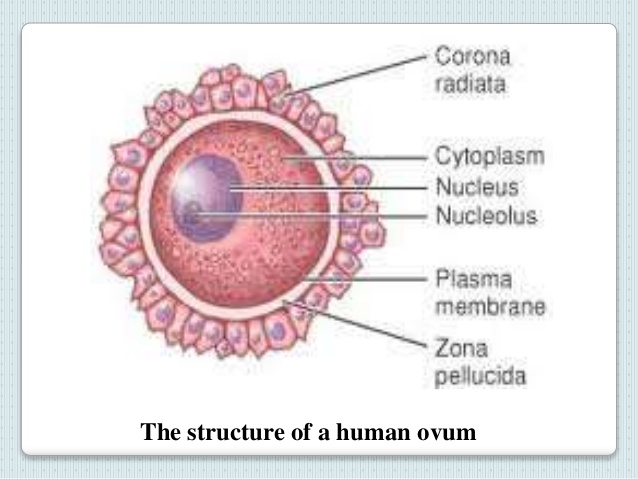 credit
The ovum cytoplasm is surrounded by two membranes. The outer one is called the vitelline membranes while the inner one is the plasma membranes. The ovum is surrounded on the outside by a jelly coat of variable thickness made of glycoproteins. The nuclei of the sperm and ovum contain chromosomes which carry the genes. The genes are responsible from parent to offsprings.