My Tesla Coil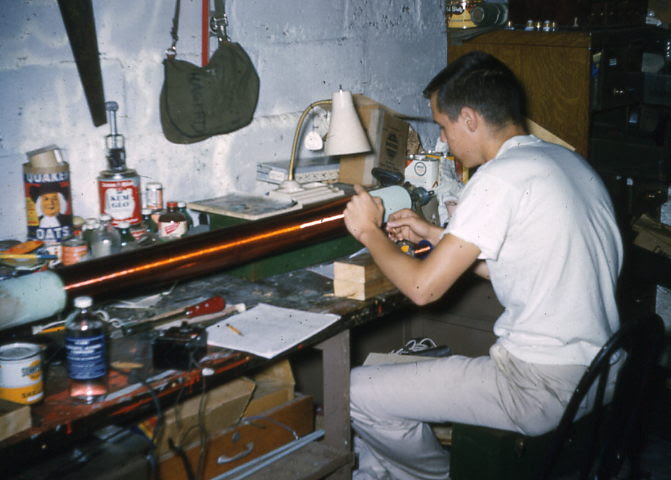 This is a picture of me slowly wrapping the last of several miles of fine wire for my high school science project, a Tesla coil.
During my senior year at Rochelle Township High School I built a Tesla coil for my science project. As it turned out, this was the only one built for the Northern Illinois Science Fair in 1960. In the basement of our house at 906 N. Main Street, my dad built a pseudo-lathe using a cardboard carpet roll tube as the stock. It was hooked to a slow-turning motor that I controlled with my foot. Over several weeks I managed to wrap several miles of fine coper wire around that tube, guiding it with a little tool that my dad made for me.
I made a huge capacitor out of automobile glass that I salvaged from the junk yard and used copper sheets in between the glass. To create the frequency changes that I needed, I built a rotating spark gap. It was quite old technology, but at the time it was all that I could afford.
Amazingly, after a few false starts, it worked! But that first time that it resonated and threw off it's characteristic long blue spark, it was in our basement. The spark jumped to an overhead heating duct and, among other things, it scared the hell out of my dad when a big spark arced from a heating vent to his hand. Essentially, our two story house, for the short time that it took me to understand what was happening and cut the power, had become a huge source of electrical radiation.
Within a few minutes of that event, my physics teacher, Byford Kyler, was excitedly knocking on our front door. He lived on the same block as we did, but at the diagonally opposite corner. My little experiment had momentarily interrupted his television, and he instantly realized that my Tesla coil had come to life.
Later, once the coil was set up in our physics classroom, Mr. Kyler and I would run a long wire from the top of the coil that I would hold in my hand while standing in the hall. As classmates would walk by, Mr. Kyler would turn on the coil, and I would reach out and arc a long spark to a passerby. Word quickly got to the principal, however, and our fun had to stop. Byford Kyler was one of my best teachers ever, and over time we also became good friends.
NOTE: This is one of the stories from my new book
The Chronicles of Lorenzo - Volume 1
You may download a free copy of it at
https://lorenzohagerty.com/freebooks/
I have placed this book directly into the Public Domain.