I acknowledge my previous post was a bit hard to understand for those not regularly reading about particle physics stuff. The basic elements that I thought were well established as a basis for any discussion… were actually not known at all…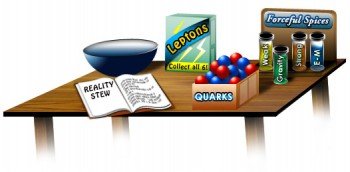 [image credits: The Particle Adventure]
I thank all those who brought this issue to my attention! I am always happy to take any criticism, provided it is constructive of course.
This post aims to fill this gap and introduce the concepts of quarks, mesons, baryons, etc.
You can name any (particle-physics-related) big word that I have used two days ago, and it should in principle fit in this post…
---
DEEP INTO MATTER: FROM ATOMS TO QUARKS
The following discussion will lead us deep inside matter. But let's start with something relatively big: an atom. It consists of a brick serves as a basic building block to make molecules and all the matter around us.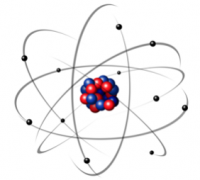 [image credits: unknown (everywhere online)]
An atom is represented on the left, and contains electrons orbiting around a nucleus made of protons and neutrons.
Although electrons are elementary particles, I do not care much about them today, i the similar way as I will ignore their heavier brothers and sisters named muons and taus.
Muons and taus are particles resembling much to the electrons, except that they are heavier. Equivalently, these can be seen as fat electrons, crudely speaking.
What I will focus on today are the constituents of the neutrons and the protons. We indeed know today that neutrons and protons are not elementary particles and that they are made of smaller building blocks named quarks.
Although this is a simplified picture (the real thing being: protons and neutrons are a mess), this is good enough for the discussion of the day.
---
SCRUTINIZING THE QUARKS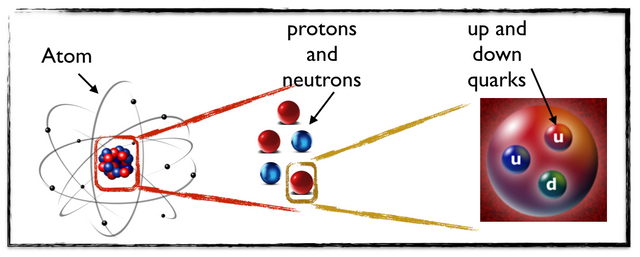 [image credits: homemade (from stuff available everywhere)]
Let us summarize what I discussed so far, starting from the largest guy (the atom) to the smallest bits of matter (the quarks). This is illustrated on the picture above.
We have first atoms, made of electrons and a nucleus. The nucleus is then made of neutrons and protons, and the latter are made of quarks. Actually, there are made of two different species of quarks: the up (u on the picture) and down (d on the picture) quarks.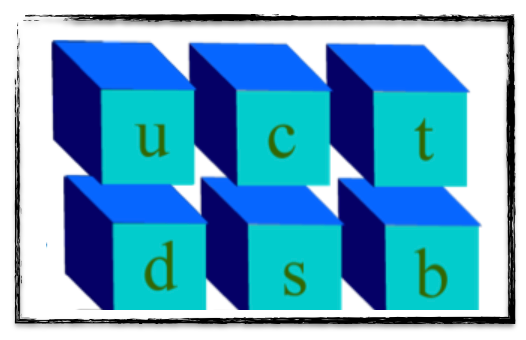 [image credits: homemade (from well spread stuff)]
Nature however likes having fun with us, and there exist six species of quarks, as shown on the picture on the right.
We hence have two heavier copies of the up quark, named the charm quark (c) and top quark (t).
Moreover, we also have two heavier copies of the down quark, named the strange quark (s) and the bottom quark (b), the latter being also known as beauty (we have a b as a symbol after all).
If you know why we need these copies, I strongly recommend you to write a scientific article and try to get a Nobel prize. This consists of a current open question of particle physics.
---
SYSTEMS OF QUARKS: BARYONS
There are four ways elementary particles can interact with each other. Those way are the four fundamental forces of nature: gravity, electromagnetism, the weak interaction and the strong interaction.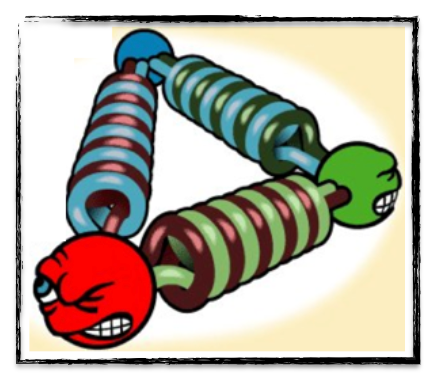 [image credits: Nobel Prize]
What is crucial for the discussion here is that among all the elementary building blocks of matter, only the quarks are sensitive to the strong interaction.
This is a key property that allows them to be glued together and form composite systems.
The reason is that… the strong interaction is strong enough to allow for that! Strong is not weak… ;)
This is kind of illustrated on the picture on the left, where three quarks (represented by the colored spheres) are bound together to form a so-called baryonic system.
Baryons are composite particles made of three quarks, the simplest ones being the protons and the neutrons.
There are other baryons, and actually plenty of them, with plenty of funny names like hyperons (that contains one or more than one strange quarks).
Let's move on instead to other interesting systems of quarks, very relevant for the post of two days ago: the mesons.
---
SYSTEMS MADE OF TWO QUARKS: MESONS
There are other options for quarks to form composite systems. One of these other ways involves two quarks, or in fact more precisely one quark and one antiquark (the antiparticle associated with the quark).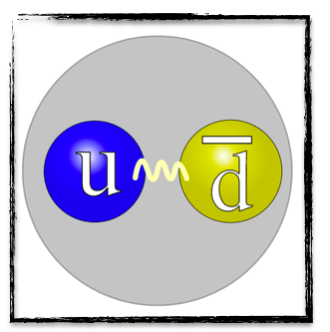 [image credits: Wikipedia]
Those systems are named mesons. An example is given on the picture on the right. We are dealing here with a particle made of an up quark and a down antiquark. It is a pion with a positive electric charge.
Other mesons can be formed, mainly by taking any quark-antiquark pair made of the 5 lightest quarks. I insist, we always have one quark and one antiquark.
The top quark cannot participate to this game, as it is too heavy and too unstable…
In terms of existing particles, kaons are mesons containing one strange (anti)quark, D-mesons are mesons containing one charm (anti)quark and B-mesons are mesons containing one bottom (anti)quark.
---
MESONS AND ANOMALIES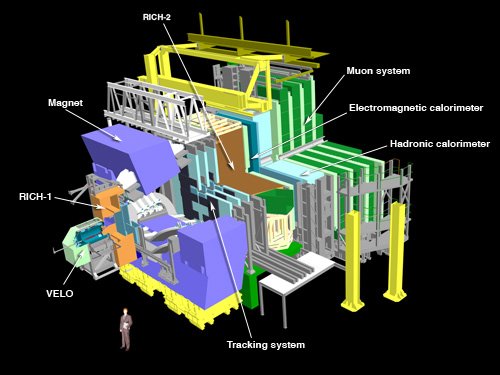 [image credits: LHCb @ CERN]
In my previous post, I was mentioning some results of the LHCb experiment, whose detector is once again shown on the left.
This experiment studies the behavior of the B-mesons, or equivalently mesons containing one bottom quark, and strange issues have been observed in data.
The LHCb experiment has studied the decays of the B-mesons, that can actually decay into either D-mesons or kaons. Yep! Mesons can decay into each other.
Let us skip any nasty detail here, and focus instead on the important point. For a couple of those decays, the predictions slightly disagree with the observations, and we may be in presence of new phenomena that we will need to understand.
However, it is too early to claim for a discovery. Maybe in 2017 or 2018? Who knows.
---
MORE COMPLICATED BOUND STATES
As I mentioned in my previous post, systems made of four, five, and six quarks can in principle be constructed. It works actually very well from a theory standpoint.
Experimentally, systems of four and five quarks have been observed so far. This is something very recent and high-energy physicists have started to investigate their properties. In contrast, particles made of six quarks evade detection so far.
---
SUMMARY
In this post, I tried to restart from scratch and explain the meaning behind of particle physics big words like quarks, mesons and baryons. I hope this will help to understand my previous post, that can be found here.
There is no proper reference I could cite, as I wrote all of this from the knowledge I have accumulated over time, but I can nevertheless recommend one book by M. Veltman that is a great introduction to this area of science.
Now, it is time for asking questions (hopefully and if any)!