Agricultural Pesticides Do Appear To Cause Birth Defects, But Only When Exposed To Extreme Amounts
Today lets return to a topic which I have discussed in the past, pesticides. Furthermore let us revolve our discussion around a recent article published in Nature Communications titled "Agricultural pesticide use and adverse birth outcomes in the San Joaquin Valley of California." In this article researchers were looking at the effect that pesticide exposure had on potential negative outcomes during a fetus' development.
I am going to TRY make this a shorter blog post where we just directly dive in and discuss the data with a minimal background section. Yes that means you are in luck, you don't have to read a whole PhD dissertation ha ha!... only half of one ;)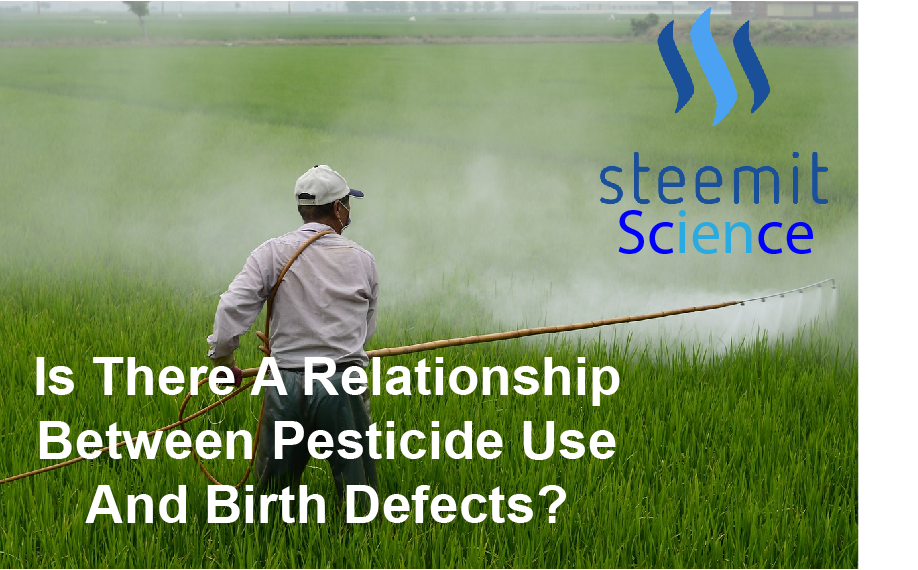 ---
---
Pesticides
Ubiquitous in modern farming, pesticides appear to be a necessity in-order to produce the massive amounts of food needed to feed the growing world population (and we would need even more if so much of the world wasn't living in abject poverty and near starvation conditions... a situation that a remarkable new economic paradigm such as the one found here with STEEM may some day be able to make a significant dent in fixing!) As a result it's important that we focus at least some of our science researching time toward understanding the potential negative effects these compounds may have on our bodies (or the bodies of our children).
You will find a good number of bold claims on the internet about how pesticides are purely fire and brimstone, and are a root cause of all that is negative with regards to human health. However, despite the all of the negative discussion by the general public, I don't think that the scientific literature supports those claims (yet, if ever). [2] Nevertheless, there ARE clearly potential issues surrounding these compounds which extend beyond just human health, and into aspects of health pertaining to the animals that live on our planet with us, as well as insects we do not wish to target (eg. bees). [3], [4], [5]. There is clearly a lot to be studied.
Regardless of all of that, today's article addresses one such potential issue associated with pesticide exposure, birth defects. The authors of the article do this by exploring the data pertaining to more than 500,000 births in the San Joaquin Valley area of California which took place during the years of 1997-2011. The reason this particular area was chosen for study was due to the high concentration of farms and general high population density of residential areas surrounding them (basically there were a lot of people that would have been exposed to a lot of pesticides from those farms).
This Is NOT The First Study To Look At This Relationship
The authors discuss a variety of research available in the literature in which authors have described a relationship between birth defects (low birth weight, fetal developmental problems) and pesticide exposure (but could not illustrate a causal relationship). [6], [7] These prior studies also had additional discussed limitations, including an inability to depict the amounts of pesticides that people were exposed to. It is also interesting to note that while the aforementioned studies presented claims of a relationship, other studies found entirely the opposite, showing no link between pesticides and birth defects at all. [8]
So How About Todays Article?
Here the authors were trying to address some of the limitations in the previous studies. They were looking at a large sample size of births and also correlated those births with access to pesticide data from the mothers geographic area (aka the amounts and types of pesticides that the surrounding farms were spraying). As I mentioned previously this study focused on the San Joaquin Valley, California. California in general, despite its high population also has a very high density of farms. (This may surprise you) it also accounts for a staggering 30% of pesticides used in the US. Thus study of the San Joaquin Valley is ideal for trying to get a better understanding of the relationship between pesticide exposure and birth defects.
What Did The Authors Find?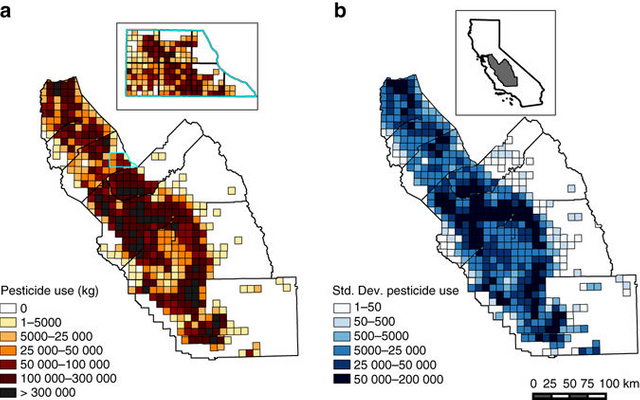 A better look at the area they were examining and the relative levels of pesticide exposure
So taking a look at the figure to the left we can see the San Joanquin Valley and the areas where a lot of pesticides were used. (very dark colors in (a) ). You can also make a note that a lot of the area here was not exposed to any pesticides.
They report that they targeted a specific area with a high concentration of pesticide exposure and a total of over 130,000 births (so lots of data!) Additionally, the people in the study were organized by level of exposure. Those in the 75th percentile (top 1/4) of exposure, were exposed to the potential of 250 kg of pesticides (per 2.6 km2 area), while the 95th percentile were exposed to 4000 kg (per 2.6 km2 area) and the 99th percentile a whopping 11,000 kg (per 2.6 km2 area)!
Interesting Findings
Little effect on birth weight was observed for those in the low exposure group. The low exposure group was all people who were less than the 95th percentile of exposure. So that is a yearly exposure of less than 4000 kg of pesticides (per 2.6 km2 area).
For those in the high exposure (95th percentile and above) the authors report a statistically significant reduction in birth weight by an average of 13 grams.
Being in the high exposure group increases the likleihood of premature birth by 8%
Those who were in the top one percent of pesticide exposure had a greater chance of premature birth (11% increase) and a greater decrease in birth weight (up to 30 g smaller than normal).
Some Conclusions
Due to its size and the amount of data available for pesticide exposure, this study has a greater statistical power to draw conclusions from then previously published work.
They saw an average of an increase of 5-9% of adverse birth related effects for those with the very highest exposure levels to pesticides.
They draw a comparison with air pollution where relatively low levels of exposure lead to 5-10% increases in negative birth related effects. [9] Even stress during pregnancy they report results in a 6% increase in negative effects to births. [10
The negative effects the authors observed come from the most extreme amounts of pesticide exposure. As such they recommend that actions be taken to limit the concentrated use observed in certain areas. This would essentially eliminate the adverse effects reported in this study.
Potential Complications In This Study
They can not account for individual adaptations to pesticide use (they list people choosing to stay inside at certain times, like during spraying, to limit exposure).
They can not study the direct effects of exposure, as that is unethical. (can't go around spraying people with pesticides directly and looking for negative effects, this is a limiting factor for all studies related to these compounds)
They do not have data related to individual compounds, as pesticides are very often sprayed in cocktails of several at once. So no conclusions can be made here related to specific compounds.
Birth records don't necessarily accurately account for all potential negative outcomes, things may have been missed and not included in the study.
Due to the size of the areas they used for quantifying pesticides (2.6 km2), the highest amounts could actually be underestimates of exposure for some people.
TL;DR
Pesticides appear to cause birth defects (low birth weight, pre mature birth etc.) but only in the most extreme exposure cases. The authors recommend public policy changes to limit the likleyhood of these very high levels of exposure, and indicate that this could eliminate the possibility of issues related to birth.
So to answer the question posed in the thumbnail image...Yes there is a relationship, but it doesn't appear to be as strong as many might believe.
---
Sources
Text Sources
Image Sources
All Non Cited Images Are From Pixabay.com, Flickr.com, Pexels.com, or Wikipedia.com And Are Available For Reuse Under Creative Commons Licenses
Any Gifs Are From Giphy.com and Are Also Available for Use Under Creative Commons Licences
If you like this work, please consider giving me a follow: @justtryme90. I am here to help spread scientific knowledge and break down primary publications in such a way so as to cut through the jargon and provide you the main conclusions in short (well compared to the original articles at least!) and easy to read posts.
SteemSTEM
Secondly, please consider supporting the @steemstem project. SteemSTEM is a community driven project which seeks to promote well written/informative Science Technology Engineering and Mathematics postings on Steemit. The project not only curates STEM posts on the platform through both voting and resteeming, but also re-distributes curation rewards as STEEM Power, to members of Steemit's growing scientific/tech community.
To learn more about the project please join us on steemit.chat (https://steemit.chat/channel/steemSTEM), we are always looking for people who want to help in our quest to increase the quality of STEM (and health) posts on our growing platform, and would love to hear from you!