Nikola Tesla Relied on the Power of Visualization – Here's How to Use it in Your Life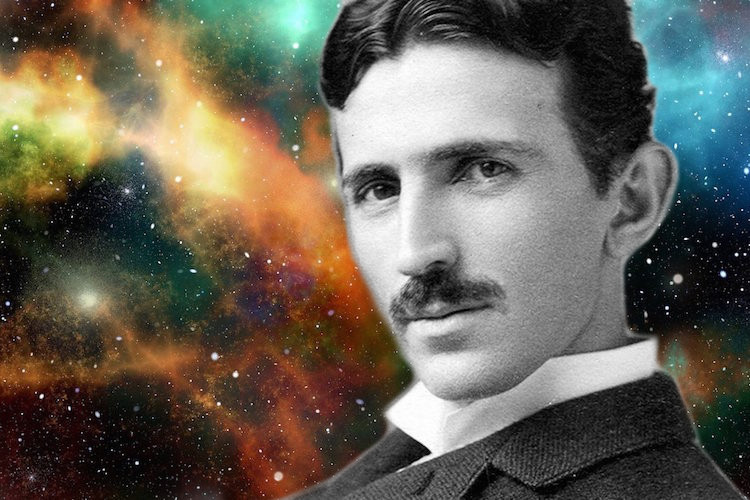 Although he was unique in many ways, one of the most fascinating aspects Nikola Tesla's life was his extraordinary power of visualization. He was gifted with an unusually vivid imagination, and even from a very early age he was able to see things others could not.
If he thought of an object it would appear before him exhibiting the appearance of solidity and massiveness. So greatly did these visions possess the attributes of actual objects that it was usually difficult for him to distinguish between vision and reality. This abnormal faculty functioned in a very useful fashion in his school work with mathematics. Source
This mental faculty had a profound effect on his career, and some of his most famous inventions, such as the AC motor and the Tesla coil, were envisioned in absolute detail in his mind's eye before he ever set anything to paper. Bernard Carlson, author of, Tesla: Inventor of the Electrical Age, writes:
In conjuring up these schemes, Tesla realized the power of his ability to generate mental images. Not only could he use his imagination to undertake fantastic journeys, but he could also direct this talent toward creating new machines. "I observed to my delight that I could visualize with the greatest facility," he later claimed. "I needed no models, drawings or experiments. I could picture them all as real in my mind." Moreover, for Tesla, working with mental images meant that he could concentrate on identifying and exploring the ideal behind an invention. ~Bernard Carlson
Tesla was ahead of his time in many regards, but his powers of visualization hearken back to the original mystery schools. As noted in The Kybalion, which is based the ancient tradition of Hermeticism,"THE ALL IS MIND; The Universe is Mental." For a very long time we have known that reality is first and foremost created within the mind.
Is there no third way in which MAN creates? Yes, there is–he CREATES MENTALLY! And in so doing he uses no outside materials, nor does he reproduce himself, and yet his Spirit pervades the Mental Creation.
…we are justified in considering that THE ALL creates the Universe MENTALLY, in a manner akin to the process whereby Man creates Mental Images.
THE ALL can create in no other way except mentally, without either using material (and there is none to use), or else reproducing itself (which is also impossible). ~The Kybalion
Inherent in our being human is the capacity to physically manifest ideas generated within the mind; and while some seem to have a greater natural ability for this than others, we all share the same anatomy. As such we can all employ visualization with great effect in our lives.
Deep within the brain is the pineal gland and a system of nonvisual photoreceptors, which, scientifically, is known to help to synchronize us with the periodic rhythms of natural light. An internal eye, if you will. Not coincidentally, the gland is also known as the third eye, or the 'seat of the soul,' because it widely recognized as the part of the brain which connects us to spiritual experience and facilitates as our inner vision.
It is with this mechanism of internal vision that the mind is able to project unto itself mental images of anything and everything. This is how we create reality. If we choose images that serve us well, out lives blossom, but if neglect to give attention to the mind's visions, we create chaos in our lives.
Author Al Smith refers to this process as 'imagineering,' and relates it to the act of daydreaming, which unlike night dreaming (while we are asleep) is a form of conscious, intentional dreaming, where we actively choose the images we wish to see.
The mental images you consciously or unconsciously design (imagineer) onto your mental screen are totally understood by the collective subconscious. In other words, your daydreams largely dictate your reality. Your future is largely a reflection of the most recurrent images you've displayed on your mind's screen and the images of you of those who know you. The more times you mentally image a thing, the greater its chances of materializing into your reality. Think of daydreams as votes for events to happen in your future. It's the only true democracy. And, it's perpetually happening inside your head all day long and throughout our universe. ~Al Smith, How We Create Reality
In the case of Tesla, much of this power came naturally to him, but as Smith points out, imagineering is a conscious process. Bernard Carlson explains that it was an intentional practice of a combination of imagination, designing in the mind's eye, and persistence.
This is a skill that can be strengthened with effort and practice, and anyone can do it, so long as the try. Tesla was really only using a highly developed version of a mental capacity that we all share.
Regarding how Tesla put these faculties into use, Bernard Carlson explains that it was an intentional practice of a combination of imagination, designing in the mind's eye, and persistence.
As a simple but potent example of how powerful visualization can be, the following technique can show you. It's called the lemon visualization, and if you want to radically transform your life for the better, this is a great place to start.