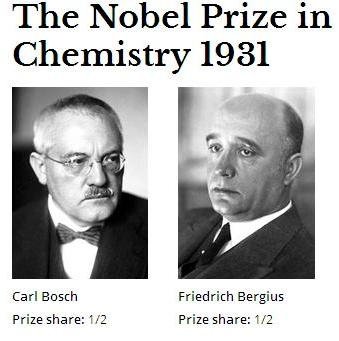 German Scientists
Science and Germany is a good fit when we go back in time. A lot inventions came from Germany. This is another post trying to educate the world about Germany, its inhabitants, culture and more. Recently we spoke about Music - now we asked again Google what they have to say about Germany by typing the search phrase "German scientists" - Results below - who of you knows anyone in that list? Please comment what you think were the top inventions coming from Germany - which of the scientists you admire most, which are missing here?

Carl Bosch
I am picking out one - so not the obvious first choice Albert Einstein but Carl Bosch. Carl Bosch was a German chemist and engineer and Nobel laureate in chemistry and was a pioneer in the field of high-pressure industrial chemistry. In addition he was the founder of IG Farben which was the biggest chemical company world wide during at one point during the early last century.
Carl and myself have in common that we both worked for BASF which is the largest chemical producer worldwide still. He had a bit more chemical background and success than me (it was just a student's job) though.
Bosch is mainly known due to this work on growing the process of Haber ammonia process by synthesizing the ammonia, hydrogen and nitrogen. In addition he is recognized for formulating methods of chemical high-pressure.
1931 was the year he was awarded the Nobel Prize in Chemistry for the introduction of high pressure chemistry. Nowadays the Haber–Bosch process produces 100 million tons of nitrogen fertilizer every year.
Please feel free to write and comment about other great Scientists you know of.