The Rogue Dr. Broom
Our third actor to enter the African stage of human evolutionary discovery was a rather colorful character.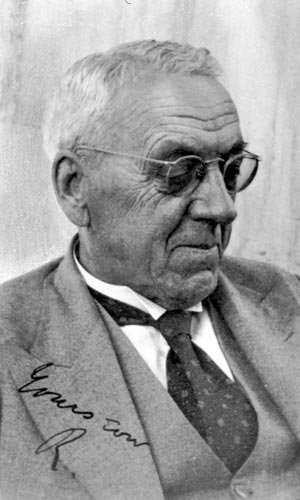 By - http://paleo.amnh.org/portraits/index.html American Museum of Natural History, Division of Paleontology, Archived Portraits of Paleontologists and Members of Staff, Public Domain, Link
He regarded himself and quite possibly was the greatest paleontologist that ever lived up till that time. His contributions in the area of mammal like reptiles was astounding. He published in 7 years over 100 scientific papers on the subject, but he also had less scientifically attractive side.
He would, it seem, resort to any means to get the work done. The scientific community frowned upon many of his methods, that is the ones they found out about...
For instance, in a letter accompanying a shipment of specimens he elaborated that the human skulls contained therein belonged to some local tribesmen that had died in a drought. Wrote he:
"I cut of their heads and boiled them in paraffin tins on the kitchen stove"
With his background as a medical doctor and keen interest in anatomy he would always be on the lookout for something "interesting".
In his own words:
"If a prisoner dies and you want his skeleton, probably two or three regulations stood in the way, but the enthusiast does not worry about such regulations. I used to get the body sent up... then the remains would be buried in my garden, and in a few months the bones would be collected"
Due to this his house was reputed to be haunted and one of his children said the following on the matter:
"It was not uncommon for a human skull or some other horror to be placed on the stove to cook merrily alongside whatever was being prepared for the next meal. Mother never took kindly to this and neither did the servants. Skulls would be left lying around in most of the rooms and it was never necessary to lock up the house for no strange native could be tempted to come near the place"
Add to all of this oddity and that he frequently sold many fossils he collected or could lay his hands on, it is quite understandable to see why the scientific community took a dim view of his practices. He was banned from many museums and even from the very collections he had collected.
Soon he would be looking at skulls a little older than his ill-gotten ones...