Above: Comparison of body-view for pregnant woman (top) and Venus figurine (bottom).    
Venus figurines are tiny sculptures of the human form carved from rock, bone, and antler, or sculpted from clay. They were made for 20,000 years during the Upper-Paleolithic period (roughly 35,000 y/a), and have been found throughout Eurasia (1). 

As seen in the image above, many of the more famous Venus figurines share the aesthetic of exaggerated female traits. Large breasts, hips, abdomen and reproductive organs, along have minimal details in the head and face define the popular vision of the Venus figurine. 
However, the complete archaeological record of these statues varies tremendously, with examples of both not-pregnant and prepubescent figures, and even of male figurines (as well as examples with detailed depiction of the face) (1).    
The famousness of these stereotypical Venus figurines is owed to their exaggerated sexiness: Venus figurines are ancient symbols of fertility and sex according to pop culture, just as they were to many classic archaeologists. Some scholars have suggested they served as pornography in the Paleolithic, while other less sensational scholars suggest they were socially functional depictions of women (1). One author even suggests Venus figurines imply the existence of a peaceful, matriarchal, goddess-worshipping civilization in the Upper-Paleolithic (2). 

The list of theories about origins and purposes of Venus figurines goes on and on (1). Because they are ancient, their true purposes in human lives will probably never be known to science. Obviously, this does not stop people from guessing. 
Another alternative view: Female self-depiction in the paleolithic
One academic has suggested Venus figurines are self portraits (3). Professor Leroy McDermott (1996) suggests that rather than fetish objects, each figurine is a women in the Upper-Paleolithic, sculpted as she sees herself (probably while pregnant).
McDermott asks us to imagine looking down: we see our bodies from a distorted fashion view called a lozenge perspective, shown in the image below. This perspective distorts outward and then inward, exaggerating the breasts and foreshortening the feet. It skews the view of the body's form across an unsymmetrical diamond plane. The lozenge perspective eschews anatomical accuracy in favor of the individual's perspective of her body. 

In the photographs below, we see a pregnant woman (top row) from the lozenge perspective. McDermott compared these photos with others from the POV of Venus figurines (bottom row). 

The similarities are indeed remarkable. 
Use of this technique by the the sculptors might explain why the heads of most Venus statues lack facial detail, and why the feet taper off dramatically.

Just how plausible a hypothesis is this? 
This is certainly a fascinating idea, but it has never held much sway with mainstream archaeologists (see comment#1 in McDermott, 1996[3]). They criticize the results as cherry picking the evidence for examples that fit their own model while ignoring the many exceptions to the Venus figurine stereotype (including male and prepubescent examples; see 1). One of these is the "Dancing Venus of Galgenberg", which is among the oldest known Venus figurines (shown below). Note the relatively accurate and realistic proportions, which do not jibe with McDermott's model.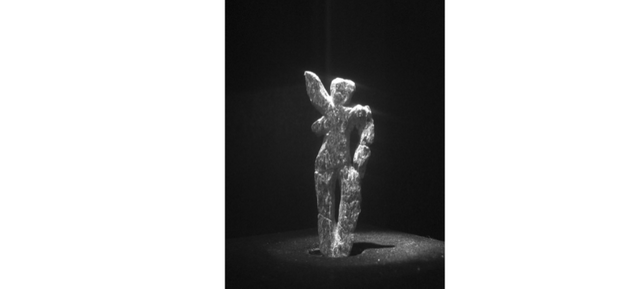 Scholars commenting on McDermott also argue that use of the lozenge perspective --or of any perspective at all for that matter-- does not fit with other art of the paleolithic . That is, only primitive use of perspective is seen in paleo-art (see comment #1 in McDermott, 1996[3]). For example, the cave painting below (from Lascaux) shows a kind of layering that is not actual use of perspective (4).    

An invitation to analysis
Personally, I am with the skeptics. 
Yes, it is plausible that a trend of lozenge perspective self-portraiture happened at some place and time in Eurasia. However, following Bahn's comments in McDermott (1996) I suggest it is more likely that McDermott is wrong, and is probably picking out data to confirm a hypothesis. While I would assume a variety of traditions for making these figurines across Upper-Paleolithic Eurasia, I have to seriously doubt the existence of one that differed so much from what is known about paleolithic art. 
How about you? If you have opinions on all this, please reply!  
If you made it this far, thank you! I would love to start some conversations about archaeology and pre-history with people here on steemit, both academic and otherwise. I'm sure this will become easier as the user base grows. In the meantime I intend to simply keep posting as quality of work as I can!
Afterward
- Feminist perspectives on this controversy can be read here.  
- I have yet to encounter serious follow-up studies on this controversy. If you know of any, please let me know.
#science #history #archaeology #photography
Edits: Spelling