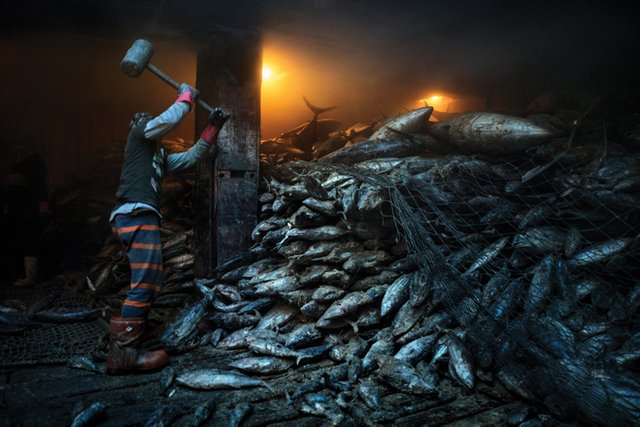 From U.S. Naval Institute
Hungry World

The demand for fish as a protein source is increasing. The global population today is 7.5 billion people, and is expected to be 9.7 billion by 2050, with the largest growth coming in Africa and Asia. Fish consumption has increased from an average of 9.9 kilograms per person in the 1960s to 19.7 kilograms in 2013 with estimates for 2014 and 2015 above 20 kilograms. The ten most productive species are fully fished and demand continues to rise in regions generally with little governance and many disputed boundaries.

In 2014, there were 4.6 million fishing vessels on the world's oceans: 75 percent were in Asia and 15 percent in Africa. High seas fishing capacity has grown significantly, and there are now 64,000 fishing vessels with lengths in excess of 24 meters, and Asia's distant water fishing nations continue to add newer and larger ships.

The wild marine fish harvest remains steady at 80 million metric tons (MMT) while aquaculture or farmed fish now equals 73.8 MMT, with China responsible for farming 62 percent of that total. 1 Farmed fish is predicted to exceed wild capture as early as 2018, but the inputs to these farming operations require massive amounts of fish meal. 2 As a result, fishing vessels will scour the oceans going deeper and farther than ever before to try to feed the world.

The world's warming climate also will increase the demand for fish. Reports describe scenarios which will make Asia, Africa, and South America more arid, which will lead to reduced crop yields. Sea level rise and warming will alter ecosystems and move fish populations. Some islands in the Pacific will be underwater by 2050. Will these islands continue to maintain exclusive economic zones (EEZs)? If not, who will have the rights to fish in these areas? Do countries that traditionally harvest migratory fish continue to get the same quotas even if fish move to other EEZs? These questions demonstrate some of the ways that climate change will alter the status quo and impact resource security.

Protecting Fishing is Important

The United States is a significant fishing power. It has the largest EEZ in the world, almost half of which surrounds the Hawaiian Islands and the Pacific Territories. On average, the United States is the third largest producer of captured fish, harvesting approximately five MMT per year—only China and Indonesia harvest more. The United States' largest landing port by volume of fish is Dutch Harbor, Alaska, and the largest landing port by value is New Bedford, Massachusetts.

In 2014, the United States exported $5.8 billion in edible fish products and $24.2 billion in non-edible fish products for a total export of $30 billion, and it imported $20.2 billion in edible and $15.6 billion in non-edible fish products for a total of $35.8 billion—the highest in the world just ahead of Japan for edible products. 3 The U.S. fishing industry is valued at $250 billion annually, and it supports 1.3 million jobs. 4 This market position is the basis for U.S. soft power to influence the world's fisheries, and it is in the United States' strategic economic interest to help manage and preserve those fisheries.
Read more:
https://www.usni.org/magazines/proceedings/2017-08/global-fish-war-coming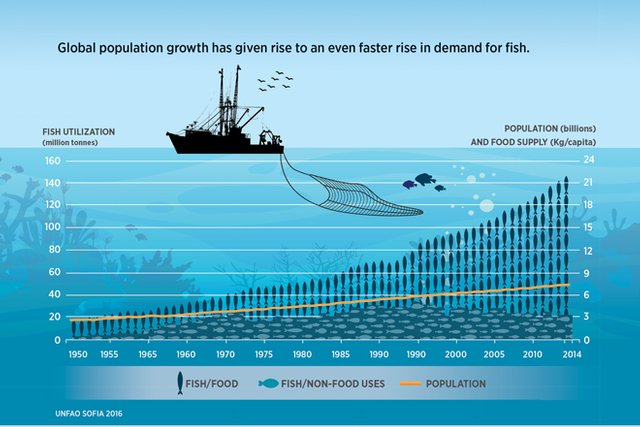 ---
Follow
@contentjunkie
to stay up to date on more great posts like this one.