London Hammer
Hi, Steemit. I want to talk you about one of the great mysteries of the past. Specifically on a hammer millions of years old found in London, Texas (USA). This device has unleashed many questions within the scientific community. Being the first Who manufactured it? Next in this post, I will tell you more details of this fact.
The discovery of the "London hammer"
During the summer of 1934 an iron hammer would be found in a piece of stone, in the city of London, Texas. That summer, Emma Hahn and her family decided to take an excursion in those days through the forest area of ​​the Uplift Plain, which would lead them to encounter an unusual geological phenomenon, "a wooden handle protruding from a large rocky mass", The question that was asked and we are all doing is: How did that hammer get there? Surely the hammer must have been made before the stone was formed, since from the archaeological point of view that stone is extremely ancient, dating of hundreds of millions of years ago. What could be observed of this mysterious object was that its handle was fossilized and the head of the hammer (3 cm in diameter and 15 cm long) was fused with the stone, which suggests that the hammer is older than the rock, so for many researchers this fact was quite an enigma.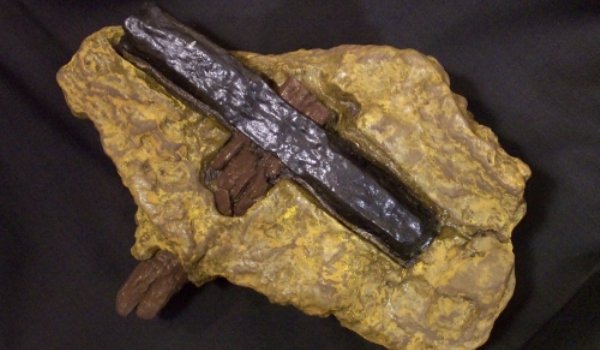 Figure 2. Zoom of London Hammer
Solving the enigma
For a long time, this hammer was a little forgotten, however fortunately, researchers would later come to perform exhaustive analyzes, finding that the iron head of the hammer, would reveal a composition of high purity (96.6% iron, 2.6% chlorine and almost 1% sulfur.), something that could only be conceived using advanced metallurgical techniques used from the industrial manufacturing stage. In addition, the analyzes carried out on the wooden handle showed that the object was manufactured around 140 million years ago.
Older civilizations?
All these data are dizzying for many, since it would question many theories and studies carried out by scientists until now, putting as a center of discussion the existence of older civilizations than we know and much more remote times where conditions were radically different. Even as a natural reason has come to propose that the head of the hammer comes from a meteorite, something that after another analysis was discarded.
Finally, the hammer of London, is another of those objects of the past that gives a blow to the foundations of what we already know. How is it possible that an artifact of this type is older than human civilization? A question that remains open to be answered or not ..
.
If you liked this Post, upvote and reesteem!
References
Stromberg, Pierre, and Heinrich, 2004, "The Coso Artifact: Mystery From the Depths of Time?" NCSC Reports, Volume 24, Number 2, Published March, 2004.
"If I had a Hammer". 5 (15). National Center for Science Education. Winter 1985. pp. 46–47. Retrieved 2007-02-19.
"The London Artifact". www.creationevidence.org. Retrieved 25 February 2015.