Is Dengue Fever Coming to a Neighborhood Near You? Or, A Tale of Two Mosquitoes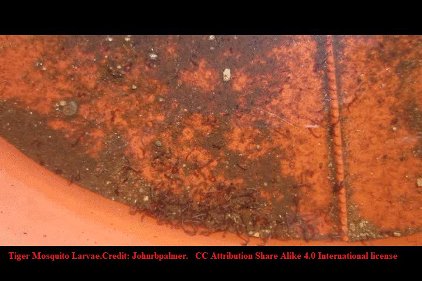 If you click on the link you can see the mosquito larvae swimming.
---
In 2018 WHO reported that 3.9 billion people were at risk of contracting dengue fever. There is currently no consistently reliable vaccine and the disease is rapidly spreading into new areas of the world. As a matter of fact, dengue is probably coming to a neighborhood near you.
---
---
Where does the story of dengue begin? Sometimes it begins where the lives of many people end: in the cemetery.
---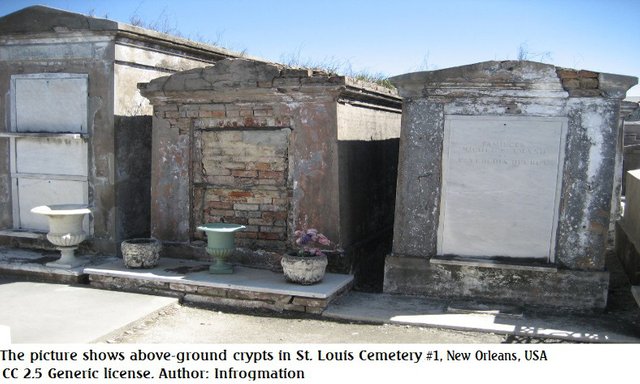 ---
There are three St. Louis Cemeteries in New Orleans. The crypts in the cemetery are above ground because the water table is so high. Many notable personalities are interred in St. Louis #1. Two of these were famous architects, Benjamin Henry Latrobe and his son Henry Sellon Boneval LaTrobe. Both succumbed to yellow fever while working on projects in the city.
---
The history of mosquito-borne fevers in New Orleans is tragic, and legendary. Epidemic yellow fever and dengue visited the city in waves. In 1853, yellow fever took 8,000 lives. And between 1870 and 1873, 40,000 cases of dengue fever were reported. All the while, no one suspected that the diseases traveled stealthily on the wings of a tiny insect.
Illness was whimsical. In a single home, some would be spared, and some taken. The rich and poor alike would fall, without apparent connection. And when death came, survivors would often inter the fallen in one of the cemeteries located in a nearby neighborhood. There, memorial planters would be placed in front of the crypts. The rains would come and water would pool in the planters. Here, the angels of death, mosquitoes, would find congenial breeding grounds. The larvae would flourish and adult mosquitoes emerge to fly away to the homes where their forebears had claimed lives. The new generation would feed, infect new victims. Some of these victims would end up in the very cemeteries where the mosquitoes had found life.
---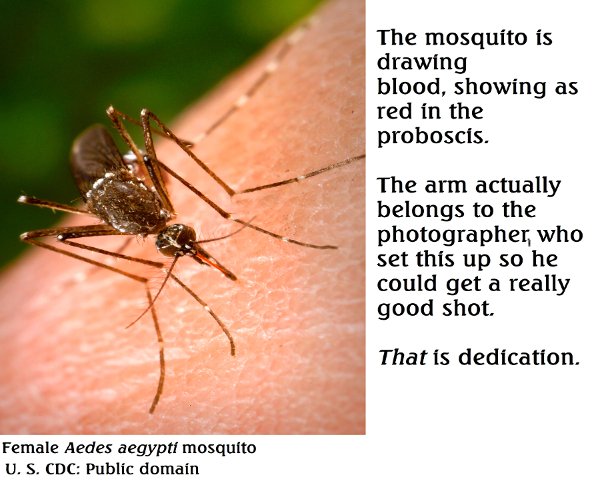 ---
In 1900 it was recognized that mosquitoes could carry yellow fever. Arriving at this discovery was a very costly process. The search for yellow fever's source demanded the sacrifice of heroes, volunteers who gave their lives.
---
---
One of those volunteers was Clara Louise Maass, a young nurse who agreed to be bitten by a contaminated mosquito--not once, but twice. The second time was to test the theory that a mild case of fever would confer immunity. It didn't. She died, at the age of twenty-five. Her death marked the end of human experiments with yellow fever.
---
---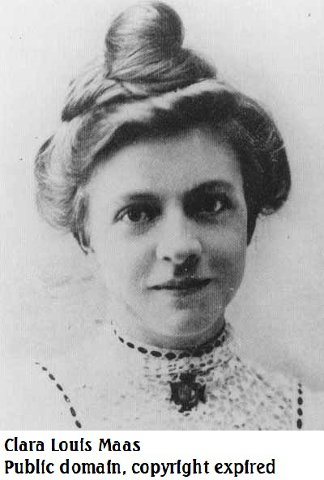 ---
---
Once it was understood that mosquitoes transmitted disease, eradication of the insect became the immediate goal. Sanitation programs were undertaken to eliminate breeding grounds where mosquitoes flourished. The picture below shows a work crew in an unidentified U.S. state. The men are draining a pool of standing water.
---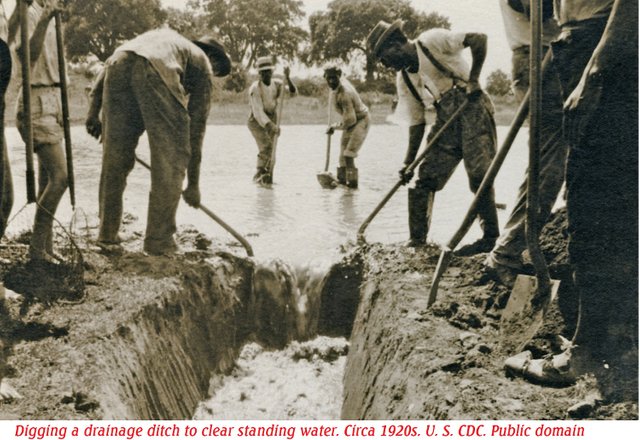 ---
---
---
In 1937, a vaccine against yellow fever was developed by Max Theiler. While the disease still raged in unimmunized populations, science now had two tools to fight the yellow fever scourge: vaccination, and eradication of the Aedes aegypti mosquito, which had been identified as its carrier. As a matter of fact, this insect was commonly referred to as the "yellow fever" mosquito.
---
Dengue Fever: A Disease with Wider Reach than Yellow Fever, and no Consistently Reliable Vaccine
---
Since 1903 it had been recognized that the yellow fever mosquito, Aedes aegypti, could also transmit dengue fever. Very little was understood about this virus, but in 1944, during a dengue pandemic, Albert Sabin (of polio fame) isolated the virus.. Eventually, researchers learned that there were four types of dengue virus, and that another species of Aedes mosquito could transmit it. This mosquito, Aedes albopictus

, was commonly known as the Asian tiger mosquito. In 1944, it had limited global range.
---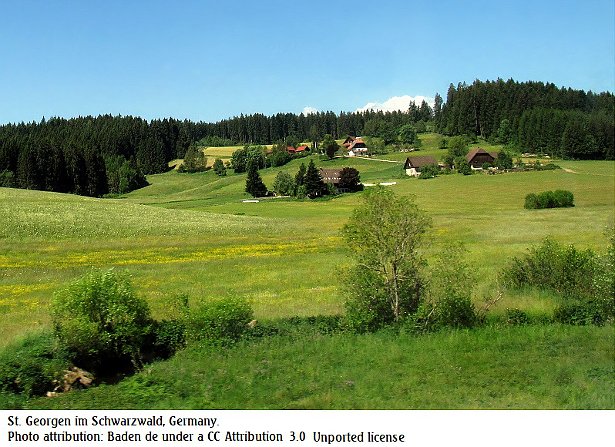 ---
In 2016, on a fine spring day, it was discovered that the mosquito Aedes albopictus (eggs) had survived the winter in a German field. This sent up alarm signals, because it meant that not only could dengue fever be imported by travelers, but it could be sustained and grow independently in Germany.
---
A 2013 article in Pathogens and Global Health describes why Aedes albopictus has become such a widely dispersed global threat. The mosquito has "physiological and ecological plasticity" 2 What this means is, the mosquito wins the trifecta of survivability: Its eggs can over-winter in cool, dry environments; the adult can breed in natural environments and man-made containers; and the mature mosquito happily feeds on a variety of hosts, not just humans.
---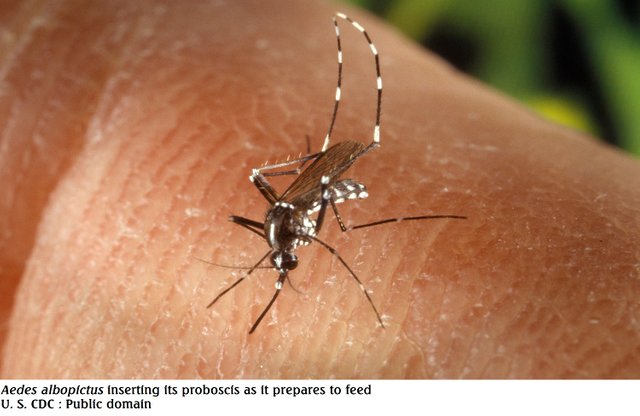 ---
When the Tires Hit the Road, Mosquitoes Hitch a Ride
---
Aedes aegypti and Aedes albopictus eggs show variability in resistance to changes in humidity and temperature. The key to albopictus durability is its resistance to cold. This allows the mosquito to hitch a ride on a variety of conveyances. Both

and

can pass the dengue virus on to their eggs.
---
How Far Can the Mosquitoes Fly?
---
Not far enough to explain their invasion of multiple continents. A 2002 report out of Brazil explains that both Ae.aegypti and Ae.albopictus "females can fly at least 800 m in 6 days"3.
While that range is impressive, it doesn't explain transcontinental expansion. We have ourselves to thank for that. Two proven methods for transporting mosquitoes are used tires and people traveling in automobiles. In a report labeled, "Direct Evidence of Adult Aedes albopictus Dispersal by Car", the authors describe how vacationers in Spain carry mosquito eggs north. Other types of freight, especially plants, have been implicated in the mosquitoes' global expansion.
---
If you look at the two maps below and compare the estimated distribution of Ae.albopictus (tiger) in the U S, for example, you'll get an idea of how the reach of this mosquito is expanding. The global map is for year 2015. The US map is for year 2017.
---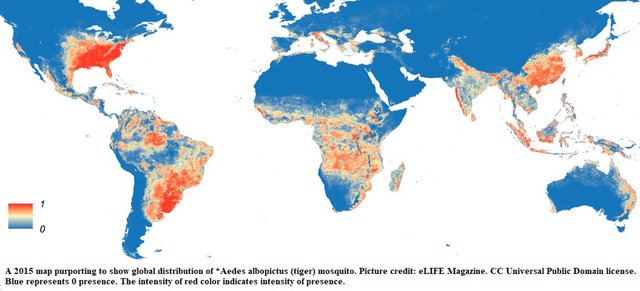 ---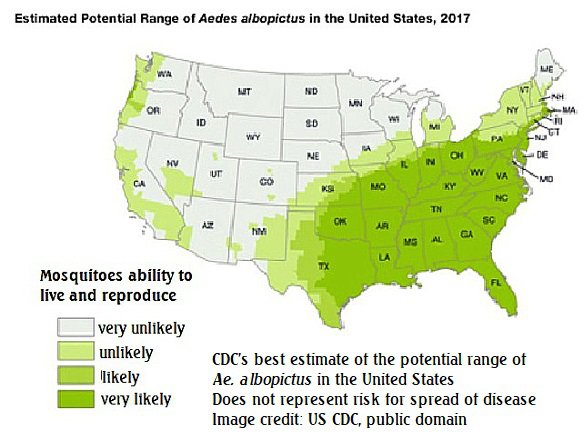 ---
A Tale of Two Mosquitoes
---
These


are both carriers of deadly diseases and both have shown a troubling ability to persist in a variety of environments, despite vigorous efforts at eradication. Both mosquitoes are enzootic vectors-- they transmit diseases from animals to humans. The two mosquito species co-exist and are also competitive. In some cases the tiger mosquito has displaced its Aedes relative.
---
It Doesn't Pay to Sleep Around, at Least if You're Aedes aegypti
---
A small percentage of Ae.aegypti

and Ae.albopictus

mate with each other. There are no hybrid offspring from these unions. However, the conjugal event renders the female Ae.aegypti

sterile. This ends up creating an overall fertility deficit in Ae.aegypti. Researchers believe this may have a sort of snowball effect and at least partly explain why the tiger mosquito is able to displace the more established Ae.aegypti species. A YouTube video produced by Yale explains how this might happen.
---
Particular Challenges of Dengue Fever
---
The greatest challenge of dengue is that, to date, there is no vaccine endorsed by WHO for efficacy and safety. The difficulty in developing a vaccine seems to be related to the fact that there are four subtypes of the virus. It's hard to design a vaccine that addresses all four subtypes (developers of the polio vaccine faced a similar challenge).
---
---
Perfect Breeding Ground for Mosquitoes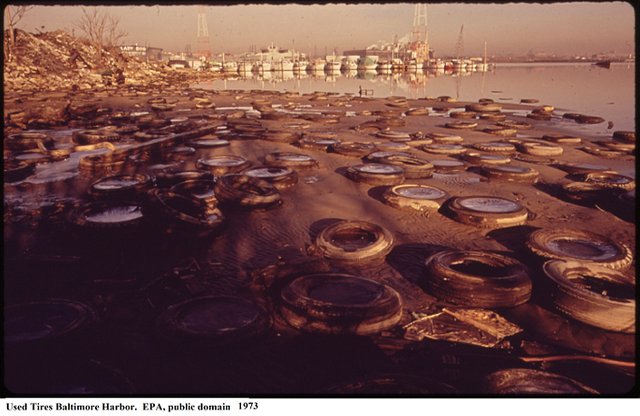 ---
---
How Dangerous Is It?
---
There's dengue, and severe dengue. According to WHO, for most people dengue is a flu-like illness and with proper medical care has an excellent survival rate. Severe dengue, on the other hand, is a life-threatening condition, especially for children. It has hemorrhagic features and patients must receive prompt and skilled medical care. Without that, mortality can be as high as 20%.
Treatment for severe dengue consists mostly of fluid replacement and is best handled in facilities experienced with this disease.
A curious, and critical aspect of dengue is that surviving a bout with one subtype of the virus makes one susceptible to the severe, hemorrhagic form if another subtype is contracted. People should be aware of this increased risk if they have already had dengue.
This video explains in great detail why the second infection is so dangerous.
---
Are You Scared Yet?
---
I am. There is something we can all do, and I am going to do. Every single container or receptacle that may hold water will be kept dry on my property. That includes hard-to reach gutters. And as I walk around my community, if I see an empty container with water, I will drain that water.
Mosquitoes may have a place in the ecology, but not in my home ecology.
---
---
The list of diseases transmitted by these mosquitoes is long. Fact Sheets for each may be found here: , and here:
---
Tiny mosquitoes flying around this post were my creation, with the help of "Paint 3D"
---


Footnotes
---
1 Dengue Fever – A Dangerous Foe, JIACM 2004
http://medind.nic.in/jac/t04/i3/jact04i3p247.pdf
2 The role of environmental variables on Aedes albopictus biology and chikungunya epidemiology
https://www.ncbi.nlm.nih.gov/pmc/articles/PMC4001452
3 Dispersal of Aedes aegypti and Aedes albopictus (Diptera: Culicidae) in an Urban Endemic Dengue Area in the State of Rio de Janeiro, Brazil
http://www.scielo.br/scielo.php?script=sci_arttext&pid=S0074-02762003000200005

Some Sources Used in Writing This Article
---
The role of environmental variables on Aedes albopictus biology and chikungunya epidemiology*
https://www.ncbi.nlm.nih.gov/pmc/articles/PMC4001452
Dispersal of Aedes aegypti and Aedes albopictus (Diptera: Culicidae) in an Urban Endemic Dengue Area in the State of Rio de Janeiro, Brazil
http://www.scielo.br/scielo.php?script=sci_arttext&pid=S0074-02762003000200005
Dengue Fever – A Dangerous Foe, JIACM 2004
http://medind.nic.in/jac/t04/i3/jact04i3p247.pdf
Aeses albopictus - Factsheet for experts
https://ecdc.europa.eu/en/disease-vectors/facts/mosquito-factsheets/aedes-albopictus
Aedes aegypti - Factsheet for experts
https://ecdc.europa.eu/en/disease-vectors/facts/mosquito-factsheets/aedes-aegypti
WHO: Dengue and severe dengue
https://www.who.int/news-room/fact-sheets/detail/dengue-and-severe-dengue
Science History Institute: Jonas Salk and Albert Bruce Sabin
https://www.sciencehistory.org/historical-profile/jonas-salk-and-albert-bruce-sabin
WHO: Immun izations, Vaccines and Biologics
https://www.who.int/immunization/research/development/dengue_q_and_a/en/
Ecology and Evolution of Invasive Mosquito Disease Vectors (YouTube)
youtube.com/watch?v=PAkLEfbBa-c
American Journal or Tropical Medicine and Hygiene: Competitive Reduction by Satyrization? Evidence for Interspecific Mating in Nature and Asymmetric Reproductive Competition between Invasive Mosquito Vectors
https://www.ncbi.nlm.nih.gov/pmc/articles/PMC3144823/
Potential of Aedes aegypti and Aedes albopictus populations in the Central African Republic to transmit enzootic chikungunya virus strains
https://parasitesandvectors.biomedcentral.com/articles/10.1186/s13071-017-2101-0
Estimated potential range of Aedes aegypti and Aedes albopictus in the United States, 2017*
https://www.cdc.gov/zika/vector/range.html
The global distribution of the arbovirus vectors Aedes aegypti and Ae. albopictus
https://elifesciences.org/articles/08347
Scientific Reports: Direct Evidence of Adult Aedes albopictus Dispersal by Car
https://www.nature.com/articles/s41598-017-12652-5
Journl of the American Mosquito Control Association: Aedes Albopictus and the World Trade in Used Tires, 1988-1995: The Shape of Things to Come.
https://pdfs.semanticscholar.org/3341/3183570c8f2fe7de71b399492e1f782474c2.pdf
Dengue Virus Net.com
http://www.denguevirusnet.com/transmission.html
Centers for Disease Control PHIL
https://phil.cdc.gov/Details.aspx?pid=1867
Parasitology Research: Successful overwintering of Aedes albopictus in Germany
https://link.springer.com/article/10.1007/s00436-016-5078-2
The American Journal of Tropical Medicine and Hygiene: The History of Dengue Outbreaks in the Americas
https://www.ncbi.nlm.nih.gov/pmc/articles/PMC3516305/#R57
Journal of Experimental Medicine:Yellow fever and Max Theiler: the only Nobel Prize for a virus vaccine
https://www.ncbi.nlm.nih.gov/pmc/articles/PMC2118520/
American Association for the History of Nursing: Clara Louise Maass 1876-1901
https://www.aahn.org/maass
CDC PHIL
https://phil.cdc.gov/Details.aspx?pid=9179
The Times-Picayune:1853: Terrifying yellow fever epidemic hits New Orleans
https://www.nola.com/175years/index.ssf/2011/08/1853_terrifying_yellow_fever_e.html
Journal of Tropical Diseases: The History of Dengue Outbreaks in the Americas
https://www.ncbi.nlm.nih.gov/pmc/articles/PMC3516305/
AOC: Benjamin Henry Latrobe
https://www.aoc.gov/architect-of-the-capitol/benjamin-henry-latrobe
Experience New Orleans: Cities of the Dead
http://www.experienceneworleans.com/deadcity.htm