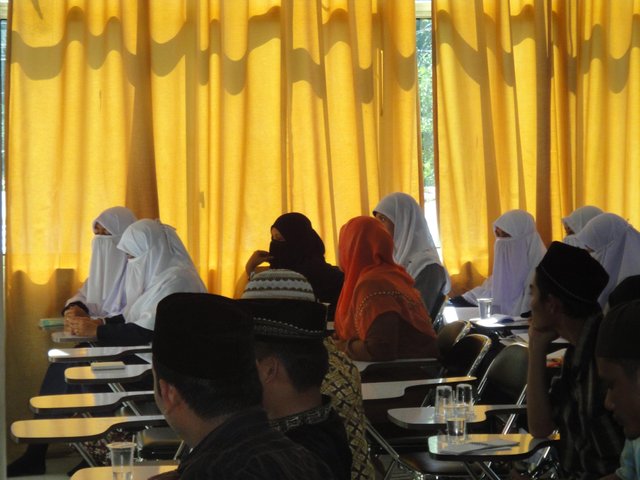 Al-Ghazali mengatakan tujuan pendidikan Islam harus diarahkan pada pembentukan kebagusan akhlak. Pendapat Al-Ghazali tersebut, ia sandarkan pada firman Allah swt dalam surat al-Mukminun ayat 1-10:
قَدْ أَفْلَحَ الْمُؤْمِنُونَ . الَّذِينَ هُمْ فِي صَلاتِهِمْ خَاشِعُون . وَالَّذِينَ هُمْ عَنِ اللَّغْوِ مُعْرِضُونَ. وَالَّذِينَ هُمْ لِلزَّكَاةِ فَاعِلُونَ. وَالَّذِينَ هُمْ لِفُرُوجِهِمْ حَافِظُونَ . اِلاَّ عَلَى أَزْوَاجِهِمْ أوْ مَا مَلَكَتْ أَيْمَانُهُمْ فَإِنَّهُمْ غَيْرُ مَلُومِينَ . فَمَنِ ابْتَغَى وَرَاءَ ذَلِكَ فَأُولَئِكَ هُمُ الْعَادُونَ . وَالَّذِينَ هُمْ لامَانَاتِهِمْ وَعَهْدِهِمْ رَاعُونَ . وَالَّذِينَ هُمْ عَلَى صَلَوَاتِهِمْ يُحَافِظُونَ . أُولَئِكَ هُمُ الْوَارِثُونَ. ﴿المؤمنون : ١-١٠
Artinya: "Sesungguhnya beruntunglah orang-orang yang beriman. (Yaitu) orang-orang yang khusyu` dalam shalatnya. Dan orang-orang yang menjauhkan diri dari (perbuatan dan perkataan) yang tiada berguna. Dan orang-orang yang menunaikan zakat. Dan orang-orang yang menjaga kemaluannya. Kecuali terhadap isteri-isteri mereka atau budak yang mereka miliki; maka sesungguhnya mereka dalam hal ini tiada tercela. Barangsiapa mencari yang di balik itu maka mereka itulah orang-orang yang melampaui batas. Dan orang-orang yang memelihara amanat-amanat (yang dipikulnya) dan janjinya. Dan orang-orang yang memelihara sembahyangnya. Mereka itulah orang-orang yang akan mewarisi." (QS. Al-Mukminun : 1-10)
Berdasarkan keterangan-keterangan Al-Ghazali di atas, maka tujuan pendidikan akhlak yaitu kembali pada kedudukan manusia di dunia sebagai hamba Allah, yaitu agar taat (beriman) kepada-Nya.
Al-Ghazali said the goal of Islamic education should be directed at the formation of moral character. Al-Ghazali's opinion, he rely on the word of Allah swt in Surat al-Mukminun verses 1-10
قَدْ أَفْلَحَ الْمُؤْمِنُونَ . الَّذِينَ هُمْ فِي صَلاتِهِمْ خَاشِعُون . وَالَّذِينَ هُمْ عَنِ اللَّغْوِ مُعْرِضُونَ. وَالَّذِينَ هُمْ لِلزَّكَاةِ فَاعِلُونَ. وَالَّذِينَ هُمْ لِفُرُوجِهِمْ حَافِظُونَ . اِلاَّ عَلَى أَزْوَاجِهِمْ أوْ مَا مَلَكَتْ أَيْمَانُهُمْ فَإِنَّهُمْ غَيْرُ مَلُومِينَ . فَمَنِ ابْتَغَى وَرَاءَ ذَلِكَ فَأُولَئِكَ هُمُ الْعَادُونَ . وَالَّذِينَ هُمْ لامَانَاتِهِمْ وَعَهْدِهِمْ رَاعُونَ . وَالَّذِينَ هُمْ عَلَى صَلَوَاتِهِمْ يُحَافِظُونَ . أُولَئِكَ هُمُ الْوَارِثُونَ. ﴿المؤمنون : ١-١٠
Meaning: "Truly lucky those who believe. (Ie) people who are khusyu` in his prayers. And those who distance themselves from (deeds and words) are useless. And those who pay zakat. And those guarding his cock. Except for their wives or slaves they have; they are not in this way blameworthy. Whoever is looking for that is beyond those who are transgressors. And those who keep the mandates (which he carries) and his promise. And those who keep their prayers. Those are the ones who will inherit. "(Surat al-Mukminun: 1-10)
---
Based on the explanations of Al-Ghazali above, then the purpose of moral education is to return to human position in the world as a servant of God, that is to obey (believe) to Him.