BTC Update : Canadian Exchange Loses Access to Funds🇨🇦
The current price of Bitcoin is $3460 on CMC, with 24 hour volume leveling around 5.3 billion USD
Bitcoin has operated within a very narrow 3.5% price range over the course of the past week. The low volatility at this point means our analysis on the statte of the crypto market is the same as past week.
The support holding from $3330-3400 still remains a crucial level. A break in this support level would could result in revisiting 2018-2019 lows.
$3500 has turned into local resistance. A significant close, above $3500, (4hr. Or higher time frame) would me it would be a ood time to reevaluate the 75% fiat 25% crypto portfolio allocation.
QuadrigaCX, a Canadian digital asset exchange, reportedly owes its customers roughly 190 million USD and has lost access to a majority of these funds.
Quadriga stored a vast amount of the cryptocurrency on their exchange in cold wallets offline. The CEO for Quadriga, Gerald Cotten who passed away in December of 2018 from Crohn's disease had sole responsibility for handling the funds and coins.
The company hired an investigator to see if any information could be retrieved but ongoing efforts have had only "limited success in recovering a few coins" and some information from Cotten's computer and phone.
Our team feels awful for all parties involved as it does not seem that foul play has occurred, but rather a very misfortunate circumstance.
However, the protocol in place dies beg questions , as now they have essentially locked away a significant amount of their clients' money due to faulty security measures.
This is exactly why it is abslutely necessary to holdi one's own private keys, personally, and give trusted family members or loved ones the back up keys needed to access funds in the event of illness or death. Just like in traditional wealth storage, even respected institutions can still ultimately mishandle/mismanage one's capital which can result in losses like the QuadrigaCX situation.
One of the most important aspects of this space is the ability to personally protect one's wealth to the highest capacity, and always remain in control of your funds. Trading is a pivotal aspect of the cryptocurrency space, but using exchanges as long-term wallets is not a practice that can be used or endorsed.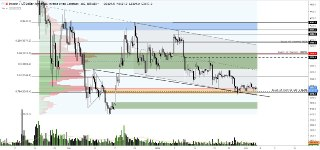 If this post is older than 7 days, please support by upvoting my latest post

latest post

latest post