BTC Update - BTC Looking poised to test 50 day Moving Average
Bitcoin Looks Poised to take on 50-day Moving Average
Hello everyone,
The current price of Bitcoin is $3630 with 24 hour volume leveling around 6.4 billion USD. Bitcoin has maintained the territory gained last week and has been seen to be consolidating in the $3575-3675 price range. It does essm that positive sentiment has returned to the crypto community since $BTC 's ~11% gain on the 8th of February.
There are a few indicators that suggest the market is moving in the right direction.
Volume
The highest volume single-day candle in 2019 now belongs to the bulls (February 8th). When we consider where this candle occurred, in what is almost certainly now considered a falling wedge (bullish price structure) charting pattern, we can presume Bitcoin bulls were happy to step in, once again, in the low 3k's.
https://www.tradingview.com/x/lsuN2jGP/
MACD
Higher time frame analysis for Bitcoin's MACD is printing bullish crossovers on nearly every time frame from 12hr or greater. Even the weekly MACD is seen to be attempting a crossover. The weekly MACD has not successfully crossed bullish since October of 2016 when the price of Bitcoin was ~$700.
https://www.tradingview.com/x/zNC70aQx/
First Interaction with 50-day MA (D)
Bitcoin's price interacted (February 8th, @ $3725) with the 50-day moving average for the first time since January 8th, 2018. Although $BTC was rejected on its first attempt to crack the 50-day MA, the corn has consolidated there and appear to be ready for a push upwards .
Based on these indicators, we assume $BTC could provide a show if it is able to best the 50MA. Right now, the moving average is at $3670. If $BTC manages to break that resistance and then retest the 50MA as support, the crypto market space would be looking skywards
https://www.tradingview.com/x/gJkGla2c/
Until a break of the 50MA occurs, we will hold a bearish mindset while we monitor whether $BTC can tackle the $3670-3690 price range.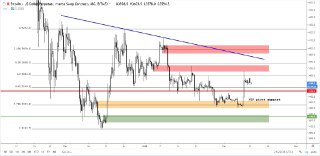 If this post is older than 7 days, please support by upvoting my latest post

latest post

latest post