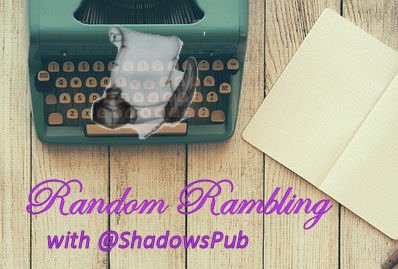 I found out about this contest and as I write this, I'm going to be really close to the line on getting it in. I guess better close than not at all.
The Steem Creators Conference is coming up next week in Toronto and I'd love to be there if not for my finances. Let me tell you a bit about me. I'm @shadowspub. I've been on the platform just over two years. The first niche I established myself in is doing a curation compilation called the Steemit Ramble. I've been doing that since late August 2016.
Last September I opened the Steemit Ramble discord server which has grown to a community of over 600 people. @ramblingradio broadcoasts through Dlive from the Ramble currently include: Creatives Coffee Hour with @artemisnorth, Curation Corner with @artemisnorth and @shadowspub, Pimp Your Post Thursday with @shadowspub and Words With Witty with @enginewitty.
The Pimp Your Post Thursdays tend to be the flagship shows running twice on Thursdays they provide opportunity for Steemians from various communities to come together, network and get to know each other. The connections made during those shows have been awesome.
From PYPT emerged what is now a monthly Witness Chat hosted by me for all witnesses regardless of their rank to attend and interact with each other and the community. Some lively discussions take place during those shows.
From the Witness Chat came @welcomewagon
I recently learned during the first Witness Chat in April, one of the attendees took to heart the discussion about the need to mentor and retain members. @dreemsteem founded the @welcomewagon which has been engaged in mentoring and building engagement one Steemian at a time. A fantastic program. Currently 65% of their grads are actively engaged on the platform.
My Connection to The Writers' Block
I'm part of the leadership in several other discord communities including The Writers' Block. I'm excited about the forthcoming front end they are going to showcase at the Steem Creators Conference and would really love to be there. The frustrating part is, I live in Ontario. So close, yet so far when the funds aren't available.
So, I'm making this entry and let's see what happens. Onward to the Treasure Hunt.
The Treasure Hunt:
Which speaker were you most surprised to see on the list? Why?
I'm was really surprised to see @frystikken on the list until I saw he is going to speak by live stream. Very nice. @frystikken was one of the early characters I met on the platform when his voice chat group were on TeamSpeak and was with them when they made the move to SteemSpeak. It was how I came to discord.
Which speaker are you most excited to hear speak?
Dang.. Just one? There are more than one, but if I have to pick just one, it will have to be @rhondak as she presents the new front-end to the world. Along with her will be @gmuxx, @jasonbu and @instructor2121. Yeah I know, was supposed to be just one but heck man, they are a package on this presentation and it's going to be awesome.
Name one of the artists that will be performing at the Steem Creators Concert.
Marissa Joy
What is the name of the building where the event is being held?
YWCA on Elm St. In Toronto
Who is a speaker that you don't currently know or follow - but sounds super intrigued by and are excited to learn from.
@coruscate — I have only recently heard about her, haven't started following her but from looking at the speakers list I love that she has a variety of interests and and I want to hear more about who she is.
What famous musical comedy pop duo will be performing LIVE at the event?
The Steem Birds (@Jaybird & @Dan-Atstarlite)
So, one problem I have run into. I'm so close to the deadline that the posts that are supposed to be resteemed are paid out and there is no resteem button. Wasn't from lack of wanting to.


Until Next Time — Just Steem on











If you like this, please follow me and upvote the post.
If you'd like to see the other days I've posted, just visit my profile