My experience. (GetSlothyy Experience - RANT + SCAMMER ALERT)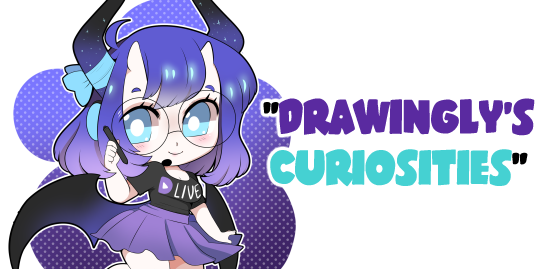 I NEVER imagined that I would be doing this post.
So BIG thanks to @neoxian , @therealwolf and some others. They discovered that @getslothyy was a Scammer.
To be honest, I already imagined he was. And I even told Neoxian about it.
Anyways, here's my experience with him and the trouble he caused to me.
There was some good and bad things.
First, he helped me reach a goal to get my surgery bills completed. But what I didn't like about this was that he was asking for a % of the amount, he said that i would be destined to his Gamer United group to make it better.I believed him, so I gave him 80sbd for his work. I didn't know anyyythinnnggg, and apparently the conversation I had with him about this has been eliminiated from Discord.

Here is some proof about how he pushed me around to take some crypto, sbd or whatever to "grow" it.

I always said that I was at school or was out, so I could just, walk away from him, because then he would become a bit angry after I disappeared for him only.
Here's another one.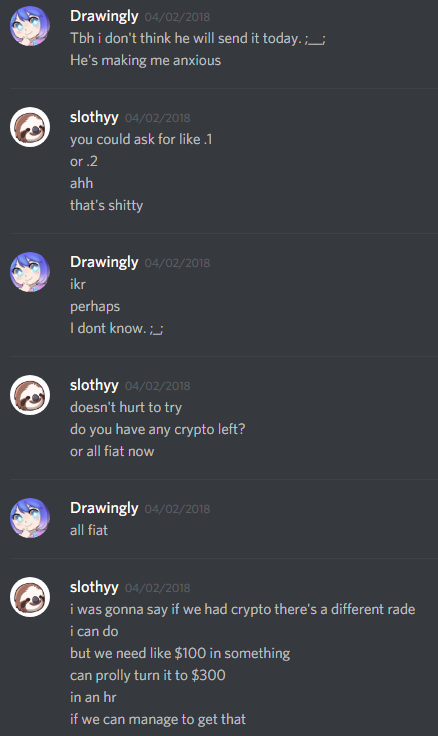 Here he noticed I was going to make a job for a guy, OUTSIDE steemit. He must've read the posts and all that because he began asking about the job and how I would get payed and all that. So he easily began saying he could make 300$ out of 100$. Which... i didn't believe at all if you ask me...
BUT, I fell for it.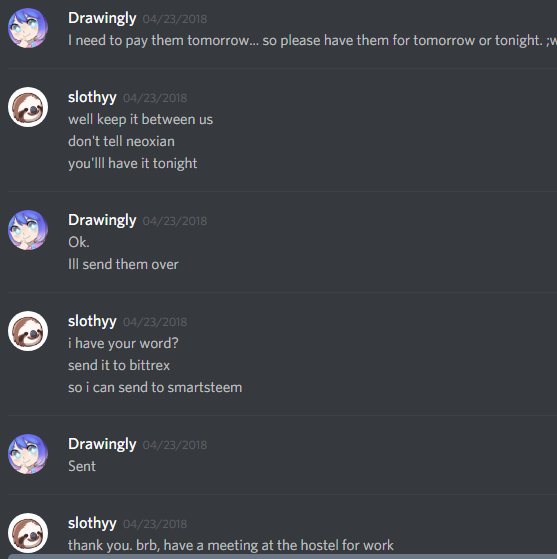 I sent him some sbd, which I had to urgently pay Neoxian for his loan (1st loan). He promised me he would return it, ASAP. That same day. He disappeared for a week. So I had to cry to a friend about this. Meh, im a crybaby, but I really thought he scammed me violently. Haha.
He claimed that he COULD NOT pay any graphic work at all.

That is what I was asked to do. How would you feel if someone asked you to do this amount of work for FREE.

Later on. He made me go into Telegram, into a Crypted chat. WHICH, I totally DIDN'T know how it worked. To be honest, I was a fool, cause I should've researched BEFORE I entered that chat. He asked me for a BITSO transfer of a work I was doing for a dude via Twitter, for some T-shirts release (which will soon hit Steemit. Wink Wonk) and asked for the amount of 1000usd worth of Litecoins to make it "grow". (I was given by my mother some money to pay for my hospital bills.)
Fool me.
I did it.
Now, i couldn't find the transactions in my Bitso account, so if you know how to get that, please tell me. ;_; Im new to this crypto stuff and I still don't know how to search for the stuff. I did these to a FIAT account. So I think that's lost... I don't know how to get it. :c ..
He said to his friends that I was a scammer, and that I didn't draw my own stuff and that I was selling my tablets because god knows what he said. He began pointing his finger at me after he got some FIAT from me. Really dude? ...

He's SUPPOSEDLY, living in Acapulco, Mexico. Which to my knowledge, its the most expensive place to be on Mexico. Specially for a "backpacker" as him. He said to me that he had a seizure problem and that made him go to the hospital several times here in Mexico. There's also another thing that perked up my interest...
I can't find where he said it but, he said to me "I was a bad guy, but Im trying to do the correct thing now."
ALSO, I found out that his mother apparently was sending him big bucks. 500$ usd each week, or so. APPARENTLY.
Anyways.
Am I missing something? If I remember Ill come back asap.
This was my experience with GetSlothyy.
---
I suppose there is no way I will ever get my 1000usd back. Right? But if someone has an idea on how to get them back, please tell me.
If not then... what should I do? :/ ... He evaded me ever since then and I should've raised my voice but I was scared of making a mistake on this community....
I'm sorry to everyone who trusted him and who fell into his claws of hell...
Im truly sorry.
I will add more if I find something else on my conversations or if I find the transactions I did in FIAT to him.