ICO / Token Review: Another Pyramid - Stepium

The next project we will be reviewing is called Stepium, this one's website is a little bit better put together than the last 2 we've seen, at least on the surface, but nonetheless a pure pyramid scheme.
Introduction
Their website looks nice and slick and it seems like they have a variety of products on offer, a cloud mining opportunity, a website builder, an academy, a portfolio manager … of course none of these link to, well anything, there are no subsequent pages … have we reached the end of the internet?

But then along comes the main product: the affiliate marketing programme that is Stepium.
It looks like a pyramid?
There really isn't any information on the website, without registering for the product, so that's what I did, immediately upon registration is when you first bump into Russian on the website:

. .

This is also where the level of English becomes in-illegible, from the FAQ:


Unfortunately there is still barely any information available on what I am supposed to do here and what it is I'm buying. I just happen to know that the Stepium affiliates gift ethereum to the affiliate who recruited them as that is how the scam is being run but don't expect them to make it easy for you and actually explain this on their current website.

Gifting payments are referred to as "contracts" and qualify an affiliate to receive gifting payments on each contract tier from subsequently recruited affiliates; thus creating multiple layers and the more layers you have the richer you'll become! Woohoo!

Here you can see that the first contract costs you 0.05 ETH which also automatically buys the linear contract for an extra 0.01 ETH, for a potential total profit of 0.4 ETH; magical money that grows on trees? Lucky for me there is a clarification that pops up when you buy the contract:

Err … yeah … Я не понимаю (I don't understand).
It smells like a pyramid!
Something that should always concern anyone that is looking to invest in a project the lack of detail on the product's website. Legitimate companies that operate within the financial services industry undergo rigorous vetting and controls yet here we have a website offering the same types of opportunities with literally no details on their website.

Basic information like the companies address, registration number, directors and other personnel should be listed, especially since they just launched a brand spanking new website, yet this detail is blatantly absent.
Here's a link to the new website: https://stepium.com/
And here's a link to the old website: https://old.stepium.com/
Stepium's facebook page doesn't really exist, to the general public it only shows a profile picture and background as uploaded as the sum and total of its activities. BTW, this is the page they link to from their website, there are quite a few Stepium FB pages out there.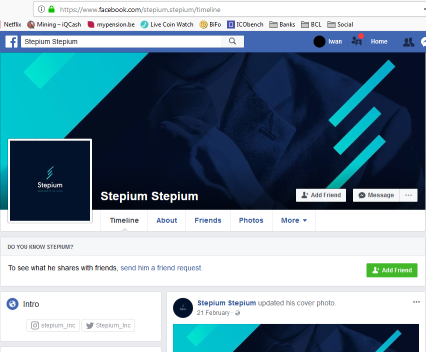 They are a little more active on twitter but over there it is literally all marketing blabla for non-existing products and services: remember the academy doesn't actually exist and enrolment isn't possible from the old or new website.

Just loads of smoke and mirrors.
It is a pyramid!
Stepium pitches itself as a network marketing opportunity through which you can passively earn Ethereum cryptocurrency online. It all sounds so easy…

You're led to believe that you can start earning a passive income simple by signing up & purchasing a contract. Allegedly there's no mining & there's no work involved – you just receive profit from "your projects and invitees daily"

The way it works is that Stepium affiliates gift ethereum to the affiliate who recruited them.

Gifting payments are referred to as "contracts" and qualify an affiliate to receive gifting payments on each contract tier from subsequently recruited affiliates: Contract 1 – 0.06 ETH onto Contract 6 – 155.01 ETH.

Next to this a Stepium affiliate can only receive gifting payments up to the tier they themselves have gifted. If they recruit someone who gifts higher than this tier, the gifting payment is paid up line to the first affiliate who has gifted at that contract tier.
Understanding the structure
Stepium pay residual commissions via 2×3 and 2×4 matrix structures. A 2×3 matrix places a Stepium affiliate at the top of a matrix, with two positions directly under them.

These two positions form the first level of the matrix. The second level of the matrix is generated by splitting each of these first two positions into another two positions each (4 positions).

Level three of the matrix is generated in the same manner and houses 8 positions.

A 2×4 matrix expands the structure by one more level, adding an additional 16 positions to the matrix.

And there's your pyramid.

The biggest red flag here is simply that from reading various articles and looking at their website, and weeding through the cryptocurrency jargon, it is very obvious that Stepium is a classic Ponzi scheme.
Conclusion
Stepium is a pure ponzi scheme, the business doesn't have a business, instead it relies on people investing money into an elaborate financial scheme (with binary and linear investment options), which promises high returns over a short period of time; but in fact what is happening is that some of the money invested by investor A (New Investor) is paid to investor B (Old Investor) as profits and the rest goes to whomever controls the site/service.
If after all the above, you still feel that you should invest in Stepium; by all means be my guest. I don't control your portfolio, nor am I your financial advisor. Just realise what you are investing in and be prepared for it to crash / exit scam at a moment's notice and be prepared to lose your entire investment.
My advice however is: do NOT invest in these types of programs, yes, early adopters might make it to the top of the pyramid (and most likely those are the people behind the platform) and make a decent to high amount of money until the project collapses. It is really simple, in order for any pyramid scheme / ponzi scheme of this nature to work you would need an infinite number of participants; which doesn't exist on this planet.
This to me falls in the exact same category as Bitconnect, Davor coin, PoWH, PoWH3D, Monetize.coin … etc.

Artwork:
Other references:
These three look suspiciously the same:
Actual references:
Contact me
You can contact me here with any questions, suggestions and / or to discuss the topic of this document:
LinkedIn: https://www.linkedin.com/in/iwanspillebeen/
Email: [email protected]
CryptoPub/ToshiTimes: https://forum.toshitimes.com/u/iwan.spillebeen
Sponsoring
I write these papers to - hopefully - help make blockchain more accessible to people new to the technology, I don't get paid, nor sponsored to write these papers. If you absolutely feel inclined to donate something to the writing of this document, you can do so at the following address:
Ethereum / Ether: 0x6E2a1f9baD495B894A2c6F8240918620F899f4E2
Nano / XRB: xrb_1xxzi1o9ywinusod35dcun6ku385i33bohhh8hpap76fh67fgnxg1m3qm9mb
Disclaimer
Blockchain – Decrypted & ICO / Token Review are written as a series of chapters, aimed at demystifying the various workings of blockchain technology. Where appropriate I use examples from existing or to-be cryptocurrencies, these examples are just that, examples, and do not aim at promoting or otherwise endorsing any given cryptocurrency.
This document does not constitute legal or financial advice and I do not make any guarantees or promises as to any results that may be obtained from using my content. No one should make any investment decisions without first consulting his or her own financial advisor and conducting his or her own research and due diligence. I disclaim any and all liability in the event any information, commentary, analysis, opinions, advice and/or recommendations prove to be inaccurate, incomplete or unreliable, or result in any investment or other losses.