If you are checking coinmarketcap.com as I do, there is a high probability that you have seen CRYPTO CLONE banner

On their site you can see this: "CryptoClone LLC is an online investment firm that allows clients to invest a range of over 200 cryptocurrencies to double their Bitcoin, Ethereum, and more!"
Their promise - get 350% profit in 300 hours.
My question - are you kidding with me?
This information is enough to think this is a scam and the only question you have to set up is HOW BIG IS THIS SCAM?
After doing some calculations I realized that (and I am not kidding) if you invest $100 today in less than 230 days you will get about $621.5 BILLION. In other words:
• you will be 9 times wealthier than Bill Gates
• you can have your own space shuttle plus dozens of private islands and airplanes
• (if you have those affinities) you can buy everything Austrian citizens have produced in a year and a half (Austrian GDP is less than a 400 billion dollars).
Although I didn't plan to write all of this, I couldn't resist. So, analysis continues...
What we know about this site?
(or to golden goose)
Address, phone and email are not published!

Facebook page doesn't exist (you can find a link on google, but the content isn't available).

They do not have any strategy or assets which means you do not know how they invest and if they loose, would you get money back?

It is a HYIP (High-yield investment program) – kind of Ponzi scheme. The investor will be paid only if there are new members-investors. In order to increase community they have an affiliate program ("allows investors to refer family and friends to the platform, offering 5% cryptocurrency lifetime commission on all of their investments").

Server is located in Bulgaria. Fake cryptocurrency Onecoin also comes from this country. Isn't that indicative?

If you are interested to read more please consider @coinhawk who wrote an excellent analysis of crypto clone.
Evidences
Cryptoclone pays advertising. It has banners and positive reviews. Also, bots are promoting Cryptoclone on sites and try to pull in newbies and those who do not know much about this kind of scams.
However, every day appear new negative comments. They do not answer on email and of course, do not pay.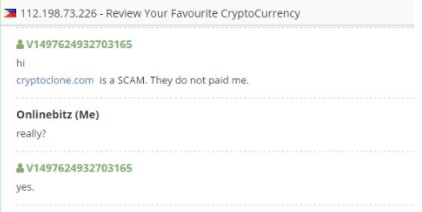 You can check bitcoin talk forum:
https://bitcointalk.org/index.php?topic=1956491.0;all
Please RESTEEM this post! It's important to see as many people as possible.
Also, share your findings. Which cryptos are fake? Have you ever invest in Ponzi scheme?