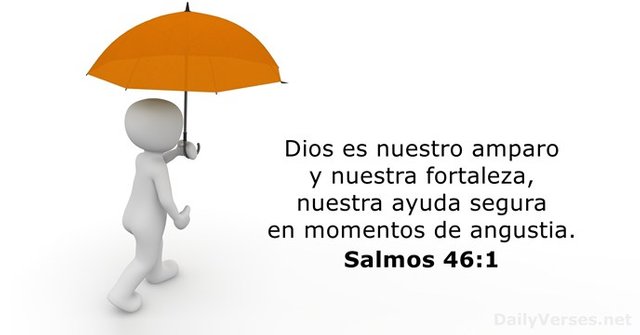 Source
Greetings and blessings. Welcome to my blog. I will reflect on the great advantage of having God as a refuge in all circumstances of life.
If you check your Bible in Psalm 46: 1 you will find:
God is our refuge and strength, our quick help in tribulations.
Tribulations are adverse circumstances in life that often cannot be avoided. In some situations of the life of the believer they can be considered moments of proof of faith.
There are also difficult times in Christians in which God demands that we have confidence and security; and while that critical time passes, we can remain in a life of prayer and praise, as was the case with Paul and Silas in the Philippian prison.
The important thing is to recognize that in those complex and painful moments we are not alone. God tells us in his word that He is our refuge and strength. We must believe God, who is with us permanently. He thinks it's our coat and that we are under his shadow.
Although torrential storms and storms grow, God remains faithful to His Word and continues to tell us that he is "our refuge and strength." We must not fear but yield. We must trust that God is our quick help in tribulations. Trust that it is a safe help for the present and future times, and that we should not fear any calamity.