THE INTERIOR BATTLE
My doctor noticed a small spot on my skin - which he thought needed attention. It was a little problem that had to be treated so that it would not turn into something worse. I did not know it was a problem but he pointed it out.
He prescribed a special cream that, when applied, helped the good cells of my body go to that spot and fight against the bad ones, eliminating them. In other words, medicine started a small battle between diseased cells and good cells.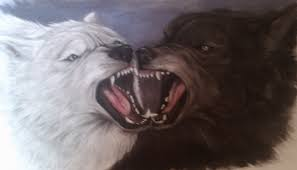 Source
There is a similar battle going on within each of us as believers. This is what happens: Sinful thoughts dwell within us. They have to be treated by the Holy Spirit, who helps us fight and eliminate the bad ideas that our flesh feeds. The flesh introduces things such as immoral thoughts, impurity, discord, hatred and jealousy (Galatians 5: 19-20). But if we cry out to the Holy Spirit to come and rescue us, He combats those ideas with the fruit of the Spirit: "love, joy, peace, patience, kindness, goodness, faithfulness, meekness, self-control" (v. 22-23). .
Are you taking the treatment that cries out to the Holy Spirit to fight against the flesh? This is how we won the battle within us.