Samson's strength was with him the entire time he was faithful to his covenant ...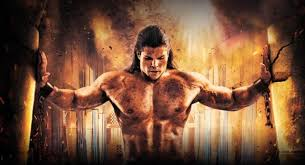 Sanson
---
---
Samson was consecrated since his birth.
He was chosen by God.
He was a Nazarene (set apart by the work of the Lord). 13: 7
He was born at a time when God's people were suffering oppression from the Philistines. 13: 1
I. His great power.
A. It was because the Spirit of Jehovah came upon him.
B. Manifestations of his power:
Killed a lion. 14: 6
He hunted 300 foxes. 15: 4-5
He killed 1000 Philistines with an ass jaw. 15: 14-15
He tore the city gates and left them on the top of a hill. 16: 3
II. Your selfishness This was his great weakness and what left a stain on his history.
A. He refused to accept advice. 14: 1-3
He wanted to marry a woman from the Philistines.
a) It was not approved by the Jews.
b) Even less if it is from the enemy nation.
---
---
Because Samson's story is in the book of Judges, Samson's name is synonymous with "great physical strength." But as we know, Samson's power was not to exercise regularly (although he probably did too). The source from which Samson's true strength came was from his covenant with God.
Samson's covenant with God.
Samson's story tells us that he dedicated himself to a group called the "Nazarites." A Nazarite was someone who voluntarily made a vow of consecration to God. The requirement they had was not to drink strong drinks, or cut their hair. While Samson was faithful to the covenant, God filled him with strength and there was literally nothing that could overcome him. Samson shattered a lion with his hands, killed a thousand men only using a donkey's jaw as a weapon, lifted the gates of Gaza City and carried them on his shoulders to the top of a hill, among other things ...
Because of the power he had, the Philistines - the enemies of Israel, who at that time dominated over them - always tried to kill Samson. But no matter how much they tried, Samson was invincible.
So it was, until the moment he decided to be unfaithful to his covenant with God ...
In a moment of weakness, Samson revealed the secret of his strength to Delilah, a Philistine whom he had fallen in love with. At that time he was defeated. The Philistines shaved their hair when they slept and were finally able to make him a prisoner. When he woke up, he still thought he was able to defeat them, but because he had broken his covenant with God, the Lord had turned away from him. Now, he was just like any ordinary man. The Philistines took his eyes out, took him to Gaza and tied him up to grind a prison.
Our pact
There is a serious lesson that we can learn from Samson's story. If we wholeheartedly serve God, then it is important to understand that we will also have an enemy that will always seek to destroy us. Satan is always willing to prevent people from serving God, he wants to destroy their lives in God so they cannot receive the great spiritual power that a sincere disciple receives in his life. This power, which gives you strength to overcome sin and the powers of darkness, terrifies you because it is the same power that one day will defeat him completely and destroy his kingdom.
However, as long as we are faithful in our discipleship covenant and maintain a pure mind with Christ, we will be as invincible as Samson was! We will receive heavenly power in our life to overcome all evil; All temptations! And when the battle becomes intense, God will continually refresh us with new forces to move forward, as long as we don't give up and yield to the enemy.
"For the eyes of the Lord behold the whole earth, to show his power in favor of those who have a perfect heart toward him." 2 Chronicles 16: 9.
But if we, like Samson, get tired of resisting sin, we give in to temptation, we stop being faithful and allow impurity to enter our hearts, then we will also lose the power we receive from the Lord. We will become ordinary people without divine strength and we will easily be prisoners of perversity type. We will no longer have the power we need when the enemy comes.
A different kind of strength
We cannot defeat Satan unless we have the power of God in our lives and we only receive this power in relation to the purity of our heart and our faithfulness. It doesn't help to fight with our own strength to do good. If we know that we have broken our covenant with God, and we are living in a way that is not according to God's will or even trying to keep a little of our own will, we will not have the power to overcome temptation. We need a different kind of strength to overcome sin - we need divine power through the Holy Spirit.
Many people have walked the same path of Samson, they have lost the power they had in their lives because of infidelity, they have extinguished the Spirit. (1 Thessalonians 5:19)
We don't have to share the same fate as in Samson's story! We can keep our hearts in purity and we can simply be faithful to keep our discipleship - to serve God instead of ourselves. Then we will have an endless supply of power from the Lord and we will see clearly why we are fighting. We will be invincible in our battle against sin.
---
---