The Bible is the word of God that urges us to motivate ourselves to continue and fight for what we want with the help of God.

As we know as humans we have our limitations that in many cases limits us to fight for our dreams but God through his word calls us to seize his promises to bless us and leave our fears and face what lies ahead.

If we want to succeed, the first thing we have to do is seek the presence of God in our daily lives, believing that everything He has promised will fulfill.
We read in the book of John 14:12
12 Truly, truly, I say to you, he who believes in me, the works that I do, he will do also; and even greater will do, because I go to the Father.
(Reina-Valera 1960 (RVR1960)).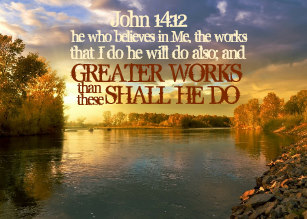 Source
We have this promise from God, all we have is to believe if God did it and promised it he will do it again.
We may be frustrated by what we have not been able to achieve so far, we may have many limitations at this time and humanly we can never achieve what is today a basic need in our lives, but Jesus has promised that things greater than those that He did we would do.
If at this moment you feel sad and without strength I want to urge you to get up and trust in God, fight for your dreams, no matter the limitations, forget about them that God is bigger than any limitation.