The Sermon on the Mount is a beautiful preaching that Jesus Christ pronounced, it is believed, on the mountain now known as the Mount of the Beatitudes. In this precious preaching, Jesus left us solid foundations to build our life and to change our perspective of it. I want, with this series of devotionals, to draw the attention of each one of you to the importance of the application of this beautiful preaching for our daily life, a preaching that is as valid today as it was when it was first taught: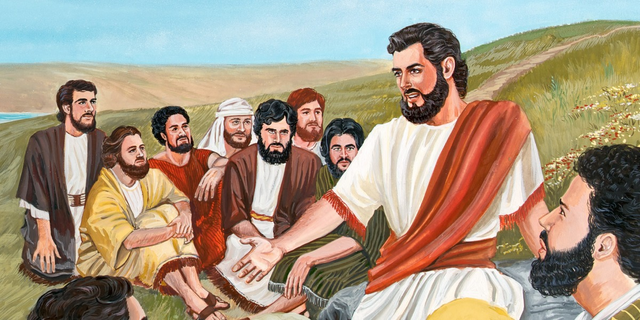 Source
The perfection of love:
One of the key points in which Jesus' preaching differed from that of any prophet or preacher, whether from his own time or from the past, was the emphasis he placed on love as the key to living a full life. This text is key to understanding the heart of the teachings of Jesus and his doctrine.
We must understand that the historical context in which our Lord lived was not simple: The Romans had conquered their country, Jews felt humiliated, had to pay taxes and often received unfair and degrading treatment. The last thing they wanted was to hear someone talking about love; instead, they expected a man who, through violence, would give them back their freedom.
This leads us to understand why Jesus was so different, so unique and so particular: His message is love.
From the book of events, we can infer that there were many characters contemporary to Jesus who wanted to pass themselves off as Messiah. I guess many of them wanted to do it to put themselves at the head of the battle and propose war as a weapon of freedom.
Unlike any other, Jesus preached of love and humility. He knows that true war is born in the heart of man and that the real bonds are not political or physical, but those that sin forges in a heart that has been submitted to him.
Jesus taught to love enemies, Paul taught to submit to the authorities, Peter taught never to return evil for evil. At no time was it the intention of the first Christians to take up arms and fight for the freedom of the Jewish people, or to stay with political power; they were fighting the real battle.
Returning to the text, we see in the first verses that Jesus attacks the ancient tradition of "Eye for eye and tooth for tooth". How much we need that in the current world!
So many wars, so much lack of forgiveness, so much violence, so much thirst for revenge, so much family destruction, so much orphanhood, so much misery that we live today and we could avoid if we all took a step forward and said: "I'm going to love and not hate "
Jesus is not calling us to be fools, he is calling us to understand that violence only generates more violence; that, if we enter the game of revenge, we enter an infinite cycle of destruction that will touch our lives and that of our generations. It is also calling us to be soldiers of the good fight, fighting against evil doing good; to fight against hatred through love.
The second point that Jesus attacks is "You shall love your neighbor, and you shall hate your enemy."
Jesus tells us "Love your enemies, bless those who curse you, do good to those who hate you, and pray for those who abuse you and persecute you."
This is impressive, we can not be indifferent to such a great and clear message as Jesus tells us in this passage.
God wants us to love perfectly, not only those who do good to us, not only those who greet us or those who love us; but also those who do not like us, those who seek our fall, those who have betrayed us, those who have harmed us, those who have stolen us, those who have betrayed our trust, those who have They make fun of us, those who attack us physically or psychologically.
The Lord puts God as an example of this perfect love, reminding us that he allows the blessing and opens the heavens so that it rains over all; just as it makes the sun rise, over the good and the bad. The Lord Jesus Christ himself is a living example of this command, for he prayed for his enemies, being in the agony of the cross.
Forgiveness is stronger than the sword, and love more powerful than any weapon that man could invent. Humility is far from being humiliation, on the contrary, it is a sign of greatness.
So, what should we do as Christians?
Respond to violence with love.
Love the enemies.
Desire the good to those who wish us evil.
Do good to those who hate us.
Pray for those who harm us.
If we really want to make a difference in the world, we must obey this teaching. People desperately seek perfection, but Christians forget (very often) that Jesus showed us that perfection is in love, but in love for all, not only for those who are easy to love.
GOD BLESS YOU