CHRONIC SINS
Most of us know the history of David and Goliath, because it is widely used in churches, Sunday schools, and even used in the secular as an example of courage and courage, however we always take this story to motivate and encourage people teaching them that with the help of God there is nothing impossible, because this is the teaching we always get from this story, however we seldom see the other teachings behind these stories, and we all know how David won to Goliath, but today we will see the extent of David's faith in God, and how he was able to defeat the giant who oppressed Israel.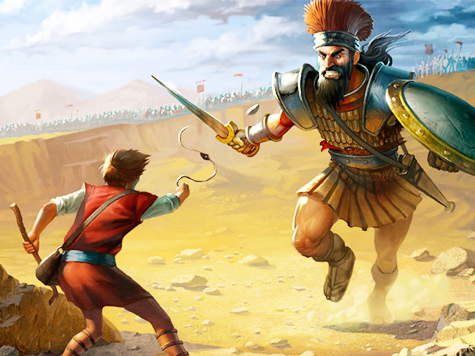 Source
we can see that David was at an obvious disadvantage to his adversary, however he had a very high dose of faith, and willpower, he knew and had taken into account all his weaknesses, but he also hoped that the Lord would fight and fight. with the.
When David being a little shepherd, faced without any armor (1 Samuel 17: 38-40) that giant warrior, whom none of Saul's soldiers dared to face, he knew in advance that he was at a disadvantage and that moment of getting into hand-to-hand combat I would never have a chance to beat that giant, so David analyzed that the only chance he had was a surprise attack, because then he would take Goliath off guard and that was the only way to win, but if he failed the shot, then it would be crossed by the immense spear of the Philistine, then an obvious question arises, if David knew that he would only use a stone to win, or in any case to die in the attempt, then why he chose 5 stones of the stream?
The answer is found in 2 Samuel 21: 28-22 and it turns out that history tells us that when that little shepherd came to the battlefield, the Philistines were on a hill, and the Israelite army was on another hill, and there was a valley in the middle, and when Goliath challenged the army of God, and David decided to go to battle he could see the battle from another perspective and I could see perfectly that Goliath was not alone, because he had other 4 giants behind him. to attack the naive who dared to descend into the valley to fight with Goliath, (these were killed many years later by the brave David)
Then the little shepherd's faith was in trusting God so much, and he thought that he would succeed in killing Goliath with a stone, and he had prepared the other 4 stones one to kill each one of the giants, in case they came to him, David I was confident that I would have the strength and the aim to kill not one, but five giants with one stone at each.
However, the bible says that upon seeing its champion fall, the Philistines ran away, and among them the other 4 giants.
The same happens with us, each one of us has our personal giants, who attack us in the occult, who hit us in our privacy and are those hidden sins, faults that we commit every day, and that have become a habit , are sins that we are committed to committing, tired of asking for forgiveness for the same chronic sin that affects our intimacy with God, are those giants that make us fall into the depths of a dark and lonely abyss, that make us feel impure, unclean and deserving of forgiveness and is that there is a process that takes place for a sin to become chronic:
The first time we sin, we come and ask God for forgiveness, swearing that we will never do it again.

The second time, we think about promising something in exchange for forgiveness, so that God realizes that this time he is really serious.

The third time, we impose a self-punishment, something that hurts us, and we refuse to stop sinning again.

The fourth time, we do not even think about asking for forgiveness, because we feel too guilty and impure and we feel deserving of forgiveness, and that is when we make the biggest mistake, we stop praying and looking for God, because we believe that we are not holy enough to opt for God to use you.
However let me tell you that there is the grace of God and that it does not matter how big, tall and strong that personal giant that attacks you, whatever you call it, the secret is in facing it, stop running away from it, confront it, trust that God will be with you, and he is able to forgive you, not because you deserve it, but because he loves you so much as to leave you alone, the bible tells us that he who confesses his sin and departs from it, reaches the mercy of God it is always better to humble yourself before God than to wait for him to humiliate you, today you can humble yourself before him, and you will be merciful.
---
---