Fight the good fight of Faith: Finish your Race for the Crown.
#Greetings in the name of jesus Christ the savior of the world.
I just want to share with you about fighting the good fight of faith!
I am connecting the previous Scripture with, Heb.12.1 - Do you see what this means--all these pioneers who blazed the way, all these veterans cheering us on? It means we'd better get on with it. Strip down, start running--and never quit! No extra spiritual fat, no parasitic sins.

Heb.12.2 - Keep your eyes on Jesus, who both began and finished this race we're in. Study how he did it. Because he never lost sight of where he was headed--that exhilarating finish in and with God--he could put up with anything along the way: cross, shame, whatever. And now he's there, in the place of honor, right alongside God.
Heb.12.3 - When you find yourselves flagging in your faith, go over that story again, item by item, that long litany of hostility he plowed through. That will shoot adrenaline into your souls!
We learn that there is a race to run. Its a faith race. Or the salvation journey race. Its a good fight because it has rewards at the end of it. It profits. 1cor9:26..."So I run, so I fight". Its a race that you not only Run, but also Fight! You fight while running! Running for what? There is a prize to win..Its eternal life, or the crown of life /Righteousness in heaven.. 2Tim4:7-8
Our eyes have to be fixed on Jesus and not the world. To win this race, we have to study how Jesus did it. Why? He never lost sight of where he was going! He understood his destiny. Just like Paul, he didn't run aimlessly..
1cor9:26..So in my conclusion, a good fight is not yet good unless you finish it well. Ofcourse it will have trials, afflictions along the way-,2cor5:7, Heb11:34, Heb10:32..You run it to the end. That's what's means to keep the faith and run the course. Its a personal journey, but you don't run it alone. We are not the first to run it neither the last. Jesus is our Focus!
We have people who have showed us the way, our spiritual parents have stood, they are good examples to imitate. They have not deviated from the call, the truth, the foundation.. How blessed we are as children.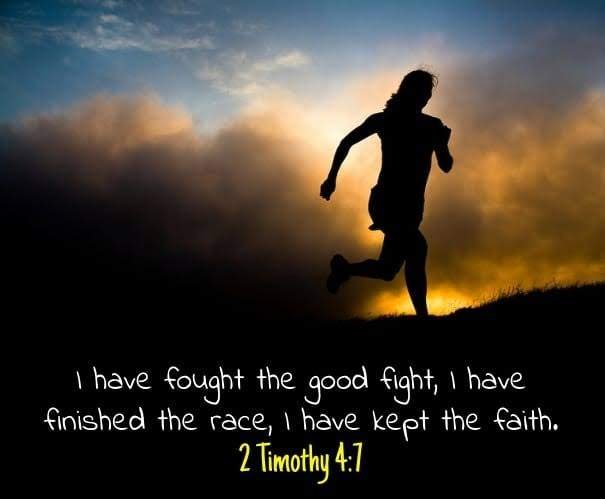 Posted using Partiko Android