6! I finished with positive ROI the sixth month in a row!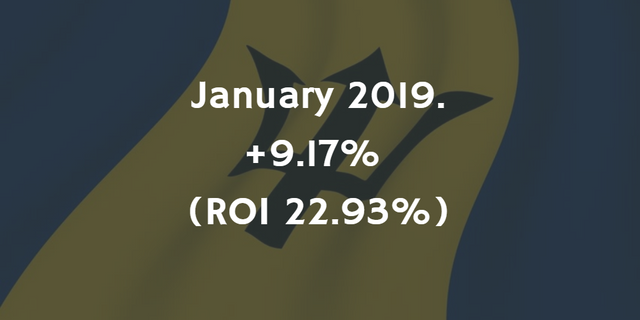 I expected that January will fail. But it turned out the opposite and it is very good)
And it was the second consecutive month with ROI over 20.
I didn't need big bets again. Such bets were only in two months, so the percentage of "normal" months reached 66 percent.
It seems that in January I have the smallest average bet and that is good too.
Total ROI for all 6 months is 9.94%.
| Date | Bet | Stake | Odds | Result | Bookie |
| --- | --- | --- | --- | --- | --- |
| Jan 30 | Buffalo Sabres - Dallas Stars: U5.5 | 2.5% | 1.95 | Won +2.38 | Efbet |
| Jan 29 | Columbus Blue Jackets - Buffalo Sabres (60min): U6 | 1.25% | 1.9 | Lost -1.25 | 188bet |
| Jan 26 | Dortmund (-2) vs. Hannover | 2% | 1.79 | Won +1.58 | 888sports |
| Jan 22 | Carolina Hurricanes - Calgary Flames: U6 | 3% | 2.1 | Won +3.3 | Pinnacle |
| Jan 20 | Fulham - Tottenham (LIVE) ( X2) | 5% | 1.65 | Won +3.25 | Betfair |
| Jan 20 | Barcelona (-2)- Leganes | 2% | 1.86 | Void | AsianOdds |
| Jan 20 | Huddersfield Town - Manchester City (-2) | 2% | 1.77 | Won +1.54 | Sbobet |
| Jan 20 | Fulham - Tottenham( 2) | 2% | 1.76 | Won +1.52 | Vbet |
| Jan 19 | Edmonton Oilers - Calgary Flames (60 min): U 6 | 1.25% | 2.0 | Lost -1.25 | Efbet |
| Jan 19 | Man United (-1.5) vs. Brighton Hove | 2 | 1.92 | Lost -2 | Scorumbet |
| Jan 18 | Detroit Red Wings @ Calgary Flames (60min): U 6 | 1 | 2.0 | Lost -1 | Efbet |
| Jan 18 | Buffalo Sabres @ Vancouver Canucks: U 5.5 | 1 | 2.0 | Lost -1 | Efbet |
| Jan 17 | Barcelona (-2.5) vs Levante | 2 | 1.82 | Won +1.82 | 188bet |
| Jan 13 | Betis vs Real Madrid (2) | 2 | 2.2 | Won +2.4 | Vbet |
| Jan 12 | Chelsea (1) - Newcastle United (LIVE) | 6 | 1.48 | Won +2.88 | Pinnacle |
| Jan 12 | Chelsea (-1.5) - Newcastle United | 3 | 1.65 | Lost -3 | SportsBetting |
| Jan 6 | Real Madrid (-1.5) - Real Sociedad | 2 | 2.29 | Lost -2 | Pinnacle |