Schwarzer Tag für die Netzfreiheit. Heute am 26. März 2019 hat das EU-Parlament für die umstrittene Urheberrechtsrichtlinie gestimmt, die Upload-Filter und Link-Steuern einführen wird.
Habe die Debatte im Internet verfolgt und festgestellt, dass das Europäische Parlament eine veraltete Website nutzt, die noch Plugins verwendet und in modernen Browsern nicht mehr angezeigt werden kann.
Das gibt ein ziemlich gutes Bild ab, wie rückwärtsgewandt die Politiker leider in Sachen Internet sind. Wie zuvor berichtet, haben manche Politiker ein völlig falsches Bild, wie Internetplattformen Geld verdienen und denken, dass sie mit Urheberrechtsverletzungen Milliarden einspielen, was ein völliger Schwachsinn ist.[3]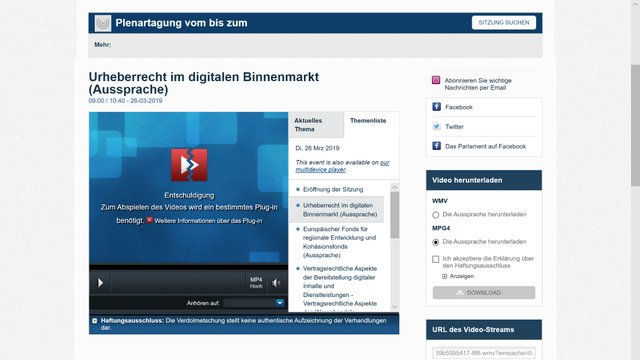 http://www.europarl.europa.eu/ep-live/de/plenary/video?debate=1553587236695
English
Black day for the free Internet. Today, March 26th 2019, the EU Parliament voted in favor of the controversial EU Copyright Directive, which will introduce upload filters and link taxes.
I followed the debate on the Internet and noticed that the European Parliament is using an outdated website that still uses plug-ins and can no longer be viewed in modern browsers.
This gives a pretty good picture of how backward-looking politicians unfortunately are when it comes to the Internet. As previously reported, some politicians have a completely false picture of how Internet platforms make money and think they are earning billions with copyright infringements, which is complete nonsense.[3]
Sources
[1] http://www.europarl.europa.eu/ep-live/de/plenary/video?debate=1553587236695
[2] https://twitter.com/Senficon/status/1110509831989936128
[3] https://steemit.com/saveyourinternet/@vikisecrets/saveyourinternet-politicians-believe-that-online-giants-earn-billions-with-copyright-infringements
[4] Statement zur geplanten EU-Urheberrechtsrichtlinie
---
Live your Secrets and Steem Prosper 🔥
xx Viki @vikisecrets