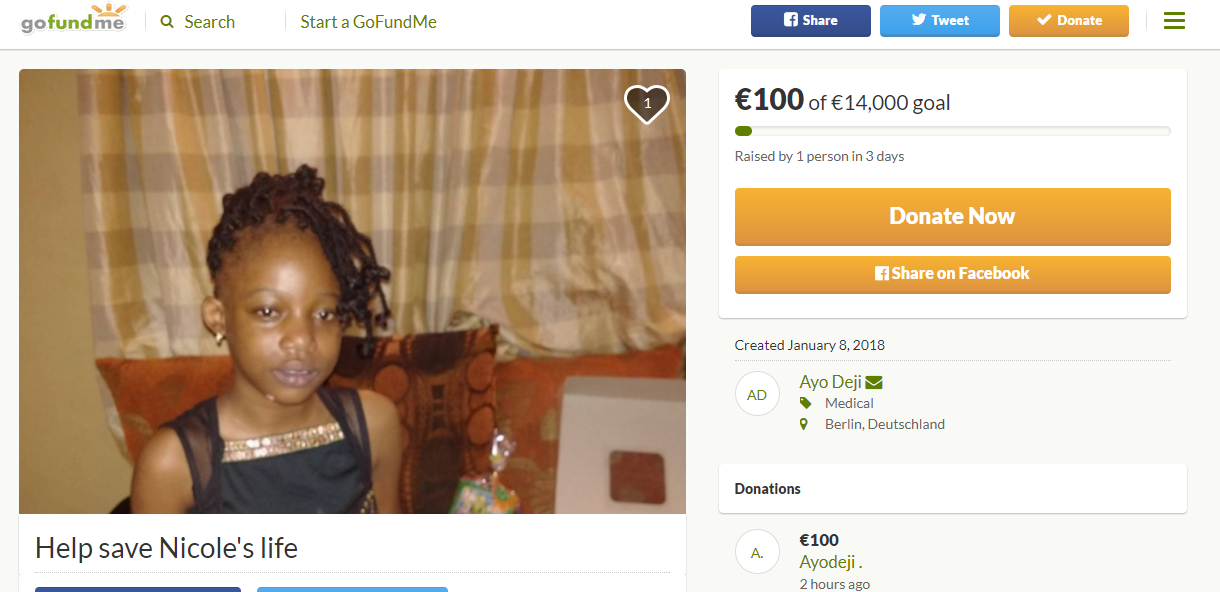 11 year old Nicole who lives in Lagos is in desperate need of a heart surgery so she can have a chance to live and we need your immediate help, please. She was diagnosed of "Cyanotic congenital heart disease"
Your donation of any amount can help her and her parents reach the minimum goal of EUR14,000/$16700 (Six Million Nigerian Currency) to cover Nicole's surgical expenses.
Kanu Heart Foundation (known for providing initial support and diagnosis of heart dieseas for children) founded by the ex-nigeria international footballer requested this sum for the surgery and logisitics to and post india (as this is the proposed option
[At the moment her parent(my friend is busy taking Nicole through further tests "ECG" etc at the Kanu Heart Foundation center - so more Info and pictures to come soon ]
It would be a great joy if we have a child who can think about her future and not worried about not being able to see the sunrise the next, her sibling etc...
With your support and encouragement we believe Nicole's story would have a happy ending.
Nicole, is a daughter of my high school friend/classmate (Shola Owolawi - see facebook page below)
Many thanks from Nicole, Family and Friends of the Family.
SteemDonation:
PLEASE: All steem donations should be have #helpsavenicole comment. thank you and God bless you.
GoFundMe page link here
https://www.gofundme.com/savenicolenwaozo
Kanu Hear Foundation - Heart Surgery foundation.
http://www.kanuheartfoundationng.com/media-gallery/
Nicole's mum(my high school friend) facebook profile.
https://www.facebook.com/shola.owolawi
Please assist and share this need:
@laideoluwole @steem-ambassador @dlive @dineroconopcion @steem @zuvarnic @andrachy @wmougayar @cass, @sneak @jamesc @val-a