Following the 'and it's gone' exit stunt the team pulled few weeks after the ICO sales ended, the general crypto Community came down hard on the savedroid team with threats of legal actions and death (at the extreme). However, few hours after it announced its 'exit scam' via the CEO's twitter handle, the team published a website where it explained to its ICO investors and the general public that the 'exit scam' episode was just a publicity stunt geared towards attracting more crypto enthusiasts to the value it's creating. Although lots of investors where already furious at the discovery of what happened, the site which was created to manage the tarnished PR image of the company read: "AND IT'S NOT GONE savedroid, is there, and will be there. Savedroid is all in for establishing high quality ICO standards", followed by an explainer video with the CEO explaining how the whole publicity stunt was staged, and at the same time he introduced a new service that savedroid will offer the crypto Community, so as to help fight the everyday ICO and similar scams the community is bedevilled with. The team seek to offer the crypto community 'an ICO advisory service' to help guide its users, customers and clients towards the right projects to invest in.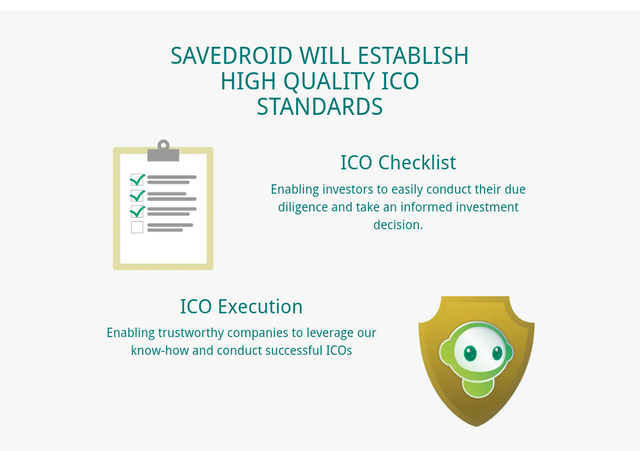 Savedroid Will Establish High Quality ICO Standards
It is no doubt that the amount of ICO and project scams that has transpired in the life of this nascent industry is alarming, and the most rational thing to do is to seek out solutions to solve the problem. Hence, the savedroid team has decided to join the league of professionals who work tirelessly via several technical, social and legal means to keep the space safe for unsuspecting enthusiasts, professionals and investors. How does savedroid team hope to deliver security to the crypto-space?
How will savedroid keep the Crypto Industry Safe from Scam ICO Projects? Through its "ICO MANIFESTO" checklist, the team hope to implement a professional advice service that will ensure ICO transparency; responsibility to the 'ICO' community; ensure good governance; build experienced team; apply enforceable rights; security against scam; equality for all; ensure good
governance, and the creation of a real token value for the benefit of the token purchasers/investors.