Satoshi's Treasure Hunt: FAQ's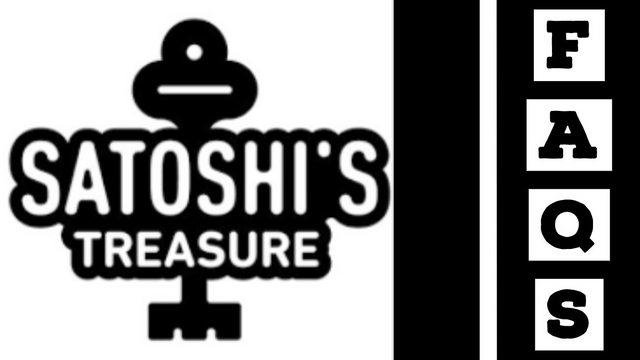 1. What Is Satoshi's Treasure Hunt?
Primitive Ventures
and a few anonymous entities have put together 1000 clues to be solved by crypto enthusiasts. The team that solves 400 of those clues first, then combines those clues to find the Bitcoin wallet, wins the $1 million dollar prize! There are 1000 clues, to account for a margin of failure.
2. Where do I find a list of all the clues?
We list all of the clues that still need to be solved in the "Key" channels on the
Steem Clan server
. Join our clan and come see for yourself how we go about solving them. We "vet" all applicants for security reasons, but once you're in, feel free to ask around. Jump on the chats. People are friendly. They'll fill you in.
3. What are the clues like?
Each clue is vastly different from the one before. Each riddle demands different skill sets. Some require the knowledge of a world traveler, others require coding experience, others simply require the right combination of tenacity and creativity to think outside the box. The main thing is, people seem to just know how and where they are needed, and they fill in the holes. Everyone helps out and it's a lot of fun.
4. How do we know when the next clue will come?
We don't. But they tend to come at least once a week, although they seem to be every other day sometimes. If you want to see what clues have been released, just go here:
5. What is the point of the Steem Clan? Why not just venture out on my own?
You are welcome to venture out on your own. But the clues are often very difficult and cryptic, and sometimes take days (or weeks?) to solve even with several of the brightest minds on the job at once. But they do get solved! And the more people, the merrier. Our goal is to invite as many good team members to our team as we can so we can be the first to solve 400 riddles and win the grand prize of $1,000,000! Because our team is consistently among the top two in the competition, we believe we have a very good chance of winning.
6. What are you planning on doing with all that money?
We plan to invest most of it within the steem platform to help boost the steem economy and curate quality users and good content. We are also allocating tokens to participants in the game and to those who help manage the server simply as we go along. Those tokens are directly redeemable against the final prize. In essence, we are giving away percentages of the prize to participants in the game and on the server, as we speak. The money goes to you. And we plan to provide more Clan games in the future after this treasure hunt is through, as a way to reward participation on the blockchain. So about a fourth of the funds will be allocated toward growing a curation pool, marketing, and publicity, and about a tenth will be allocated toward Management.
7. I'm not a coder or a puzzle solver. Do I really belong here?
Yes! A resounding yes. Everyone is welcome and needed. And as the team grows, so do the managerial needs of the team. We prefer to have the greater percentage of the efforts spent on solving the riddles. However, that could not be possible without the Admin and Mods who manage the server. For this purpose, those who dedicate their time and efforts to the success of the team can be rewarded as well.
| SKILLS IN SOLVING RIDDLES | SKILLS IN MANAGING THE SERVER |
| --- | --- |
| creative out-of-the-box thinking | Publicity and communications |
| obsession with finding answers | recruitment help |
| planning and strategy | Team Management |
| coding and decyphering | onboarding |
| Free associative thinking | intelligence ops |
| Spreadsheet and information management | time management |
| Idea management and organization | Project management |
| Brainstorming facilitation | accounting and crypto finance |
| Attention to details | graphic design |
| history buff | web design/social media |
8. Why Do I have to be "vetted" before I can join the games?
Many of the games we play involve a high dollar amounts. Currently, the grand prize is
1 Million quid
. We have already had a few "moles" sharing our answers to competing teams. We don't take kindly to cheating, especially when said cheating results in us NOT bringing home the 1M bacon to THIS, our lovely steem platform. No bueno. We watch our chats carefully, and if we find suspicious behavior, you may get the boot for no declared reason. We are fiercely protective of our team information, because we are fiercely passionate about the long term success of this platform.
9. How Can I Earn?
We have created 1 million Satoshi Tokens (SST) to correlate to the 1 million dollars we will receive when we win the game. The tokens will be redeemable once we win the million dollars (which will come in the form of Bitcoin). There are three ways to earn SST:
By solving a riddle
By helping solve a riddle
By contributing to server operations
Here is the breakdown.
As there are 400 riddles to solve for the win, and the win is $1 million, then each riddle is worth $2500 (1 million divided by 400). The SST we issue is pegged at a 1 to 1 ratio, so each SOLVED puzzle is worth 2500 SST and will be allocated likely as follows (subject to be slightly modified as we get a better grasp of the future of the contest model):
1000 SST - for the individual who solves the riddle
1000 SST - divided between the team members who helped
500 SST - Admin (200 allocated for future SP/curation for steemians and Steem Clan posts; 100 allocated for contest tokens for players; 200 allocated for future payroll)
We may tweak the numbers a bit as we work out the long term pay model, and as new funding comes in. But we think the ratios will remain the same.
10. Is it 1 Million Bitcoin, or 1 Million WORTH in Bitcoin?
It's $1 Million WORTH of Bitcoin. USD valuation. Given to us IN Bitcoin.
11. Do some of the riddles have cash prizes of their own?
Yes. Some puzzles actually have cash prizes in themselves. Those will be awarded immediately, without the use of SST (remember, the SST are set against the future million). At this point, the overall opinion is that cash prizes shall be distributed in a similar breakdown model:
2/5 - for the individual who solved the riddle
2/5 - divided between the team members who helped
1/5 - Admin (breakdown as above)
12. How do I know which puzzles we have solved?
We do have a few riddles that have not been solved by us. A couple of those ones have been designated to a special team with skills appropriate for those riddles. The riddles that have been solved by our clan will show a checkmark next to them. The riddles that have yet to be solved by our clan show nothing. Riddles that cannot be solved or are on a time constraint that has expired will have a red "X" next to them. Feel free to pop your head into any of the riddle chats to check the status. We hope to have summaries prepared for the unsolved riddles at some point soon, so new players do not have to read through entire chat streams to get what is going on.
---
---
If you would like to contribute to the cause of helping us bring funding, media coverage, and investors to the steem blockchain, please let us know! There are multiple ways to help out!
upvoting and curation
SP delegation
prize pool donations (we will soon have an ROI designation)
post promotion (resteems, shares, etc.)
help recruit new players to help solve the riddles!
media coverage
---
---
Join Us On Discord to Win Tokens for Solving Clues!