Numerous exams are conducted in India for recruitment and admissions. It becomes difficult for candidates to keep track of all the notifications. Sometimes they miss the opportunities for which they are eligible. Sarkari Result website helps with latest and quick notifications for exams.
National Level Exams
National level exams are those exams whose scores are applicable throughout the country. Various national level exams are conducted in the country. Here two types of exams are covered - Recruitment and Entrance. Recruitment exams are those which are conducted for job vacancies while entrance exams are conducted for admission into various academic courses. JEE Main, JEE Advanced, NEET, GATE, CAT, CLAT, etc, come under the category of national-level entrance exams. These exams are conducted for admission into medical, engineering, management, law, etc. courses. All details related to the national level exams are uploaded here.
State Level Exams
Similar to the national level exam, state-level exams are also conducted in the country. These exams are conducted by the state governments. These exams can also be classified into Recruitment and Entrance Exams. Recruitment is done in the different departments of state government. The job location is only within the state. Some state-level recruitment exams include UPPSC APO, BSPHCL Assistant exam, AP Forest Department Recruitment, TS EAMCET exam, TSPSC Recruitment, DAVV CET exam, CG Police Constable exam, etc. While state-level entrance exams are KEAM, KCET, MHT CET, JKCET, HPTET, HTET, UPSEE, UKSEE, WBJEE, etc. Only the candidates with local domicile are eligible to apply for these exams. In some exams, candidates from other states can also apply. However, they are not entitled to any reservations. All latest updates for the state-level exams will be reflected in this section.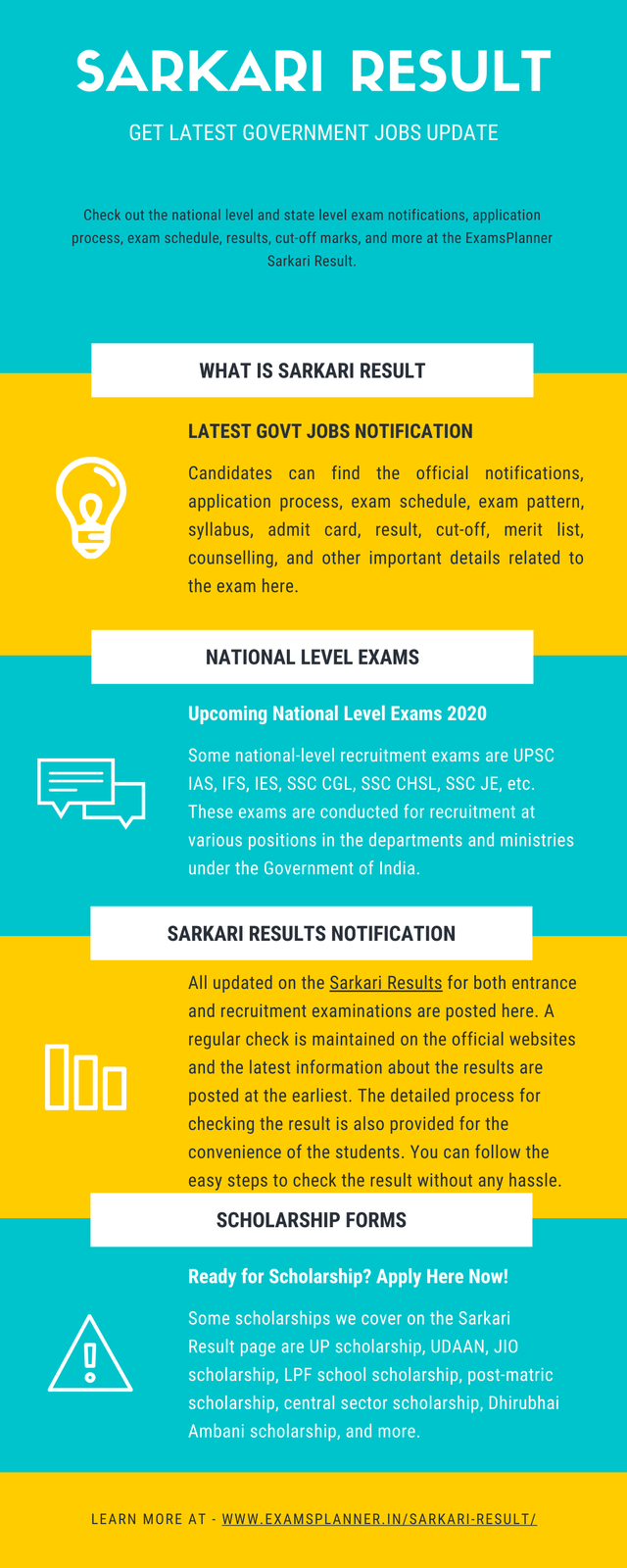 Admissions
Admissions notifications for different colleges in the country are also uploaded. Admission for Manipal University, SRM University, UP ITI, UPES, MBA courses, Engineering courses, and other courses are notified here. Candidates must check the space on a regular basis for the latest admission notifications. This way, they won't miss any opportunity of taking admission in their dream colleges/ universities. We also have the lists of top colleges and universities for different fields which will help you in college comparison and selection.
Scholarship Forms
Scholarships help students in earning financial help for their studies. There are various scholarships in the country given on different criteria. The section will update you about the active application, their eligibility requirements, process for application, scholarship benefits, and others. Our experts will also answer your queries related to any scholarship.
Upcoming Notifications
Not only do we update the candidates about the active examinations, but we also provide information about the upcoming notifications. All the national level and state level exams namely UGC NET, CTET, CAT, CLAT, GATE, NEET, JEE Main, JEE Advanced, RBI exams, NABARB, IBPS, Railway, Defence Services, SSC, UPSC are covered under the upcoming notifications section. This helps candidates to be prepared for the application process.
It is advised that candidates keep visiting the page and get a track of all the latest happening. We ensure to provide all the information from official sources.