Santiment ICO, What? Why? Who? When? How? Where?
Santiment, What? Why? Who? When? How? Where?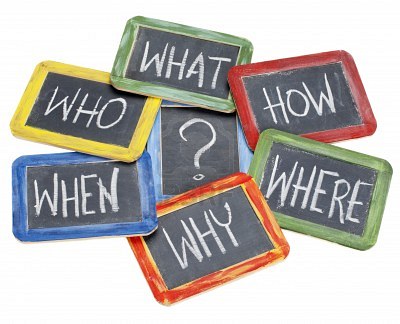 Hello Steemit, a quick headsup first. I will be writing posts regularly, mostly about upcoming projects or lesser known projects in the cryptospace. The articles will ideally be a short description by means of the 5 W's & 1 H.
"I keep six honest serving-men
(They taught me all I knew);
Their names are What and Why and When
And How and Where and Who."
If anything needs to be improved, please let me know in the comments below. Also, as this is my first post, let me know if I should continue writing these posts by upvoting. Thanks in advance! With that being said, on to Santiment.
What is Santiment?
Santiment aims to create market standards for cryptocurrency market data, best practices, and project transparency, all available in one place — essentially becoming the data and information hub of cryptocurrency and blockchain assets. This will be accomplished by making the market data infrastructure for cryptocurrency and blockchain assets as the first platform for datafeeds in the space. It provides cryptocurrency-related datafeeds, exclusive content streams, and a regularly updated database of cryptocurrency projects for reference. This infrastructure gives traders the information edge they need to maximize profit and mitigate risk. Focus will be on sentiment analysis, content, and datafeeds to start, since crowd sentiment is the current driving force in the crypto-markets. Santiment's long term goal is to transform how financial information in crypto-markets is distributed.
Project Name: Santiment
Token ticker: SAN
Hard cap: 45,000 ETH (ICO contributors own 54% of total token supply)
Soft Cap: 15,000 ETH
Conversion rate: 1,000 SAN per 1 ETH
Bonus structure: No bonus
ERC20 token: Yes
Timeline: June 30th 12 noon UTC (GMT+1)
Token distribution date: Not specific, message from Slack: "Following the token sale, there'll be a short period for us to ensure everyone is accounted for."
Why Santiment?
Crypto-markets present major challenges for active traders and investors, especially newcomers. The major problem: A lack of high quality, verifiable information.
Crowd emotion is a major driver — hype and fear dominate price action, and create incentives to manipulate the flow of information.
Crypto-markets are also characterized by their illiquidity, enormous volatility, and information asymmetry, making the space very lucrative. Tenfold returns in less than a year are increasingly common. But those gains are coming at the expense of the ill-informed. Success in crypto-markets comes down to information advantages that the few have over the many.
Other data is suspect. Major Chinese exchanges were faking trading volumes by a factor of a hundred last year. Crypto order books are notorious for being padded with fake buy and sell orders. In these cases, data reliability is a serious concern. If you do find a data source that seems useful, there are few means of verifying either the data or the source.
The problem of information validity is multiplied by the crowd's incentives to manipulate market sentiment. FUDers FUD to shake weak hands and claim their coins, and Mooners hype to get their ROI at the expense of newcomers. This dynamic opens crypto-markets to scammers of all kinds. Small amounts of valuable information are often the key to incredible profits, so for the ambitious trader or investor the exhaustive search must continue. But the lack of clear and reliable reputations makes that information and data hard to acquire. Trust is expensive, and crypto-markets cannot professionalize until these problems are solved.
Solution: The Santiment platform would like to be the solution to the lack of reliable, verifiable crypto-market information. Santiment solves the problem of trading noise by creating a single hub of curated crypto-asset data that will include:
Crypto-content streams and newswires, curated by experts
Crypto-market datafeeds and signals
A curated database of blockchain projects and analyses
Who are working on Santiment?
Maksim Balashevich, CEO – "As our Frankfurt-based former IBM Software lead and cofounder of a successful hosting business in Belarus, Maksim manages the overall product and leads the Santiment team. He is also our most veteran trader, having spent more than a decade trading successfully using sentiment and Elliott Waves analysis."
Linkedin: https://de.linkedin.com/in/maksim-balashevich-640a8948
Personal Website: http://www.maksimbala.com/
Dmitry Palchun, Ethereum Developer – "Our German backend developer and Ethereum specialist, Dmitry has worked with prestigious businesses such as Lufthansa and leads the Hamburg Ethereum community."
Eugene Tartakovsky, Fullstack Developer and Tech lead – "Our Siberian fullstack developer, Eugene directs app development. He's developed everywhere from Moscow to Washington DC, architected multiple social network apps, and much more. He brings his software architecture expertise to Santiment to launch it to the next level."
Linkedin: https://www.linkedin.com/in/etartakovsky
Github: https://github.com/etartakovsky
Tzanko Matev, Mathematician and Backend Developer – "Our mathematician and cryptography expert from Bulgaria, Tzanko is our PhD specialist from the University Bayreuth. In addition to cryptography, Tzanko brings his skills as a data scientist and algorithms specialist to the machine-learning side of Santiment."
Linkedin: https://www.linkedin.com/in/tzanko-matev-2328425
Igor Matsyushkin, Mobile Apps Developer - "Our mobile apps developer, Igor has mastered the apps circuit and built 10 apps previously as an independent consultant. His interest in banking and finance apps are expertise perfectly suited to his role at Santiment, where he's building the future of crypto-market datafeeds."
Github: https://github.com/igormatyushkin014
Mitchell Loureiro, Marketing Lead – "Mitchell is our crypto-marketing lead. He's worked on everything from token system design to the hyperloop, and is responsible for directing marketing and the crowdsale generally."
Linkedin: https://pt.linkedin.com/in/mitchellloureiro
Kim Carson, Designer & Copywriter – "User-focused visual/interactive designer specializing in enterprise apps for web and mobile. Dreams in html/css and data visualizations. Wordsmither. Aspiring crypto trader."
Linkedin: https://www.linkedin.com/in/kimcarson
Feng Jiahong, Designer & Illustrator – "Design and visual druidess. Creator of the Santiment brand, ants, and other magic creatures. Inspired by the adventure of the crypto world. Brings fintech experience, too."
Linkedin: https://cn.linkedin.com/in/jiahong-feng-903a8187
When & How will the ICO of Santiment take place?
When? June 30th 12 noon UTC (GMT+1)
How to participate? Be aware of the fact that there is an order in participating. To be part of the group who is first in line, you should participate in the whitelisting – which is for the santiment community only. Instructions to participate early on were given in slack as shown below: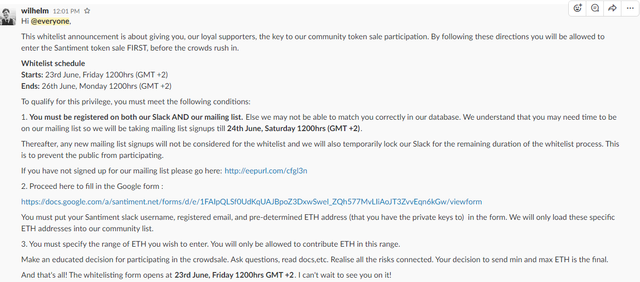 Roadmap 2017
Q2 2016 - Q2 2017 - The Preparations Begin (COMPLETED)
• Ethereum's first subscription + staking smart contract
• First multi-tiered crowdsale model (that prioritizes our community) incorporated into Crowdsale Smart Contract
• Concierge MVP for crowdsourcing crypto content with our Slack community
• Poloniex and BTC-E trollbox feeds signalling unusual social activity around a coin
• Full set of mobile chats and price feeds
• Transparency policy established
Q2 - Q4 2017 - The Santiment Debut
• Whitepaper Release
• Crowdsale Start & Finish
• Mobile App Alpha release
• Price History Datafeed
• ICO Analysis Stream
• Slack Sentiment Datafeeds
Where can I find more info about Santiment?
Site: http://www.santiment.net/
Whitepaper: https://docs.google.com/document/d/1hHmJQWrPrObSgCA8kTbk-4LgqGbYzukQAjtg5b8jwc0/edit
Slack: https://santiment-slack.herokuapp.com/
Mailing list: http://eepurl.com/cfgl3n
Google form for whitelisting: https://docs.google.com/a/santiment.net/forms/d/e/1FAIpQLSf0UdKqUAJBpoZ3DxwSwel_ZQh577MvLIiAoJT3ZvvEqn6kGw/viewform
Any questions? Any improvements on my article? Please comment below. Oh and if you have an upcoming or lesser known project in mind that you would like to see next time, let me know!
update1: details about crowdsale https://docs.google.com/document/d/12-iKSVn-m_agZ6bfdZuXuAdW3g14ifDAjGCRM-I_WIY/edit
update2: whitelisting has temporarily been stopped