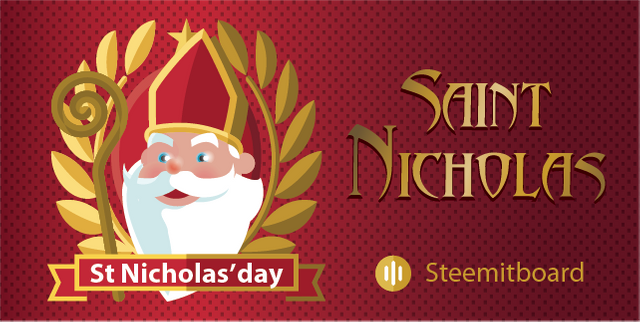 What about adding a new badge to your board of honor?
Saint Nicholas' Day, observed on December 6 in Western Christian countries, December 5 in the Netherlands and December 19 in Eastern Christian countries, is the feast day of Saint Nicholas.
It is celebrated with particular regard to his reputation as a bringer of gifts.
In Ukraine, children wait for St. Nicholas to come and to put a present under their pillows provided that the children were good during the year. Children who behaved badly may expect to find a twig or a piece of coal under their pillows.
In the Netherlands, "Dutch children put out a clog filled with hay and a carrot for Saint Nicholas' horse.
In the United States, one custom associated with Saint Nicholas Day is children leaving their shoes in the foyer on Saint Nicholas Eve in hope that Saint Nicholas will place some coins on the soles, for them to awake to.
(source Wikipedia)
Were you kind enough to deserve a gift?
Steemitboard has prepared a new award that you will be able to add to your board of honor.
You've been a good boy or girl all year with all your Steemit friends? Perfect, you are just steps away from getting this exclusive award.
Here are the rules you will have to comply with before December 6 at 23:59 (UTC time):
Make a comment on this post, mentioning which gift you would really like to receive for Saint Nicholas' Day. The more funny, the better.
Upvote AND resteem this post!
If you respected these rules wisely, you will receive this new badge on your personal board.

Thank you Saint Nicholas!
---
Support the SteemitBoard Project and all Steemit users by voting for its witness!


Learn more how and why here
Read SteemitBoard's latest witness report here
Steemitboard is a project created by @arcange