4 hours awake - 4 hours of sleep - 4 days strait
Crossing the Biscay in January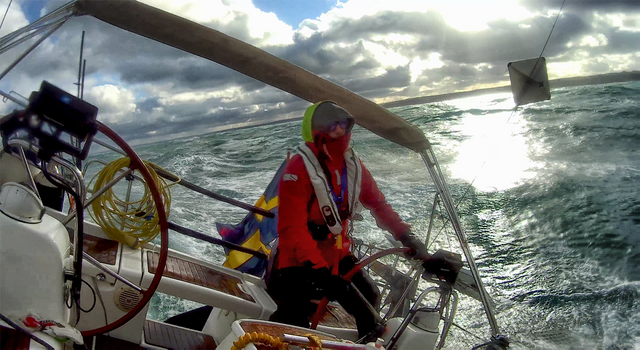 A few days back I traveled by bus and train to Cherbourg - Normandy in France in order to attempt to sail from France to Spain via the Bay of Biscay. I have to admit that I have an utterly big respect for this passage. In this region, a lot of well prepared ships sank due to unforeseen circumstances, mistakes or just bad luck - especially in the winter season since one storm front is usually by the next one.
We are a crew of 3 - Pieter, the owner, Vera, who is fairly new to sailing world, and yours truly. The boat we are sailing is a Beneteau Oceanis 43 build in 2008, complete with a generator, water maker, solar panels and electric winches.
Pieter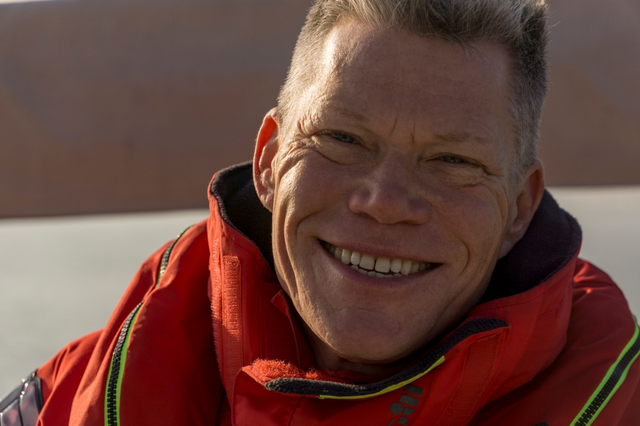 Vera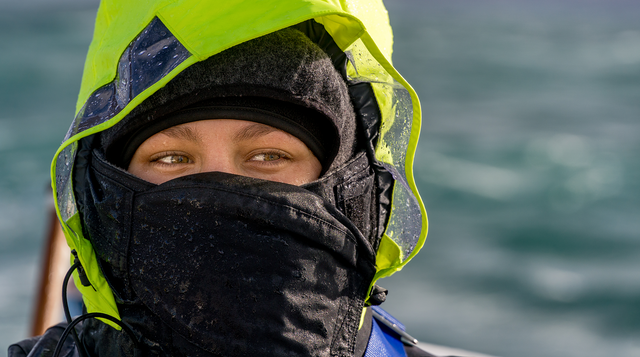 Ric (Cellphone photo)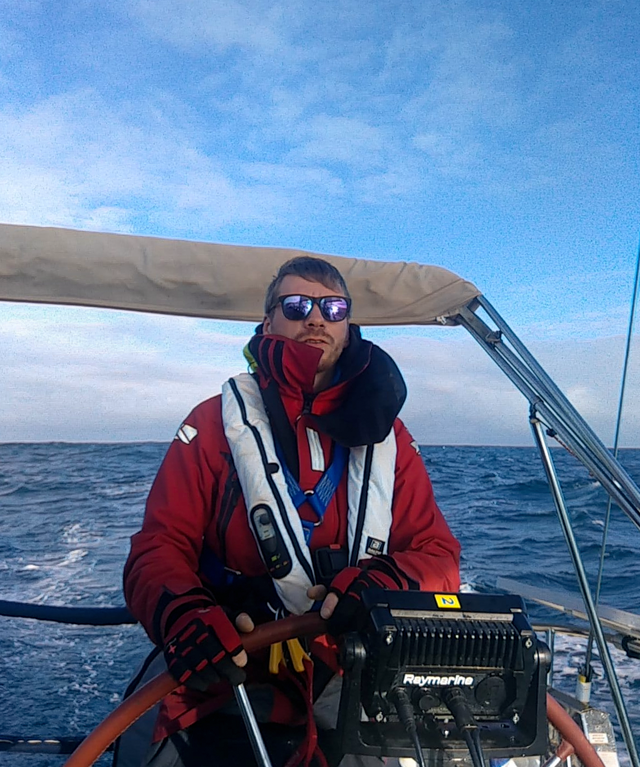 The boat: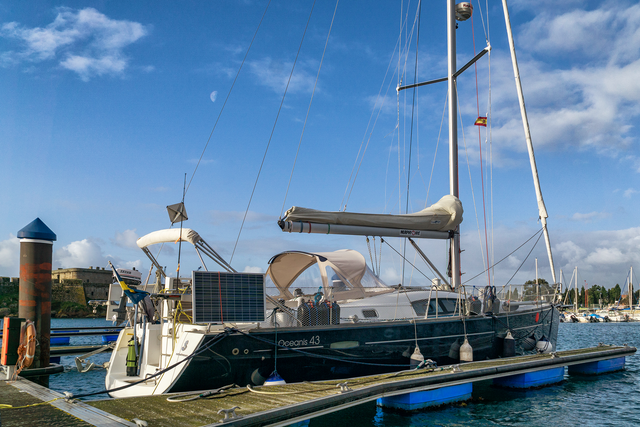 And so this adventure begins with a Swede, an Austrian and a German. We left Cherbourg with quite a lot of wind. After tacking ouf of the harbour, we were presented with waves as high as I never saw in 4 years, that followed one another in a high frequency. You measure the height of waves from the middle of the wave so if you are in the depth after the wave, the wave will look 8 meters high while it is actually "just" 4 meters. I think the waves were hitting the 4 meter mark with a frequency of just a few seconds. We were in a washing machine for quite some time. But do not worry: this was forecasted so we were aware of the situation and prepared. Life lines, proper offshore sailing gear and life jackets were on.
After this washing machine situation the wind calmed down - the waves got smaller and we started with our watch schedule. The "normal behavior" on these sort of deliveries / trips is that each crew member would hold a 4 hour long watch and uses the rest of the time for sleeping and cooking but since Vera had zero experience with watches like this, she basically was not able to do watches alone. This situation meant that Pieter and I had to do 4 hour watches and then 4 hours of sleep continuously (we did switch it up here and there, so sometimes 6 hours of watch, etc...). As the days went, Vera was able to do shorter watches on her own since the wind died down and there was not so much traffic. She did a great job learning what needs to be known.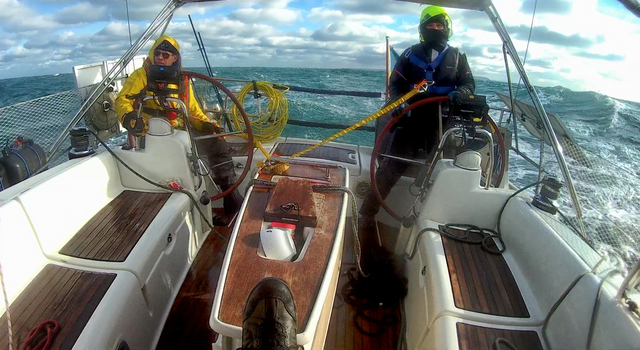 (After seeing this photo we were realizing that Vera can't wear her harness this way - this is too unsecure! This has changed.)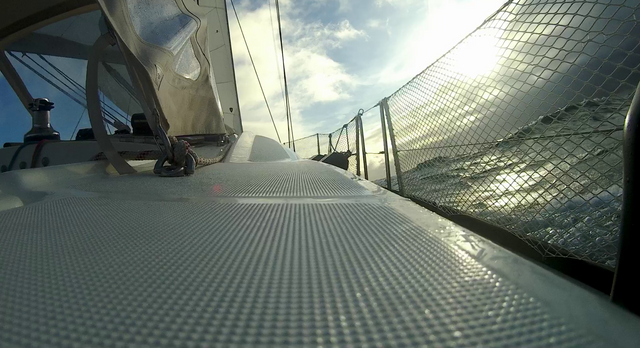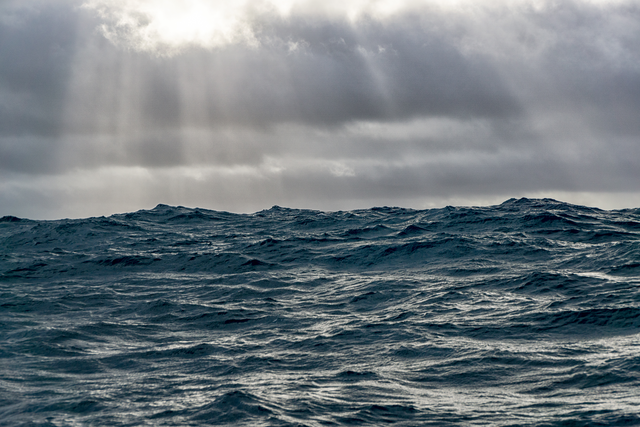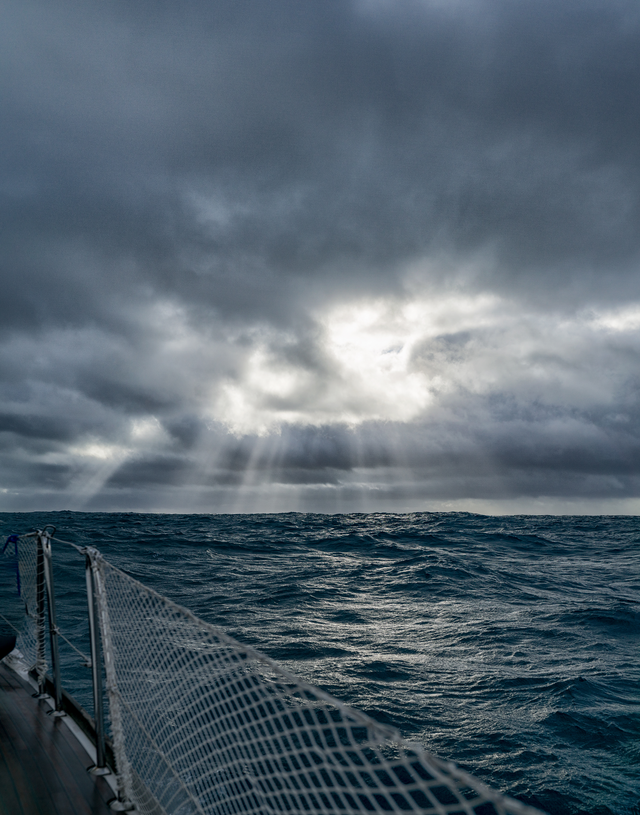 We sailed for 3.5 days strait from France to La Coruña - Spain and especially the 2nd night is mighty noteworthy! The wind was blowing with a wind force 6 the whole night and we rushed along with up to 11 knots. The feeling that you get traveling with this speed while seeing absolutely crazy, is something from another world and only for the adventurous type of person. Of course we needed to take a lot of care with the waves and other ships. If another ship is in our vicinity, I tend to sail the boat myself, rather than let the auto pilot do its thing. An absolut thrill!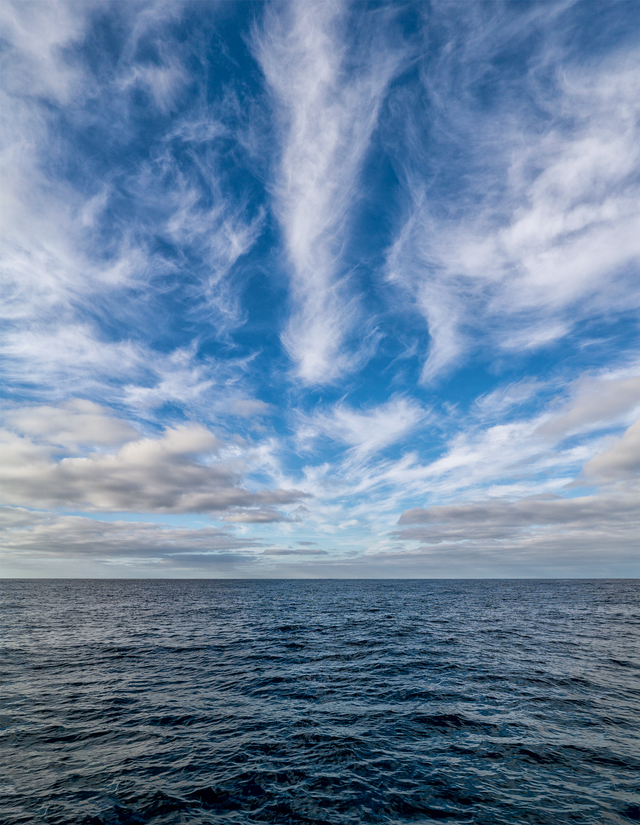 As you can see, the weather gets finally improves.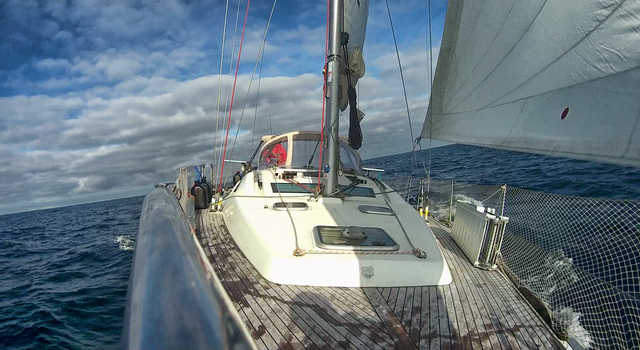 After this stormy night, the wind died down and we went with 5 to 7 knots over the Biscaye. A day later the wind was totally gone and we had to motor the last leg! A pity BUT we needed to hurry since there was a storm approaching. It actually chased us quite hard but in the end it slowed down, so we arrived in La Coruña on Saturday safe and alive.
This is the storm that chased us for over a day: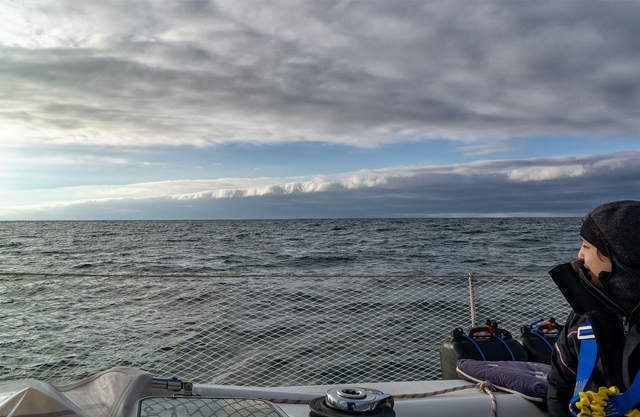 Now it is sunday and as we stepped out of the boat, we were greeted by Kraken - a french 3 mast. Waking up with this sort of view just make my senses tickle :)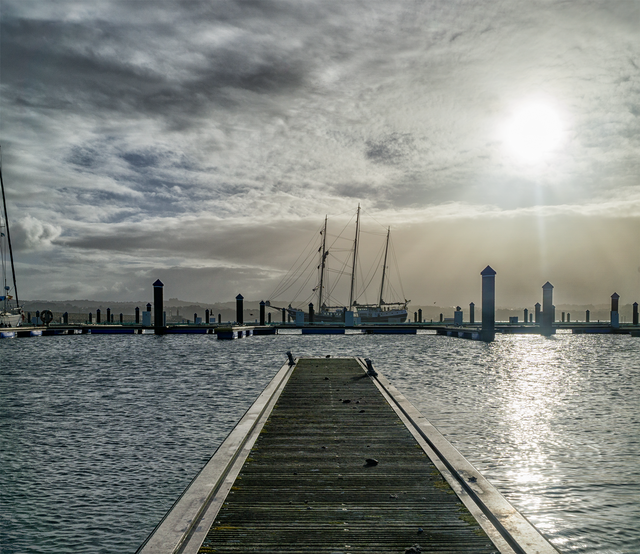 The final route: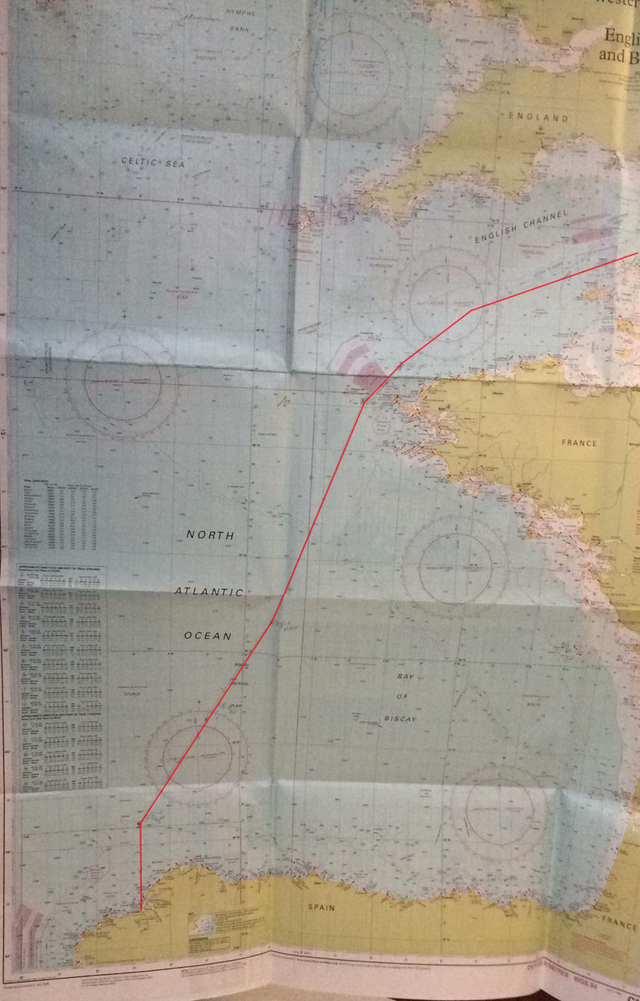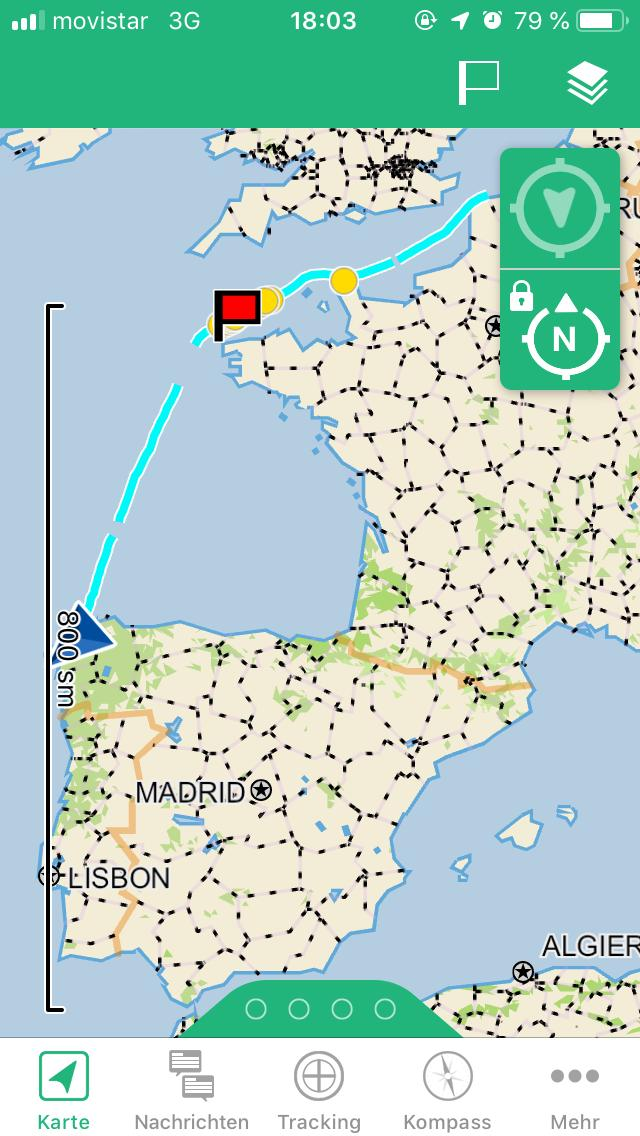 We are planing to head out again on Monday the 28.01 and to sail further down south along the coast of Spain.