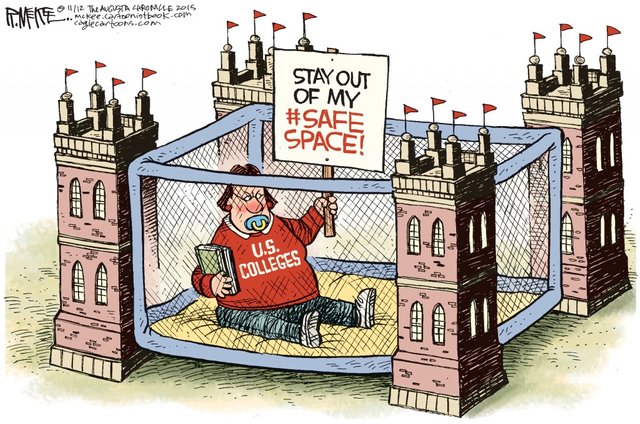 source: zerohedge.com
If a house cat is released to the wild after getting used to being a house, it will have much less chances for survival than a feral one in an opposite situation. Humans are not all that different. We create safe spaces all the time with the intention to protect and help ourselves but when we are introduced to real world situations most of us barely make it.
A safe-space, according to god-almighty google, is a place or environment in which a person or category of people can feel confident that they will not be exposed to discrimination, criticism, harassment, or any other emotional or physical harm. In other words it is a place which protects someone from being...human. As I explained in earlier posts, we all discriminate each other all the time, we criticize just about every single thing — animate or inanimate, and we intimidate each other either consciously or unconsciously due to the necessities of our antagonistic economic system. I won't even touch the "or other emotional or physical harm" since this statement is as generic as one-ply toilet paper.
Humans create safe spaces all the time in an attempt to introduce parameters that do not apply in real life. In time, it creates a cult of inclusiveness where only certain behaviors are accepted. Some safe spaces might not appear so "safe" at the beginning but bare in mind that a safe-space is simply a metaphor for describing a restrictive social ecosystem.
Perhaps the most infamous of safe-spaces are schools and in particular, modern academic environments. The student finishes high-school and decides to further their education and dreams by paying someone else to do it for them. Much like a summer camp, there is specific curriculum, activities and behavior. Much like any camp, there are specific rules of behavior, that if followed, everyone feels more safe and secure. But, as we all know, a summer camp or an academic environment has nothing to do with real world activities.
Now don't get me wrong. There are skills in these safe-spaces that might be proven extremely useful in the real world. Reading, writing, socializing, information acquisition, survival skills. Thing is, the context which they are presented has nothing to do with real world applications. This changes everything. I could take a stick and teach you how to sword fight. In fact many teachers start with just that. Nonetheless, every expert sword fighter knows that it is far from holding a real blade in an actual face off. This is what academia, monasteries, the army or any other safe-spaces do. They teach you skills in an environment that has nothing to do with reality, believing nonetheless that it does relate to reality. This makes the individual more unfit for the real world since most situations cannot be observed in such spaces.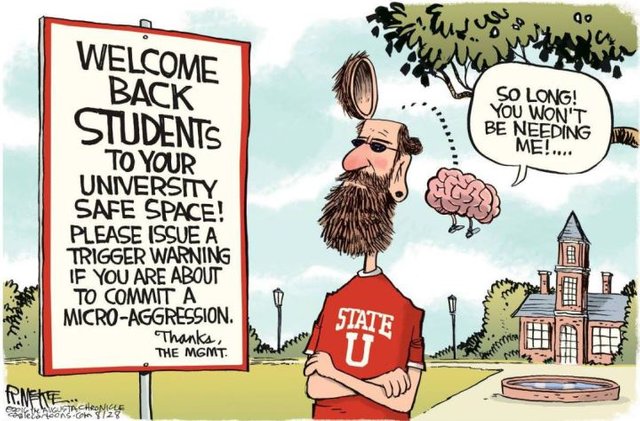 source: wattsupwiththat.com
A good example for or learning without a safe-space environment is the Swiss apprenticeship model. Switzerland has been employing such system for quite some time now. If someone wants to learn something they simply engage with the profession through a real job instead of going to school and learning about it. Education comes secondary. In this way, the person is exposed directly with real world challenges. Along with their teacher, they learn what is necessary at that point in time instead of what a group of people think it is necessary as a result of given sequence of past events.
The reason so many young people today walk unarmed into the real world is because they were lead to believe that they could work their dream job — because this is what they paid for. They fail to understand that a university is a business, much like a restaurant where you order and they deliver. This is how we ended up with institutions trying to create a safe space for the customers, letting them foolishly study whatever they thought it is good to study. This is how we ended up with so many bullshit majors that have no real world application. As a result, people graduate and wonder why greedy capitalists don't employ them. They truly think that it is the job of society to fulfill their dreams.
A safe space dismantles every piece of conditioning real life provides. Life is full of surprises, uncontrolled events that can change things dramatically. Studying and learning about a subject in a safe environment is completely different from experiencing it in real life. For one, a subject or behavior in a controlled setting is not what it looks like. It is much like almond milk. It looks like milk and it might taste a bit like it but it has nothing to do with actual animal milk. Drinking almond milk produces an entirely different nutritional cascade even if it looks like regular milk. Most safe spaces today are much like almond milk, trying to pass as regular milk.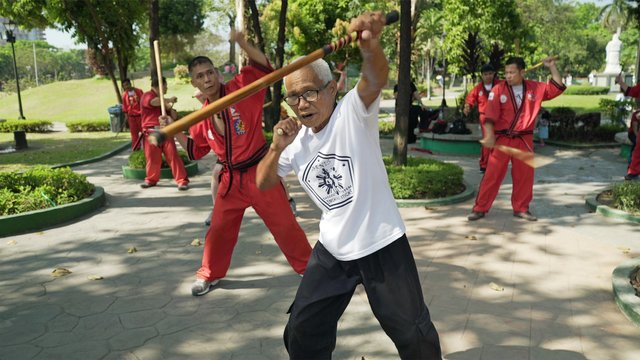 source: emptymindfilms.com
A soldier leaves the training camp and joins the real world to find out that his behavior is not even recognized or appreciated. Sure, it might get the approval of a patriot or the sexy look from the next door girl with daddy issues, but the real world does not work like an army training camp. Heck, not even war works like an army camp. From this perspective, a real life setting is a safe-space in comparison to a war zone, so an army camp might be more fitting for preparation.
When it comes to academia though, real life has nothing to do with it's environment. An academic environment works much like a kingship. A tenured professor can only be dethroned if he dies. A few handful people monopolize knowledge and rules, most of the times based on the merit of producing X number of papers and jerking by peer-reviewing each other. This mentality is then passed along to many students that start believing that quantity is valued more than quality. In an academic environment you are successful if you produce more and more papers. In the real world a single paper can make all the difference. In the real world you can de dethroned if someone better comes along and nothing is ever taken for granted. Say that to a tenured professor and he will mobilize every union known to man. Most post-doc students that end up slaving in academia never had a real job for this very reason. They believe that the outside world works much like the closed jerk circle of academia.
The result? As more safe-spaces are created in belief that they are preparing people for the real world, most find themselves hopeless. This is how we ended up with the farce of post-modernism where substance of anything is left lingering in mid-air. Entitlement flourishes as more and more safe-spacers demand the real world to change and become much like their safe-space. They talk about revolutions and changing the system but in reality they just want to transfer the qualities of their safe-space to other environments. The real world though is indifferent to small scale environment manipulation. They get a bitch-slap in the face and then they start picking up imaginary enemies to justify their position. They form groups that revolve around cultural marxist utopias trying to tackle inevitabilities of human nature. The mini safe-space groups become so many that they end up fighting each other in parliament in order to get funding and privileges. Self destruction ensues.
Life is a bitch. The best strategy to make it is learn the tricks by going balls to the wall. Adapting to a changing environment is the only "safe" strategy. We can hardly change ourselves sometimes. Trying to change the behavior of others will always be pointless. Safe-spacers express nothing more than the refusal to live in the real world. Unfortunately for them, life has many ways teaching them otherwise.