Ryuichi Sakamoto Interview
Note: This is the English translation of a story that originally appear in the July 2017 issues of the French fashion magazine L'Officiel Hommes. I am posting it here in English for the first time in honor of the Japanese Olympic Ice Dancing Team. During our interview Sakamoto told me about how treatment for Stage 2 throat cancer left him not caring if he lived or died or if he ever heard music again. I'm happy for all of us that he lived tonight to see the Japanese Olympic Ice Dancing teammates Kana Muramoto and Chris Reed dance to Sakamoto's music in Pyeongchang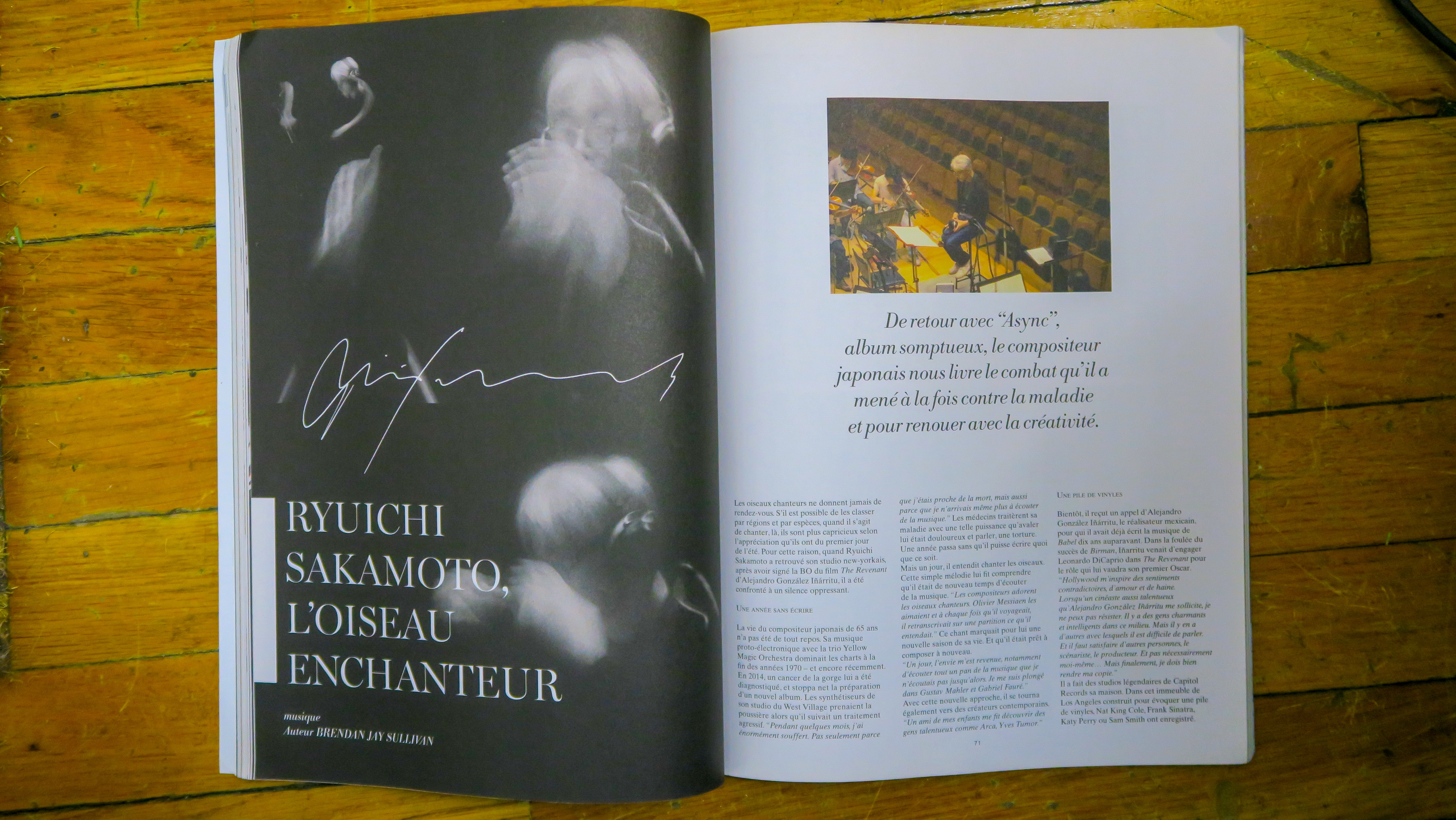 Songbirds do not keep appointments. While reliable by region and species, they have a fickle way of deciding when they are ready to sing. When they think the real first day of summer is. And for that reason when Ryuichi Sakamoto returned from composing the music for The Revenant he was met with an oppressive silence at his home studio in New York.
Life had never been very quiet for the 65 year old musician, whose influential proto-electronic music trio Yellow Magic Orchestra had been topping the charts in Japan since 1977. But in 2014 Sakamoto had started sketching out a new album concept when he was diagnosed with stage 2 throat cancer. The aggressive treatment left the synthesizers in his West Village studio gathering dust as he fought for his life. "For two months it was so painful. The most painful time I ever had in my life. And not because I was the closest moment to death in my life. During that harsh time I couldn't even listen to music."
The doctors targeted the cancer cells in his throat to such a degree that even swallowing his own saliva turned painful. Talking became torture. While the treatment took years off his life a full year passed before without producing any new work.
But then one day he heard the birds again. To hear their simple song was to know that he could listen to music again. "Composers love birdsong. Olivier Messiaen loved birds and every time he travelled he wrote music of what he heard." For Ryuichi Sakamoto the return of the migrating birds meant a new season in life. And he was ready to compose again.
"One day it came back to me and I started listening to music. But music I don't usually listen to. I decided to listen to something unknown. I was digging very deep into Gustav Mahler and Austrian composer. And then Gabriele Fauré who was active before [Claude] Debussy." And with fresh ears, Sakamoto was ready to hear new music again. "A close friend of my children introduces me to unknown new good music like Arca, Yves Tumor."
Soon he got a call from Alejandro González Iñárritu, the Mexican director with whom he had composed the music for his 2006 masterpiece Babel. Fresh off the accolades from Birdman, Iñárritu had cast Leonardo DiCaprio in a film that would finally earn the veteran actor an Oscar.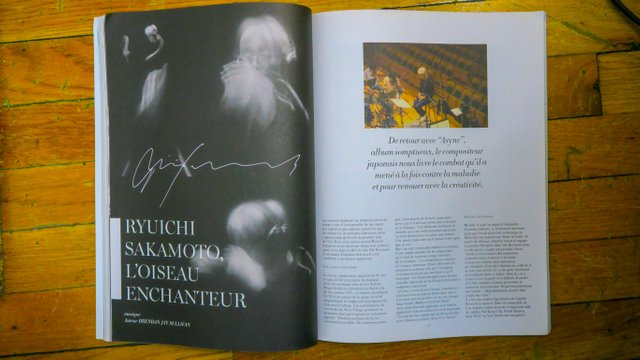 "Hollywood is a double feeling. Love and hate. With a talented film director I cannot resist. They are such charming and intelligent people. But each time it is very difficult to deal with other people. I have to satisfy other people. The director or the producer. Not me. I have to satisfy myself. But then I have to deliver my music."
He made a home for himself at the legendary Capitol Records Studio, a Los Angeles skyscraper built to look like a stack of LP records. The famous home of Nat King Cole, Frank Sinatra and now to luminaries such as Katy Perry and Sam Smith. "It was a very good studio. Nice environment. I felt the history of music. It has been there since the '50s. So I bring the least equipment, maybe two analogue synthesisers, and I bring a tower computer with ProTools."
Soon he ended up in Seattle where he personally conducted members of the Northwest Sinfonia at Bastyr Chapel outside of the city (where the Academy Award winning score for Brokeback Mountain was recorded). This time he collaborated the National's Bryce Dessner and German musician Alva Noto. After all that he deserved a much-needed break, but as soon as he returned to New York, Sakamoto began working on an album of his own.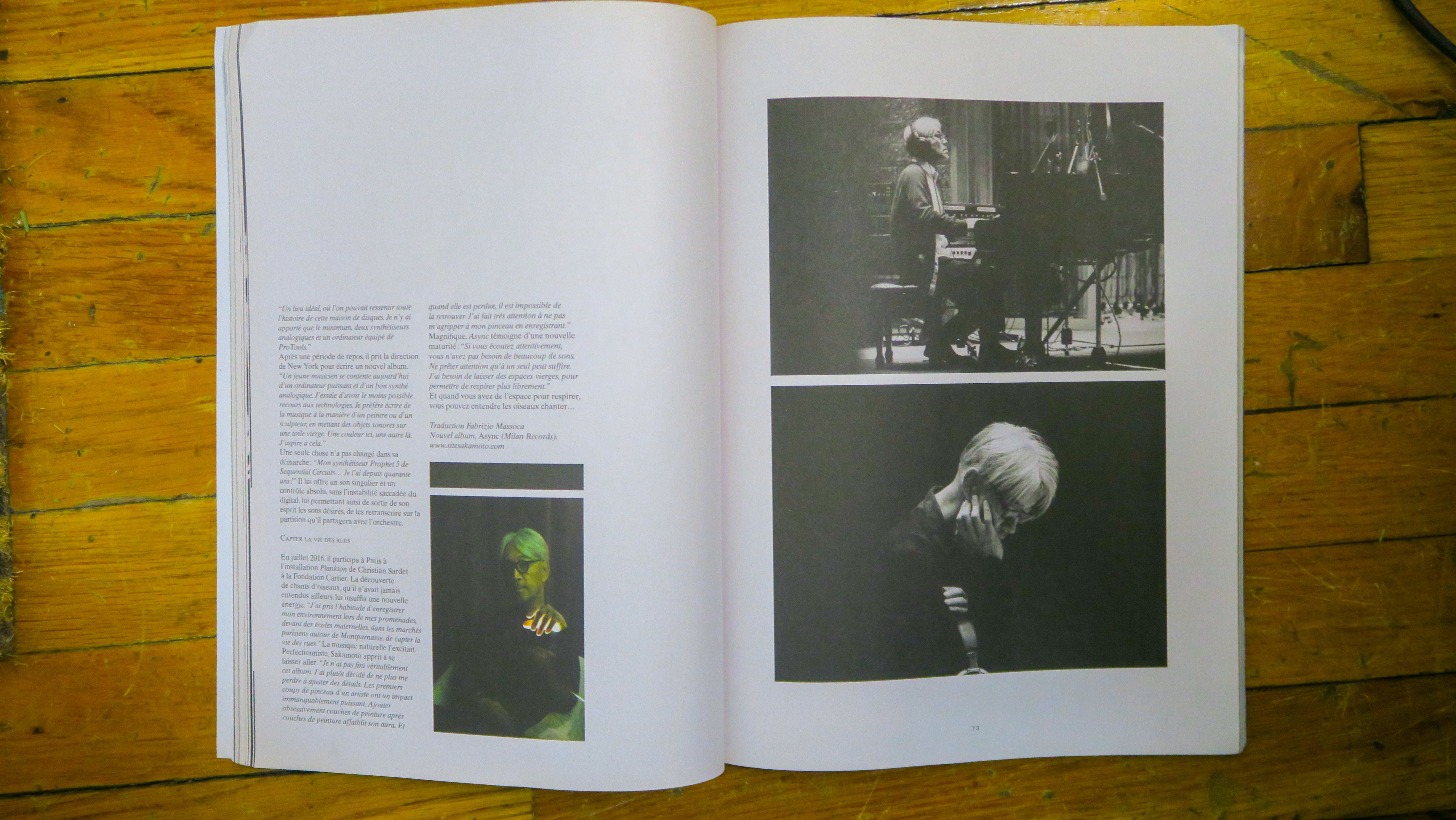 "A young musician needs a powerful laptop and a good analogue synthesiser. I try not to use MIDI as much as I can. Now I prefer to write music as similar as painting or sculpting. Putting sound objects on a white canvas. Put a color here, a different color there. That's what I want to do." And although most musicians can trade expensive studio time for a computer recording system, there's one thing that hasn't changed for him since the 80s: "I've worked with the same Prophet 5 Synthesizer by Sequential Circuit synthesiser for 40 years."
The sweeping analogue synth gives him full production power without the stutter of digital so that he can get sounds out of his head and onto charts so that when he directs the orchestra he will know when it sounds right.
In July 2016 Sakamoto returned to Paris to collaborate with Christian Sardet for a Fondacion Cartier installation "PLANKTON." There he became reenergized by birds never heard in New York or his native Japan. "I was recording while walking on the streets in Paris. And I got very good recordings of elementary schools, long markets at Montparnasses on a Saturday. The life of the streets." Natural music excited him again.
After years of working as a perfectionist, Sakamoto learned to let go. "I haven't actually 'finished' this album. Instead, I decided to stop fiddling over details. An artist's initial broad stroke is always most impactful, and obsessively adding layer upon layer of paint to fill in details often diminishes the painting's aura. When an aura is lost, it is impossible to get back. So, for this album, I decided to pay very close attention to when to let go of my brush for every single track."
This expansive new record marks a new level of maturity in the 65 year old's career. "If you listen to anything carefully, you don't need so many sounds. Listening to just one sound might be enough. I need to leave some blank spaces. There you can breathe more freely."
And when you leave room to breathe, you can hear the birds again too...