Hi Team, We did it! Last Sunday, March 24th, 2019 I crossed the finish line of the 2019 LA Marathon after running for 5 hours and 46 minutes. Mission accomplished: Torrey ran all over LA, from the Santa Monica Classic 10K, to the Pasadena Half Marathon, to the LA Marathon. Thanks for supporting me and joining me on this journey.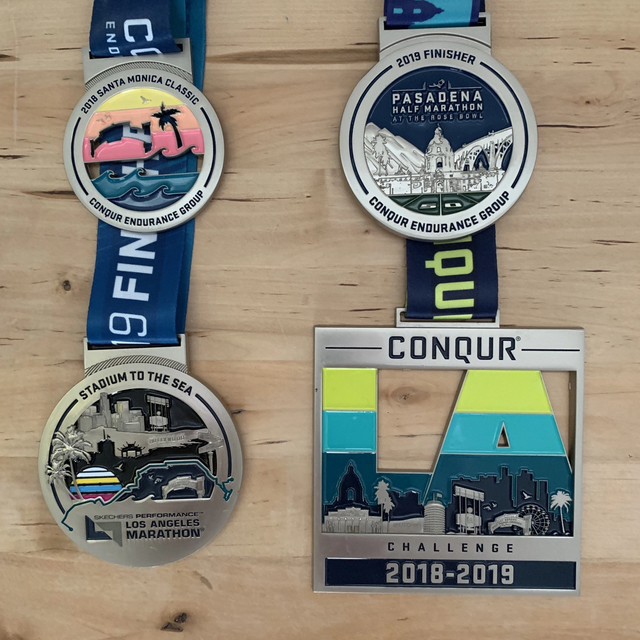 Four medals from the first season of my running career.
In total, there were 22 donations to the GoFundMe. More than $1200 has been donated to charities: GarageScript, St. Jude's Children's Research Hospital, and LiveStrong. Awesome!
In 2019 alone I've racked up 118 miles of training runs and races. All of those runs took me a total of 38 hours and 49 minutes. Insane!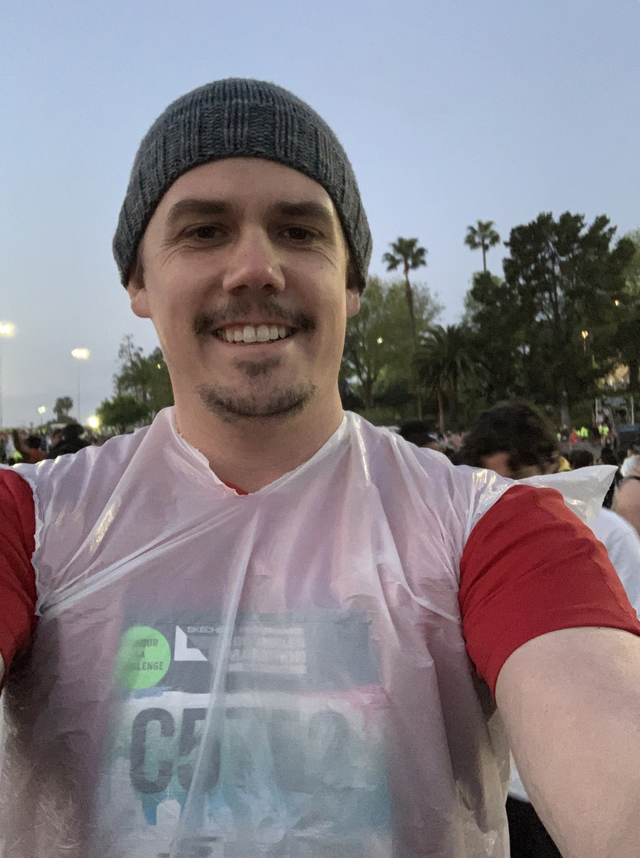 Half asleep, ready to run. Trash bag for warmth.
The morning of the marathon we jumped out of bed at 4:30am, grabbed the gear, and headed to Santa Monica. I jumped on a shuttle around 5am that took me to the starting area at Dodger's Stadium. The area had a sea of Porto-potties, a stage with live music, and a long line for food. I kept swigging water until about 6:30 when the first runners hit the course. By 7:05 it was my turn to cross the starting line.
I ran behind a hot dog for five miles. I later learned the hot dog's name is Joe, after he ditched the hot dog suit around mile 5. Joe was one of several pace leaders from the LA Road Runners running club. Their pace group targeted a 5 hour finish.
I ran the first 12 miles at a strong pace, sticking with the pace group that whole time. Around mile 13 the pain started and I fell behind. Despite slowing down, I kept moving until the finish line at mile 26.2. Total time: 5 hours, 46 minutes and 36 seconds.
I was surprised by the generosity of spectators throughout the race. Along the whole route people were giving runners water bottles, orange slices, Gatorade and all kinds of snacks. Us marathoners were well provisioned.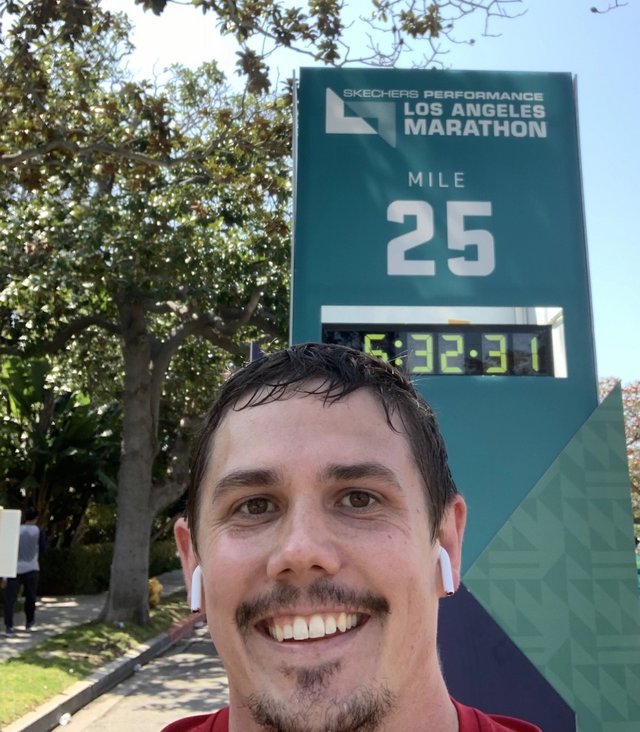 Still smiling at Mile 25, 14 minutes before the finish.
My marathon race experience was all smiles. Around 5 hours and 15 minutes I answered a call from my wife who asked if I was done yet. Ha ha ha. Thirty minutes later I ran into her a quarter mile from the finish. Just after the finish line I was greeted by a crowd of thousands. I accepted my medals and slowly worked my way towards some friends who came there to meet me. I could barely move, and I earned it.
The next day I was sore and sunburned but still mobile. I'm grateful for the swift recovery. All that training pays off.