As I explained long time ago at The rare case of @isotonic or the creation of a Bid-based Voting Bot as a tool for Empowering or Funding a Steemit Initiative , in general, I am not in favor of the use of Bid-based Voting Bots, nevertheless there are certain cases which I think their use is beneficial for the steemit community.
Actually, I think I was the first one in Steemit to found interesting to create my own Bot with the only aim of funding one project that also I put in work.
This project is called the @runningproject initiative.
Since I started at steemit, around June last year, I have been thinking about how to promote/incentivize the Running Community and, of course, how to motivate Runners to keep posting about this amazing activity .
Fruit of all this time spent thinking on this topic is the creation of the @runningproject initiative which I invite you to follow if you are curious about, but that essentially and in short, it is a Running Post promoter on which anyone can become an approved member if demonstrates good quality posts on the Running topic, being the enrollement fee a tiny (I guess) transfer of 1 SBD or 1 STEEM...
In change, @runningproject is, between other benefits, automatically upvoting, resteeming and promoting those posts of the "approved" member... there are more benefits which implies selection of best Running posts of the week, contest, training proposals and the like ...
Soon I learnt that only by using the tiny enrolment fee would not be sufficient to sustain the initiative in a "healthy" way since only the "organic" growth seemed not be sufficient to attract new runners and kept them active.
That's why I created @isotonic.
@isotonic has been created as a tool to reinforce the @runningproject initiative and so, it is the @runningproject account who will be benefited from the earnings of the bot after having payed the delegators.
Essentially, the SBD or STEEM transfered by @isotonic to @runningproject will feed and increase @runningproject ' s SP.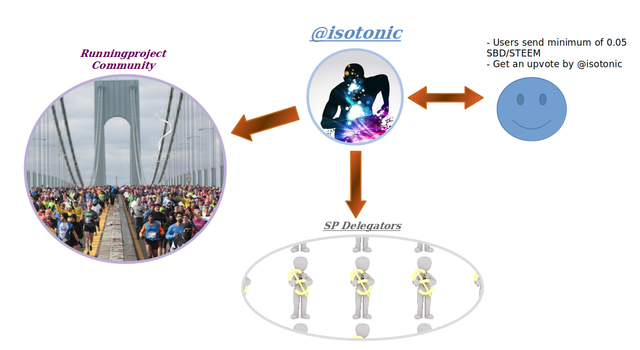 Still, I did not find any other bot offering the same as @isotonic does, which, at the same time is promoting minnows and so, it is dedicating a big part of its earnings to reinforce another good cause or initiative as @runningproject .
So, let me tell that seems that @isotonic is the first Bid-based Voting Bot created, in part, to help or fund another Steemit Community!

If you want to receive "passive" incomes by delegating some of your STEEM POWER while funding a good initiative/project at steemit, please, consider delegating to @isotonic one of the best options in steemit.
Do you need help with SP delegation process? Follow the instructions I wrote here: Easy way to delegate SP using SteemWorld.
---
Breathe, Run, Dream, Live...
Keep on running!!!
@toofasteddie, proud member and author/promoter of the @runningproject initiative