DIY energy gels
So the husband tells me you want the recipe. OK, here goes: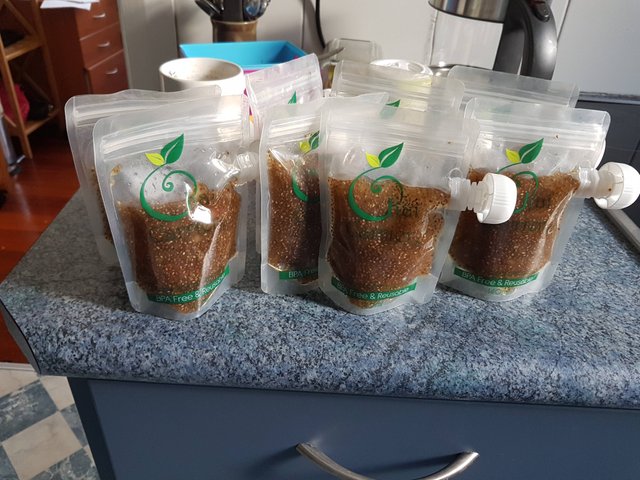 Energy gels: Master recipe for 4 Cups/1 litre/1 quart at a glance
• 6 TBSP chia seeds
• 1 cup of mashed fruit
• 1.5 cups liquid sweetener of choice
• .5 tsp potassium based salt substitute (can use regular salt in a pinch)
• .25 tsp baking soda DO NOT USE WASHING SODA
• 1 tbsp Pectin or Jam setting powder (optional)
Directions:
Mix the Chia seeds with 200mls of water and set aside.
Boil your choice of fruit or puree if canned. You need 1 cup of fruit.
Combine fruit with chia seeds and sweetener of choice in a little pot. Stir in baking soda and salt substitute, and pectin (if using). The mixture may foam and change colour, it will calm down in a bit.
Bring to a gentle boil then take off the heat.
Divide into serves (I make 8 half cup double serves) and freeze until needed.
To use: defrost a couple in the fridge the night before, keep a couple frozen for on the day. They will defrost and be nice a cool later in the race.
Notes:
Use any fruit you like, cook fresh fruits and mash up. Puree canned fruits. The husband likes his gels like he likes his women, so I leave them a bit chunky.
Any liquid sweetener will do, but don't use artificial. The whole point of these things are to give energy. Go nuts, use maple, honey, glucose, maltodextrin, molasses, whatever floats your boat. Just use one at a time.
Combos I have tried:
• Banana, Nutella and Maltodextrin- Trevor didn't like this (but you might)
• Grape molasses and apple – went down well.
• Date syrup and apple- was liked
• Pineapple, orange and glucose- was good
• Berry and glucose – a favourite
• 100% boysenberry fruit jam and plum- too sweet
• Lemon and honey- nope, did not like
• Maple syrup & summer fruit salad- good
• Apple syrup and apple- passed the taste test (made today)
• Maple syrup, strawberry and rhubarb (made today)
Basically, the husband likes his gels and his women, not too sweet and a little tart. And chunky. And fruity.
But don't let that constrain you, go wild!
At some point I would like to try gelatin instead of chia, and dried fruit instead of fresh.
Each pouch is a double serve and doesn't look bad energy and nutrition wise.