Good day Steemit! // Dzień Dobry Steemit!
Today I will tell you my running story, so how it happened that running became my passion?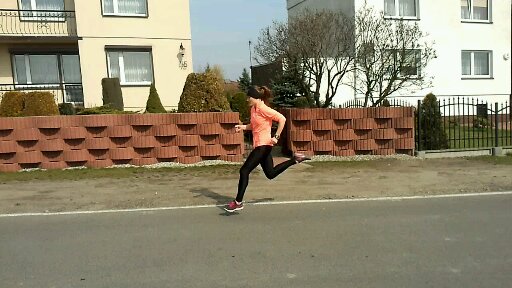 Run, run, run! Always move forward!
I had always passion to sport and I was in love with physical education lessons. In secondary school my teacher took me for school competition and from this time I started to run, however I have started my regular trainings in the high school. I have started to train in the autumn 2008 and I ended it up in May 2009 unfortunately. If you have some situations that you regret, this one turned to be the same for me but I realized it afterwards.
On the decision to stop my trainings consisted several factors but mainly I was too young to manage to lift everything by myself and I had no support from my parents site. My parents did not want me to train as they did not understand this passion. I even did not have proper shoes for running as I did not have money for it. My coach has bought me first watch with HR monitor to improve my trainings and I was trying to return him money for it after Christmas. That was very frustrating for me at this time it was too much for 16 years old girl who has just started
getting know sport world. Before I have stopped training I went for Nationwide Youth Olympiad in cross-country races and I have managed to end on 35 position out of 110 people as you can see below: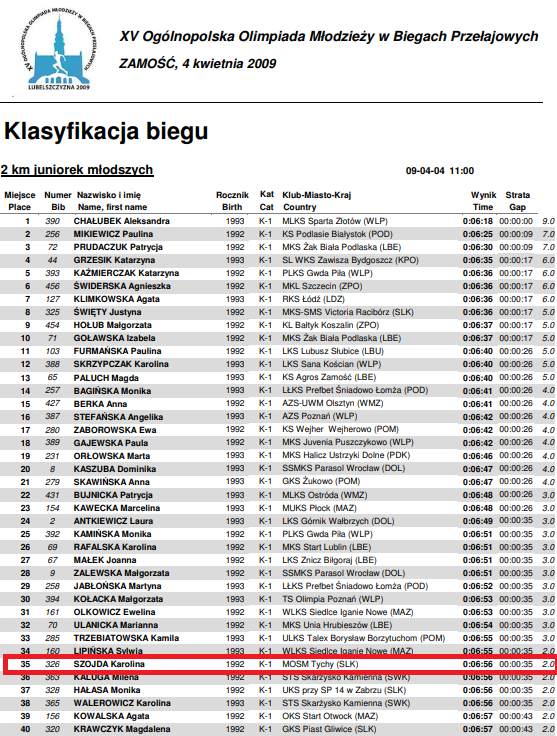 It was good experience!
Also during my short career I have managed to achieve the following PBs: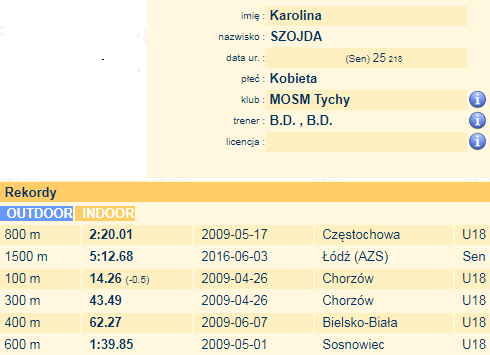 My best times on the athletics track
After stopping trainings in club I was still running in school competition and I was still active as I love rollerblading and volleyball. But it was not enough for me as I would like something more! What has happened later? Why running is still in my life? Stay tuned! I will share second part of my story with you soon !
Have a great day!
Dzisiaj opowiem Wam moją biegową historię. Jak to się stało, że bieganie zostało moja pasją? Sport od zawsze był moją pasją, a lekcje w-f w szkole traktowałam jako super przerywnik od siedzenia w ławkach, więc była to dla mnie sama przyjemność.
W gimnazjum moja nauczycielka od w-f widząc u mnie chęć do biegania wytypowała mnie do szkolnej drużyny biegów przełajowych. Poszło nam całkiem nieźle i od tego czasu jeździłam na zawody regularnie. Kiedy poszłam do liceum rozpoczęłam regularne treningi – odbywały się one niemalże każdego dnia. Treningi rozpoczęłam w październiku 2008 i zakończyłam w maju 2009 roku. Wtedy nie wiedziałam, że była to decyzja, która jeszcze długo żałowałam.
Decyzja ta jednak została podjęta dzięki wielu czynnikom, głównie dlatego, że byłam jeszcze zbyt młoda żeby udźwignąć ten sport bez wsparcia ze strony rodziców, którzy byli kompletnie przeciwko, ponieważ nie rozumieli na czym to polega. Nie miałam nawet porządnych butów do biegania żeby chronić stawy, ponieważ nie miałam ich za co kupić. Mój ówczesny trener kupił mi również zegarek z pasem do pomiaru tętna żeby wzmocnić efektywność treningów, starałam się oddać mu pieniądze jak najprędzej, a udało się to tuż po świętach Bożego Narodzenia.
Te sytuacje były dla mnie na tyle frustrujące, że wytrzymując do maja, podjęłam decyzję, że przestaję trenować.
Zanim jednak przestałam trenować wzięłam udział w XV Ogólnopolskiej Olimpiadzie Młodzieży w Zamościu gdzie zajęłam 35 miejsce na 110 startujących zawodniczek. Również podczas mojej krótkiej kariery uzyskałam rekordy życiowe widoczne w tabeli. Po tym kiedy przestałam uczęszczać na treningi do klubu wciąż biegałam w szkolnych zawodach i uprawiałam różnego rodzaju sporty ponieważ uwielbiam rolki czy siatkówkę. Jednak wszystkie te aktywności to wciąż było dla mnie za mało!
Co więc zdarzyło się później? Jak to się stało, że bieganie jest wciąż obecne w moim życiu? O tym już niebawem! :-)
Pięknego dnia Wam życzę drodzy Steemianie!