Hello Steemit People! Welcome in a new week!
Witajcie Steemianie! Witam Was w nowym tygodniu!
Przedstawiam Wam mój log treningowy jako, że jestem częścią @runforsteem i @runningproject.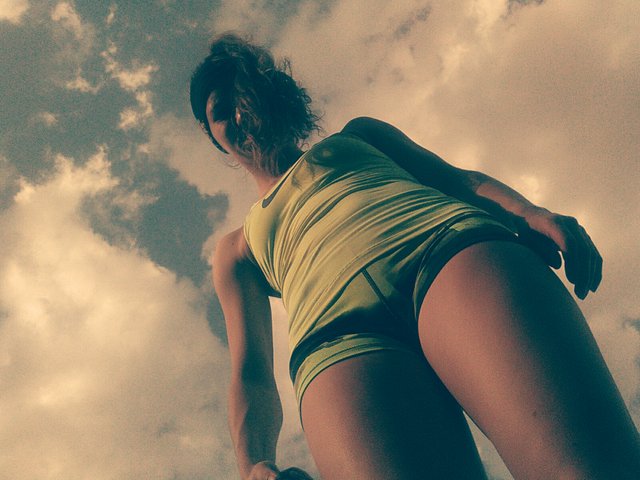 New week – new run!
Last week was not that effective in running as I expected due to small cold but now I am back on track!
I had to stop running for 3 days (from Wednesday to Friday) but I think it worked out for the best. I had time to rest and also my legs and my head are refreshed.
I went for the first training after short break on Saturday. As it was very hot day I did 8 km in slow pace however my heart rate was really high. Additionally I did 8 x 30 sec. acceleration and that was all. As the temperature showed 28 degrees it was enough.
Poprzedni tydzień nie był tak efektywny jak oczekiwałam z powodu małego przeziębienia, ale teraz wracam na biegowe ścieżki!
Przeziębienie zmusiło mnie do 3-dniowej przerwy (od środy do piątku), ale dzięki temu udało mi się trochę odpocząć, a także moje nogi i głowa trochę odsapnęły więc dobrze na tym wyszłam.
Na pierwszy trening po krótkiej przerwie wyszłam w sobotę. Z racji, że to był upalny dzień postanowiłam przebiec 8 km powolnym tempem, jednak moje tętno w tej temperaturze szalało – rosło bardzo szybko. Dodatkowo na koniec zafundowałam sobie 8 x 30 sekund rytmów. Jako, że temperatura wskazywało 28 stopni było to wystarczające.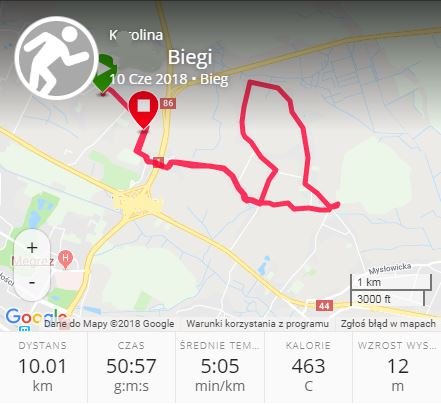 Sunday loop // Niedzielna pętelka
Main training which I would like to share with you is my Sunday run with increasing speed (in Polish training school we call it BNP training but I could not find this training in English – maybe you know how it is called?)
The rule in this training is simple – with each kilometer you need to increase your speed and first kilometers you should start calmly.
I was waiting whole day due to weather conditions (also 28 degrees…) and I went about 6PM but it was still that hot however sun was not came out as before.
I was not sure how I will react on this weather so I started to run slowly but to my surprise it was good run! Also my fiancé who was riding a bike next to me helped me by giving me drink each 2 kilometers.
And in the end I must to admit that good work was done!
Głównym treningiem, którym chciałabym się z Wami dziś podzielić jest trening niedzielny określany jako BNP czyli bieg z narastającą prędkością (w polskiej szkole treningowej nazywamy taka jednostkę treningową jako BNP, niestety nie wiem jak taki trening nazywa się po angielsku i czy ma swoją specyficzną nazwę, może Wy wiecie?)
Zasada tego treningu jest prosta – z każdym kolejnym kilometrem należy zwiększać prędkość biegu, a pierwsze kilometry powinniśmy rozpoczynać spokojnie.
Żeby zrealizować ten trening czekałam cały dzień z powodu upału, ostatecznie wyszłam o 18, kiedy wciąż było 28 stopni i wciąż było bardzo gorąco jednak słońce już nie prażyło tak bardzo.
Nie byłam jednak pewna jak organizm zareaguje na te warunki pogodowe dlatego trening zaczęłam względnie powoli, ale ku mojemu zdziwieniu to był dobry bieg. Mój narzeczony, który jechał obok na rowerze pomagał mi podając izotonik co drugi kilometr.
Muszę przyznać, że dobra praca została wykonana!

Increasing speed // Narastające tempo
I need to summarize that the training which I have done and wrote about a week ago - strong 6 kilometers was too strong as I did not have enough time to regenerate before it. This was main fact that I caught small cold and had to stop running for a while.
Hopefully in this week everything will be ok and I will be ready for my two races – on Friday and Sunday.
May the force be with you!
I wish you happy and productive week!
Podsumowując trening sprzed tygodnia – mocne 6 km było na tamten moment dla mnie za mocne ponieważ nie miałam zbyt dużo czas na zregenerowanie się przed tamtym treningiem. Myślę, że to było głównym powodem dlaczego złapałam drobne przeziębienie i musiałam przestać biegać na parę dni.
Idąc do przodu, mam nadzieję, że w tym tygodniu wszystko będzie już w porządku i będę gotowa na zawody, które odbędą się w piątek i niedzielę.
Niech moc będzie z Wami! Życzę Wam szczęśliwego i produktywnego tygodnia!