Wczoraj miałam możliwość wystartować w biegu City Trail On Tour w Katowicach.
Jest to cykl biegów w 10 miastach w całej Polsce w przeciągu dwóch tygodni latem, a zimą jest to cykl 6 biegów co miesiąc począwszy od października i trwający do marca.
Bieg był w nietypowym dniu jak na zawody biegowe bo w środku tygodnia czyli w czwartek o godzinie 19.00. Tuż przed biegiem przeszłą burza i deszcz, który przyniósł trochę ochłody. To było prawdziwe szczęście!
W miejscu gdzie rozgrywane były zawody byłam po raz pierwszy i muszę przyznać, że mnie urzekło.
Yesterday I had an opportunity to start in a race called City Trail On Tour in Katowice.

It is a cycle of races in 10 cities around the Poland within two weeks on summer and in the winter it is a cycle of 6 races every months in every city starting from October and ending in March.
This race was in untypical day when it comes to races as usually races are on weekend. This one has started on Thursday at 7 PM. We were lucky as just before the race there was a storm and rain which gave us cooling down from hot weather.
I was for the first time in the place where the race took place and I must admit that I love that kind of places – it magnetized me!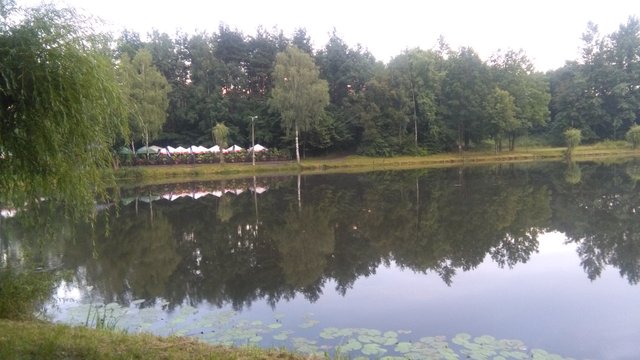 Rybaczówka nad Stawem Janina.
Wiedziałam, że bieg będzie trailowy jednak nie miałam pojęcia czego się spodziewać. Wystartowało 434 uczestników, a ścieżki były wąskie dlatego nie obyło się bez małych przepychanek czy blokad na trasie. Bieg ukończyłam na 47 miejscu open i na 5 miejscu wśród kobiet dzięki czemu znalazłam się na 2 miejscu w kategorii wiekowej K20.
I knew that this race will be trail one however I did not know what I should expect. On the start there were 434 runners and the tracks was narrow so we had to be careful as it hasn't been without pushing and shoving.
This race I have ended on 47 place open and 5 place among the women and I took 2nd place in K20 age category.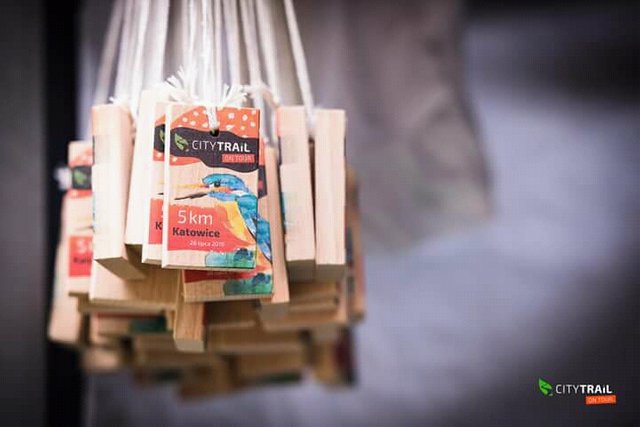 Takie piękne medale (zdjęcie pobrane ze strony facebookowej City Trail)! // Beautiful medals!
Czas biegu to 20 minut i 42 sekundy, przy czym dałam się zablokować nieco na czwartym kilometrze.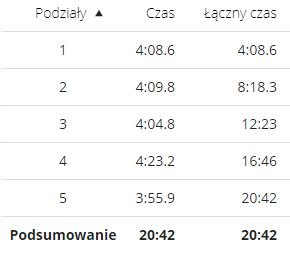 Each kilometer.
My time of run was 20 minutes and 42 seconds and I was blocked on a 4th kilometer due to narrow track.
Jak oceniam swój bieg? Po tej trasie jestem zadowolona z wyniku, jednak mam aspiracje by już w październiku poprawić swój czas na tejże trasie. Bieg miał również charakter treningowy, a więc nie luzowałam przed nim zbytnio treningowo, a trasa idealnie nadaje się na trening crossowy.
Jesteście ciekawi co wygrałam za miejsce w kategorii wiekowej? A mianowicie torbę wafli ryżowych – sami zobaczcie moje trofea.
How I rate this race? When it comes to trail track I am satisfied with this result but I have aspirations to improve this time in October. This race had also training nature so I did not relax before it and this track was ideal for good cross training.
Are you interested in my bounties? I won big pack of rice and corn waffles – you can see it on the photo below.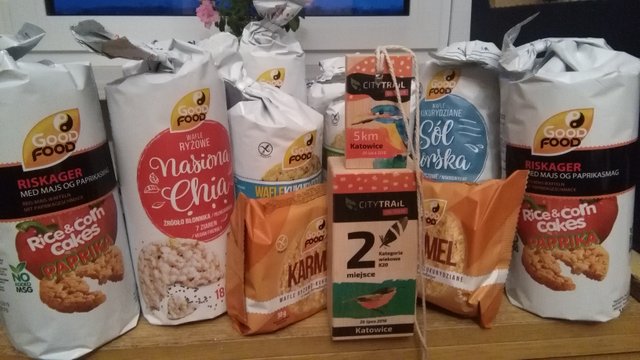 Jedzenie! / Eating!
Myślę, że ten bieg to bardzo ciekawy przerywnik w reżimie treningowym, a także służący przełamaniu tygodniowej rutyny składającej się z codziennych obowiązków (w moim przypadku głównie trening i praca). Serdecznie polecam! Trzymajcie się! Pieknego weekendu!
I think that this race is a very interesting interlude in training plan. What is more it can also break week routine which consist from everyday duties (in my case mainly training and work). I would recommend it everyone! Have a beautiful weekend!