Nie pamiętam kiedy ten pomysł zrodził się w naszej głowie, ale było to w momencie w którym mój luby wyrzucił mi, że gdy on proponuje jakieś zawody to ja nie chcę brać udziału, bo nie do końca pasują do mojego kalendarza biegowego. I tak zauważyłam zawody biegowe w parach w jego miejscowości.
Kiedy On pomimo lekkiego zawahania przystał na tę propozycję, zapisałam nas niezwłocznie, gdyż udział w tym biegu mogło wziąć tylko 30 par.
I do not remember when actually this idea has born in our minds but it was one of the moment when my paramour discarded me that whenever he is proposing me any kind of competition I do not want to take part in it because it does not suit to my running calendar. And after that I noticed running in pairs competition in his city.
When he agreed, despite short hesitation, I promptly registered us for this competition as there was only 30 pairs who could take part.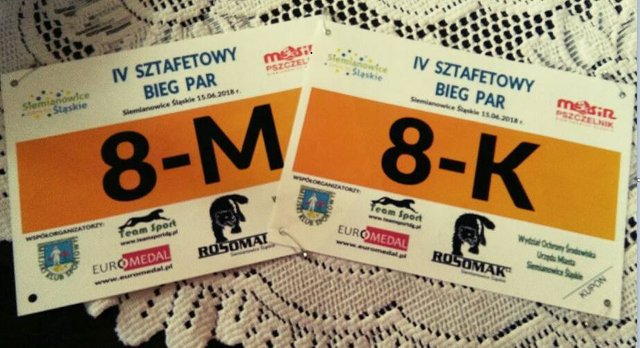 Nasze szczęśliwe ósemeczki // Our lucky starting numbers
Bieg odbywał się w piątkowy wieczór o godzinie 19.00 i muszę przyznać iż było to piękne rozpoczęcie weekendu!
Mimo, że mój przyszły mąż jest nie biegający świetnie sobie poradził z tym wyzwaniem!
Kiedy dotarliśmy na miejsce przeraziliśmy się tężyzną fizyczną niektórych biegaczy, jednak chcieliśmy się po prostu dobrze bawić.
Bieg odbywał się na zasadzie sztafety, a zaczynali mężczyźni z przeciwległej strony stadionu, kobiety natomiast oczekiwały w strefie zmian.
The competition has started on Friday evening at 7 PM and I must admit that it was beautiful beginning of the weekend.
Despitethe fact that my future husband is not running he did it great! I am very proud of him!
When we have came on start we have been a little terrified by some of the contestants brawn but we wanted just to have fun!
Competition has been held on relay rules and men has started form the other side than woman waited in change zone.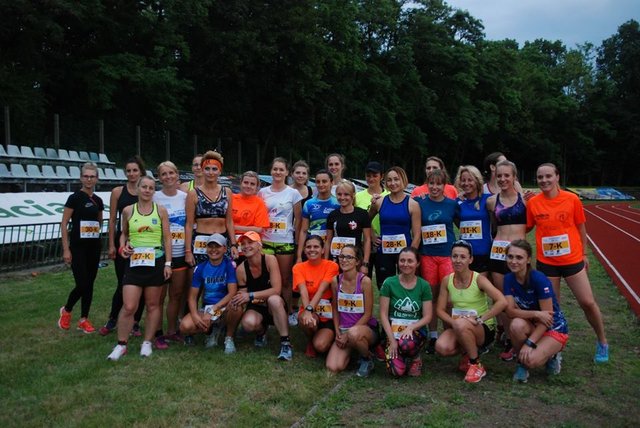 Tuż przed startem! // Before the start!
Mężczyźni mieli do przebiegnięcia półtorej kółka zanim mogło dojść do zmiany pałeczki. Następnie zmiany dokonywane były według własnych upodobań jednak każdy z uczestników aby liczyć się w klasyfikacji musiał zaliczyć 10 okrążeń. Cały bieg trwał 60 minut.
Men have to run one and half lap before they could give a stick to them partners. Afterward changes has been done as all of the competitors would like but each runner had to count among 10 laps. Whole competition had 60 minutes.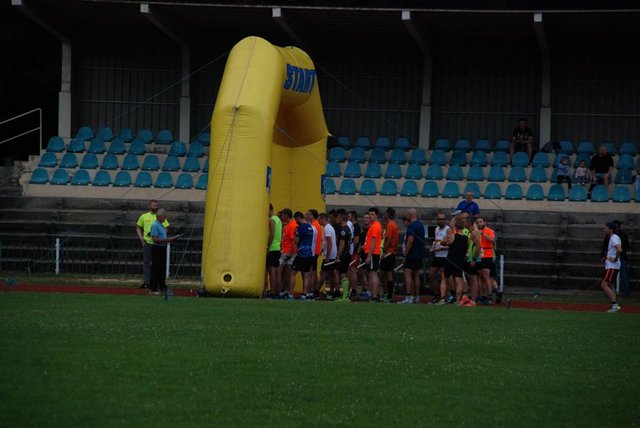 Mężczyźni na start! // Men on start!
U nas zmiany odbywały się różnie, kiedy mój luby miał już dosyć mówił żebym biegła dwa kółka, kiedy czuł się na siłach biegaliśmy po jednym 400-metrowym okrążeniu. W efekcie końcowym nabiegaliśmy 14143 metry (ja - 8000 m, A - 6143 m). Jak na osobę praktycznie nie biegającą luby poradził sobie śpiewająco!
Our changes was varied, once my fiance needed more time for rest he has told me oto run 2 laps and once he was enough power we have changed each 400-hundred metres lap. At the end we have run together 14143 metres (me - 8000 m and A - 6143m). As on the person who is not running he came through with flying colours.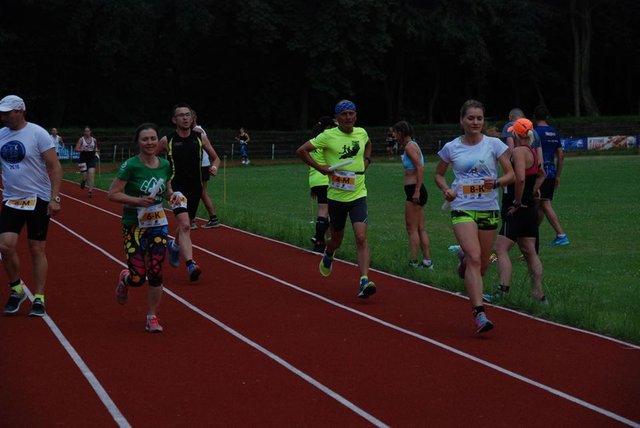 Determination
Uzyskany wynik pozwolił nam zająć 19 miejsce na 28 par, które ukończyły wyścig.
Najszybsza para ukończyła bieg z wynikiem ponad 18 km, co jest rekordem tych zawodów, a wynik kobiety od mężczyzny różnił się jedynie o 1 metr!
Bieg ten bardzo pozytywnie nas zaskoczył, ale co zaskoczyło nas jeszcze bardziej to nasz szczęśliwy numerek!
Kiedy okazało się, że para, która zajęła 19 miejsce okazuje się być szczęśliwym numerem i wygrywamy odkurzacz oraz kamerkę w stylu Go Pro nie mogliśmy się nadziwić i tak przepełnieni radością i pięknym rozpoczęciem weekendu zakończyliśmy te zawody w dobrym humorze. To się nazywa szczęście! :)
This result let us to take 19 place out of 28 pairs who ended competition. Th best pair ended with a result above 18000 metres what is the record of this competition and what is more the result between woman an man was only 1 meter.
We have been surprised by this run very positively and what was more surprising our number 19th was a lucky number. When it turned out that our place 19 is the lucky number we could not believe it. We have won vacuum cleaner and something like Go Pro. We have ended this competition in very good mood. This is called happiness! :)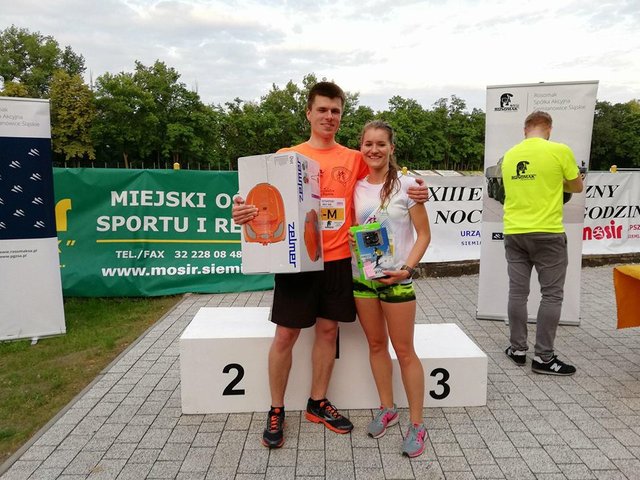 Nasze zdobycze // Our prize
I am part of running project. Please click here to get more information!
Also please see #runforsteem. That is great initiative!