Saturday was my first half-marathon at 13.1 miles and my first organized running event. I think I did really well for my first, running at 2:18:46 or roughly a 10:32 pace, 30 seconds faster than during training.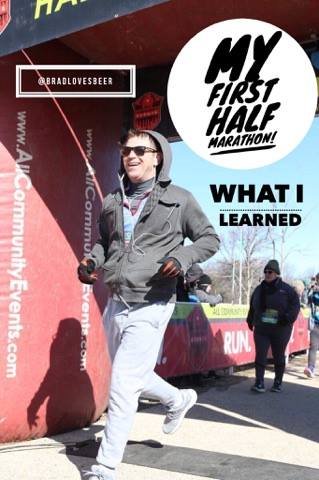 I learned a lot from this event..about myself, about running, and organized events and would love some of my thoughts on the experience.
Generally, I do not pay to run. One of my favorite things about runs is iI can do it with whenever and where I want and it's free. Marathons are expensive. But I got on this one early for $35. It was well-organized, I wanted to experience an official running event, it came with a blue running jacket, a beer and hot dog after the race, a medal if you complete the course, pictures, a live band. It was a pretty good deal. Some of these runs can cost $50-$150 and that's just a little nuts to me even if I am pretty into running. If some of my friends are going or I can catch a deal, I will do it, but generally I can do runs by myself or with my running club.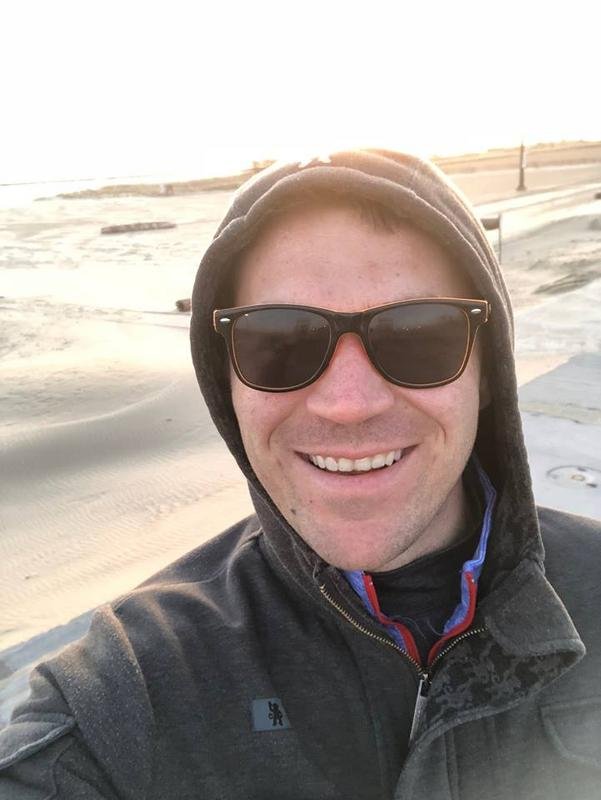 Early morning and ready to thrown down!
Marathons start early. I had to get up at 5 AM in mid-sleep to grab and ride down to the lake. Definitely pack in early the night before, don't drink too much, eat regularly, consume a good amount of water.
Come prepared. I was expecting it to be 35 degrees Fahrenheit, and when I woke up it was 22 degrees. When I made it down to the lakefront, the windchill probably brought it down 0 degrees. I am lucky I came dressed with a coat and gloves, and I was still freezing half to death waiting for the race to start. I got into to the center of the crowd and got near other people to stay warm. Fortunately, I did not have to run with what I brought. This event had a bag check where I could give them the belongings I was not running with.
You get a running bib with your number. This number and bib are important. They had a tracker inside that would record what time I got in the race. It's also important that you make the number visible so you can get tagged in pictures the photographers take during your run more easily.
Bring headphones with good music or podcasts. It's a long haul and you want to stay focused. Bring running gloves when it's lower than 50 degrees. Dress a little lighter than you'd think you need to. Once you get running, your core really warms up and heavy clothing will start to get uncomfortable.
Wear compression pants or running shorts. I thought everyone just wore these to be basic, but I found out the hard way they are essential. I wore boxers and sweatpant jogger pants. By mile 7, the soft rayon MeUndies I was wearing turned into sandpaper in between my thighs. I tried to adjust my pants and even tear my undies off due to discomfort but they were too well-made. I realized later this was a blessing as it is better to have boxers in.between as opposed to skin-on-skin.
Go your own pace. Do not come out zealous and swinging. It's going to be a real endurance match. Pick a pace and stick with it. Don't worry what everyone else doing. Additionally, ignore the arrogant pro-runners who just treat you like you are in the way. They might be running a time an hour faster than you but they do not matter. Just worry about yourself.
Think of positive things. Positive experiences, people you care about, keep the mind calm but full of good things. Distract yourself with good music or nice thoughts. Get out of your head. The more you think about when the race is over, if you'll make it, and how hard it is, the less likely you will be successful.
Keep good posture, proper gait and form, and keep the smoothest course as little wrong movements and missteps over time can add up to discomfort. I was looking over my shoulder trying to spot the group holding a 10:00 p
ace sign and wanting to avoid them like the plague (they caught up and passed). This looking over-the-shoulder activity did lead to a little discomfort. Keep your eye forward and towards the finish line.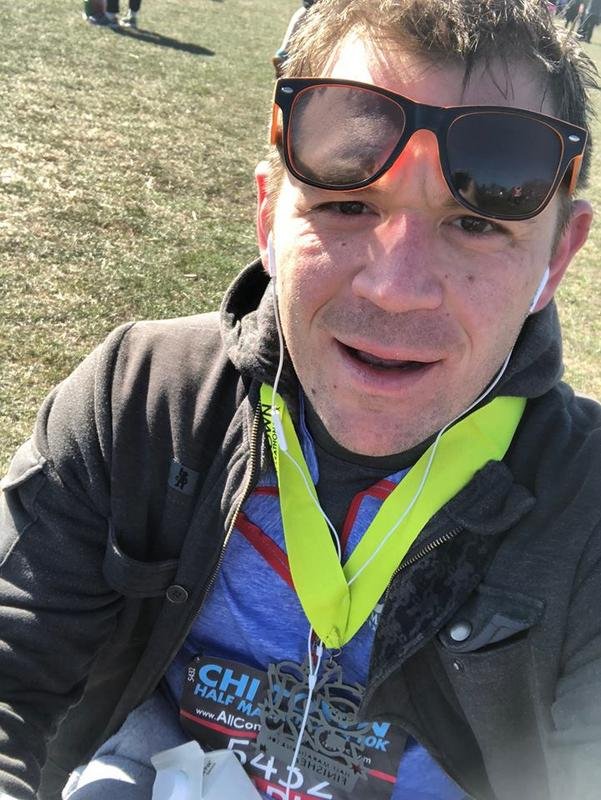 Finished. Enjoying my medal, beer, and hot dog.
Most importantly, afterwards remember to hydrate, and then even more importantly get some proper beverages to reward you for your victory. I am treated y myself to "Puncher's Chance" by Saint Errant Brewing. A rich chocolate stout packed with cinnamon and vanilla. Pretty much like drinking cinnamon toast crunch. Why don't I just I have Cinnamon Toast Crunch Cereal instead/ because cereal is lame and beer is awesome.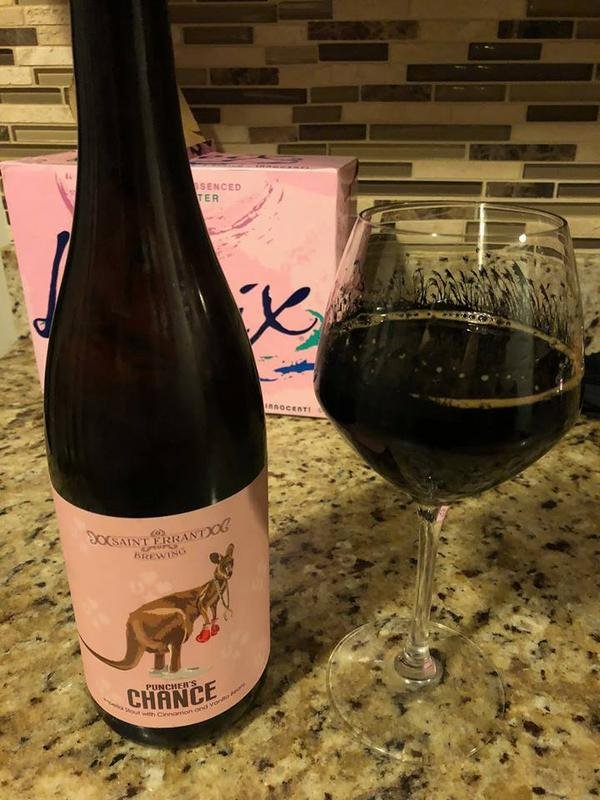 I never thought I would be able to run a mile, let alone 13.1. But now I will be training for a full marathon at 26.2 miles for September 2018. Wish me luck, a lot of hard work ahead!
Cheers everyone! Hope you enjoyed the post! Please follow and/or upvote if you liked it!