After completing the half marathon, I decided to set my sights on a full marathon. I was recommended one by running club, the Fox River Valley Marathon. It's a flat, beautiful, great beginner's course set to happen in September.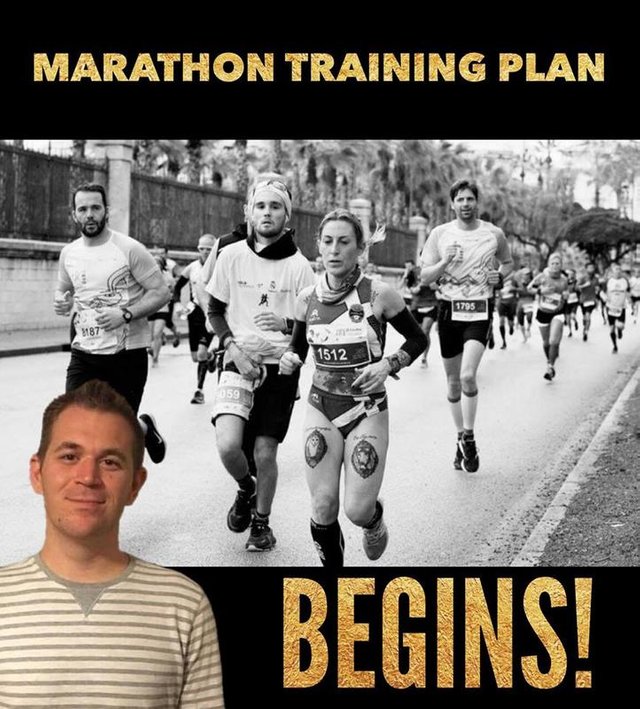 The half marathon was a pretty good challenge for my skill level. But I finished with a smile on my face. Something tells me I want to take the full marathon on, and I signed up. I am not going to take a full marathon lightly, and actually began looking up training plans. My natural impulse is cavalier, and I always believe I can get through anything using heart and grit. But the full marathon is no joke, and if I believe if I don't follow some sort of plan, it can lead to injury...or worse...failure! (joking..kinda)
There are a lot of training plans out there...a lot of them set forth a running schedule leading up to the marathon which models after the runners schedule and skill level. A lot of the training plans for a novice are similar, where there are some light runs (3-6 miles) during the week, and then a longer run on the weekend, buffered by some rest days. There's a reason for this. A professional runner will have the time to train longer and more during the week, because its presumed they are an athlete without the constrictions of a day job. For the person who works full time and is still a young runner, it makes much more sense to sneak in little runs during the week, and then when the weekend opens up, go for longer runs where you have time. Of course, some runners work erratic schedules and will need to tailor a running plan that fits that schedule. No matter what your life situation is, there is a running plan for everyone, and if there isn't somewhere online, it's not difficult to create one based on your schedule.
Most running plans work the same way, you will train progressively more and then taper down eventually as it gets close to the marathon. With most plans, you won't be running the marathon, but are building up leg muscles with consistent runs so you will be strong by race day. If you were to run marathons too suddenly or too often, it will most likely lead to injury.
I chose the Hal Higdon plan my much more experienced running friend recommended to me. Hal Higdon is a legendary runner and has a website with many free training plans based on skill level. http://halhigdon.com/training/51135/Marathon-Training-Guide. I chose the Novice plan as pictured below.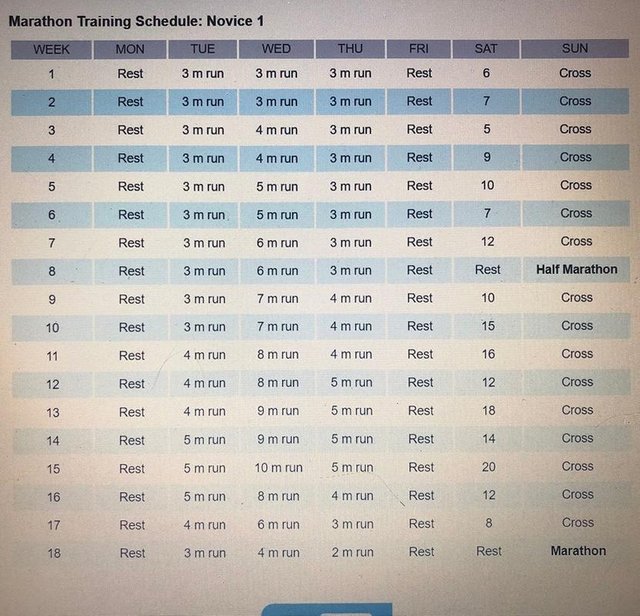 I am already running pretty consistently but this plan will demand a little more. I am currently running around 20 miles/3.5 hours, usually 3-6 miles at 5 days a week.Wit this plan, these numbers represent pretty much the starting weeks, and it will get much more demanding as it hits the middle of the plan, with about 7-8 hours/30-40 miles a week. It's a little intimidating, but since I have a good base, I think I should be able to commit to and pull through. The real challenge will be...how do i fit this together with my craft beer schedule!
Wish me luck everyone! If you have any comments, running advice, or marathon stories, please share! If you enjoyed this post, please follow and/or upvote!