New service from RuDEX: top up cryptocurrency balances with a bank card
Hello everyone!
Today the extensive RuDEX toolkit welcomes another service that will make your exchange routine much easier. You asked – we delivered!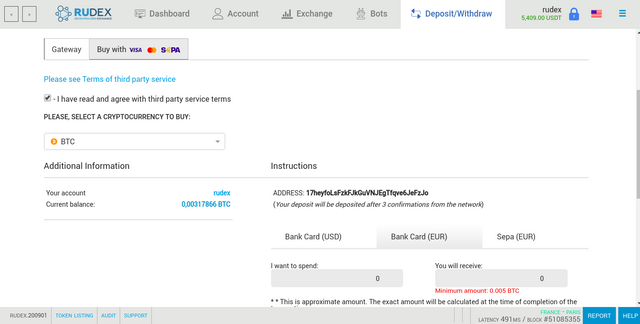 We've added the option to top up RuDEX assets balances using bank cards and SEPA, which was made possible by our partner Raido Finance.
Raido Finance is a licensed cryptocurrency platform, that operates under Estonian law.
The platform provides fiat-to-crypto and crypto-to-fiat service - it is a quick way to Buy/Sell cryptocurrency for fiat money using bank cards (Visa, Mastercard) and Sepa (EUR).

Supported exchange directions:

Fiat Deposit:
Visa, Mastercard (USD, EUR) -> BTC/ETH/EURS/USDT
SEPA (EUR) -> BTC/ETH/USDT

Fiat withdrawal:
BTC/ETH/USDT -> SEPA (EUR)

For bank cards Raido Finance supports payment from cards in 100+ currencies.
Fiat gateway is available for all countries except USA, Iran, Iraq and North Korea.
Join trading on RuDEX, now with a fiat gateway dozens of markets have become one step closer to you. Subscribe to our blog and don't miss the upcoming announcements of brand-new services!
---