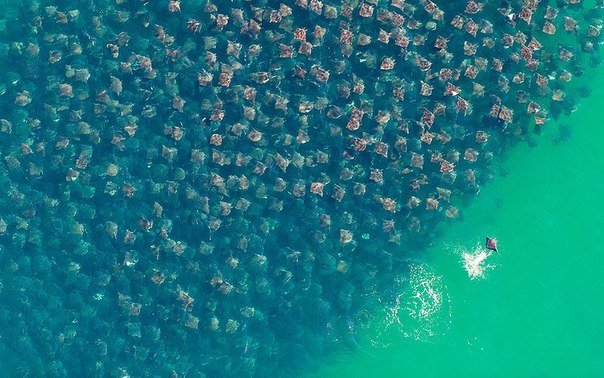 Эта знаменитая фотография была сделана фотографом Флорианом Шульцом недалеко от местечка Маха Калифорния Сюр в Мексике. Снимок был удостоен множества наград.

Дважды в год золотые скаты мигрируют в пределах Мексиканского залива в более теплые воды. Миграция скатов-иглохвостов происходит дважды в год в Мексиканском заливе — от полуострова Юкатан до Флориды и обратно. Чтобы понять масштаб события, стоит упомянуть тот факт, что каждый из скатов имеет размеры примерно 2х2 метра, а всего их около 10 тыс. 

This famous photo was taken by photographer Florian Schulz near the town of Mach California Sur in Mexico . The picture was awarded numerous awards. 
 Twice a year the golden rays migrate within the Gulf of Mexico in the warmer waters . Migration iglohvostov - rays occurs twice a year in the Gulf of Mexico - from the Yucatan Peninsula to Florida and back. To understand the scale of the event , it is worth mentioning the fact that each of the rays has a size of approximately 2x2 meters, and a total of about 10 thousand .