Romanians accompany our last king on his last journey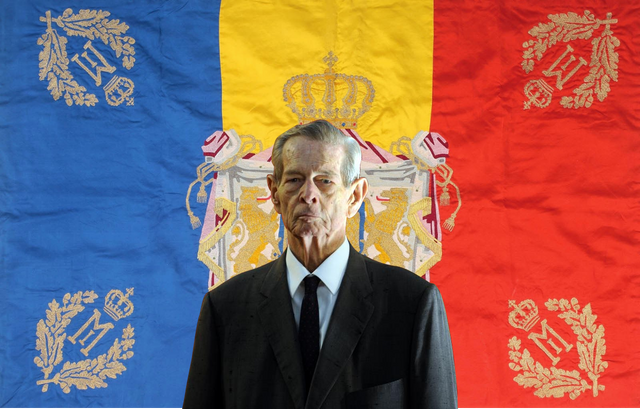 On December 5th, 2017, King Mihai I, of Romania passed away in his home in Switzerland, where he lived for most of his life, after forced to abdicate the throne, once the communist reign had settled in Romania, following the end of World War II. He was brought back home by airplane, and his coffin was on display under royal guard, for people to pay their respects in the Royal Palace in the capital, Bucharest. I wrote a post upon hearing this sad news.
On December 16, 2017, funeral ceremonies started with a private gathering in the Throne Room of the Royal Palace, in Bucharest. Among the people attending were the King's family, romanian officials, and other royal personalities from around the world, such as the royal families of Great Britain, Spain, Sweden, Bulgaria, Greece, Serbia, Belgium, Luxembourg, Jordan, France, Portugal, Italy, Lichtenstein, Albania, Russia, Austria and Germany, among others.
Soon after, the coffin was carried outside in a public square and placed atop a catafalque by the royal guard. On top of if, the crown was placed. I'd like to mention that this crown is not made out of rare metals, but out of iron. It was cast from an artillery cannon used in the Siege of Plevna when Romania liberated the Bulgaria from turkish rule, and achieved independence of both countries from the Ottoman Empire, in 1877. Thus, another religious ceremony began, where thousands of romanians gathered to pay their respects to the late king.
Then, according to tradition, the coffin was then placed atop a cannon mount, and carried by military vehicle (in this case a Humvee). The suite was led by the royal guard bearing a cross and royal banners, followed by priests, then the king atop the cannon, followed by and family and guests and armed forces. Thousands gathered along the cortege's route, threw flowers ahead of it, chanted his name and joined it towards the Cathedral, where another service was held.
Curtea de Arges
(Arges Court), some 150 kilometers away.
Once arrived at Curtea de Arges Monastery, built between 1515 and 1517, one last service was performed in front of another large crowd. His Majesty, King Mihai I of Romania was lowered into the crypt, built by King Carol I, who upon seeing it for the first time said it looked like a traditional romanian sweet bread, beside his wife, Queen Ana who died last year, to the tune of the romanian anthem, while an artillery unit of five cannons, fired 21 salvos, to award the last World War II leader his military honours.
If you wish to watch the full proceedings, you can do so on the romanian state television's channel. They were streamed live during the whole day, when romanians bid their last farewell, to His Majesty's King Mihai I of Romania. I took all the photos (apart from the first one) from those streams. You can watch the first part with all the ceremonies in Bucharest here, and the second part, the train ride, some documentaries and interviews, as well as the ceremonies in Curtea de Arges, here. The whole even lasts almost eleven hours, and is all in romanian, though, so I doubt it. I tried to condense the subject matter as well as I could.
In any case, what do you make of this? Share your thoughts below, along with any feedback you might have. It is greatly appreciated!
Thank you for reading, and keep on steemin'!

(clicking any image will take you to its source)