First Rohingya families return from Myanmar to Bangladesh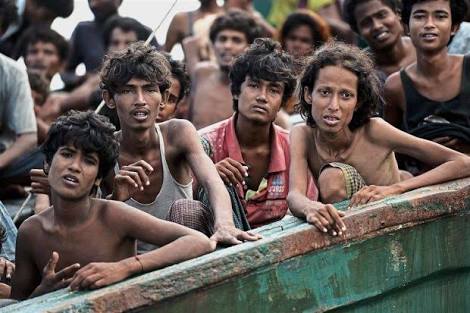 Myanmar has withdrawn the first Rohingya family by ignoring the United Nations The United Nations thinks Rakhine is still not ready for repatriation.
United States-based Human Rights Watch and UK-based Amnesty International also believe that the return of Rohingyas to Rakhine has not been created. Despite this, Naidu has withdrawn a 5-member Rohingya family from Bangladesh on Saturday. The British news agency Reuters reported citing a statement from the Myanmar government.
The Dhaka-Nipedo Reinstatement Agreement was signed in January this year to restore the Rohingyas in two years. In order to implement this initiative, Myanmar established two reception centers in Rakhine. These are called the temporary Shibir, called Myanmar. However, after a long-awaited and rare tour there, the UN delegation recently said that Rakhine is still not ready for the repatriation of Rohingya.
UN Secretary-General of the United States Ursula Mueller conveyed the decision by visiting the local communities and talking to local residents. Ursula Mueller told the media after a 6-day tour, the lack of health care, uncertainty over safety and continued dislocation are happening continuously. This situation is not helpful for the return of Rohingyas. He also expressed doubts over whether the rehabilitation could be possible in the future. However, the United Nations did not take action on this suspicion and took the first Rohingya family back as part of the Myanmar Rehabilitation Agreement.
Myanmar has refused to accept the Rohingyas as their own people. Nipido wants to establish himself as a 'Bengali Muslim' as a resident of Bangladesh. According to a statement from the Myanmar government on Saturday, the Rohingya Muslims are said to have said, "A 5-member Muslim family has arrived at Tanzipiletaate reception center in Rakhine this morning." The official statement said that the decision to return them after the verification of the immigration and health ministry was implemented. It has also been stated in the statement that the Ministry of Social Welfare, Relief and Rehabilitation has provided their rice, mosquito nets, blankets, lamps and lungi.
Myanmar has taken initiative to give National Verification Card-NVC as part of their registration process in the process of taking back Rohingyas. However, the leadership of the Rohingya community is considered to be a refugee for the Rohingyas, who deny citizenship as refugees for life. The government's statement on Saturday said the NVC card was given to the family before it was re-selected for re-entry, before entering Burma.
In the past, about seven lakh Rohingyas crossed the border and came to Bangladesh to come to Bangladesh after the army started repression on the Rohingya victims of ethnic persecution for decades. Myanmar has given details of torture and burning of villages. Evidence of Rohingya destruction was found in satellite images and Reuters search. Earlier, in the face of persecution, at least three lakh Rohingya came to Bangladesh. Bangladesh has to bear the burden of nearly 10 lakh Rohingyas all around.